Illustrator Sajjad Ahmed Sididqui drew for digests like Khilona and Musafir decades ago. Can his son continue his work?
"Illustrations compel a reader to come closer to a book and explore the tales inside, so I believe an illustrator is like a window to what the writer offers," says Zafar Siddiqui, an illustrator who is dedicated to an eclectic form of drawing called 'digest art'.
The son of illustrator Sajjad Ahmed Sididqui, Zafar is showcasing his father's art at an exhibition set up in collaboration with the Alliance Francaise. The exhibition covers Sajjad Ahmed Sididqui's work from the 1940s -1970s, and includes illustrations hand-drawn for periodicals in India and Pakistan.
Sajjad Ahmed illustrated a wide variety of tales, from mythology to science fiction, horror, romance and even 'western-style' suspense stories. Having studied at the prestigious J.J. School of Art in then-Bombay, Sajjad gained popularity for his free-hand drawings in the 1940's and became one of the pioneers of magazine art when he contributed to periodicals like Khilona, Musafir and Rabta.
Migrating to Pakistan in 1967, Sajjad took up a job drawing illustrations for poems and stories in Jang group's popular weekly Akhbar-e-Jahan.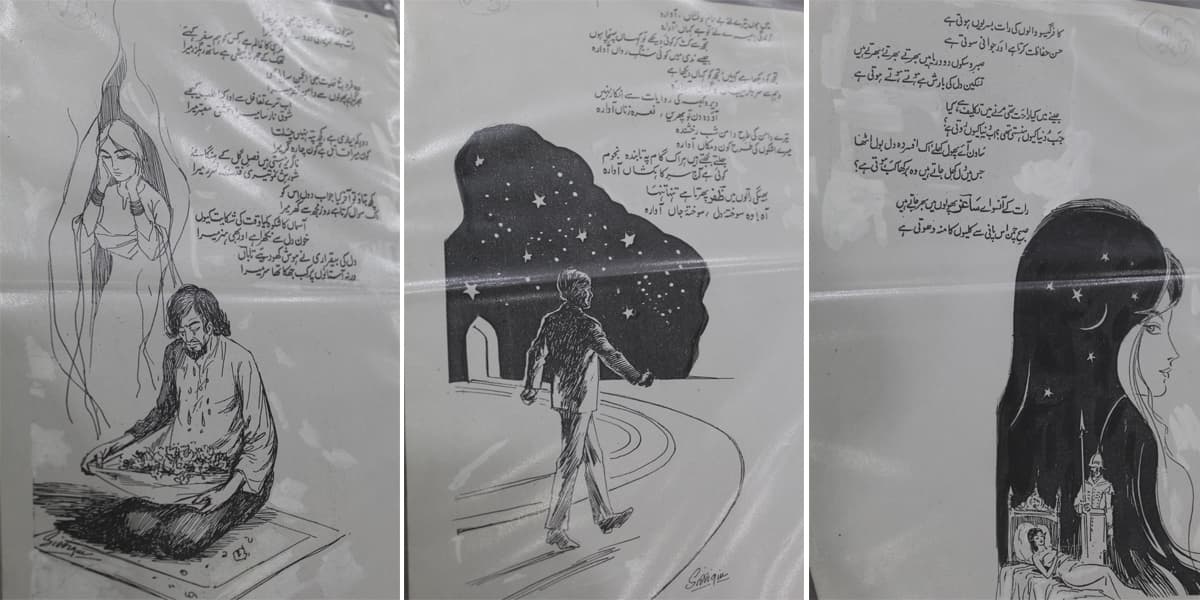 He didn't stop there and went on to draw for Alami Digest where he experimented with soft-eroticism, sci-fi, suspense and horror. Until he passed away in 1989, Sajjad drew for Jasoosi Digest and Suspense Digest, periodicals extremely popular in Pakistan.
At that time, Sajjad Ahmed's drawings were often what compelled people to pick up certain digests.
Zafar followed in his father's footsteps and was associated with Pakeeza digest for nearly three decades. He now works with various advertising campaigns.
In the present day, how does one keep going in an environment where photographs have taken center stage? Or has interest in illustrations picked up, given an interest in comic cons and digital art?
"There are barely any digest-artists now," laments Zafar. "The major reason for this is that people are reading less. The circulation of newspapers and magazines is gradually declining because this is the age of Internet... how would one expect them to read when they don't let go of these devices?"
He also regrets the loss of many fine artists who have passed away, leaving a vacuum yet to be filled. Zafar says he has taught illustration to many aspiring artists but only a few committed to the work professionally, probably because there's very little money in it. ""We don't value artists," he says. "There is a dearth of educated publishers now who know the true worth of artists so the financial situation is always tight."
Nevertheless, he believes this is the way of the world and he himself needs to keep going against all the odds. "Artists are never given their due share of praise in their lives, it's after they die that people suddenly realise their worth," he says laughing.
The exhibition from 10am to 7pm goes on till November 30 at the Alliance Francaise.