It's the 'Faltu Pyar' singer's second single from her debut album RONAQ.
Every artist leaves their signature in the work they produce and music is no different — you can feel the distinct style that is a certain artist's. Natasha Noorani's infusion of iconic Pakistani pop references from the past into today's sound, all injected with her personal style, is what her latest release 'Laiyan' too represents.
"'Laiyan' is taking on a trope of Pakistani music everyone has heard like 'laiyan laiyan me tere naal dholna' — it is not the same song but the purpose of the song, the way it's written, is to take little elements from Pakistani pop music culture including 'laiyan laiyan', 'lambi judaiyan'," she told Images. "These are phrases that I've used in the song but I've tried to flip them in a way and create a new version, a new space for these very generic phrases to be used."
The second track from her debut album RONAQ explains why longing may stem from the term long distance relationships. The music video features three versions of Noorani and a telephone, trying to connect with her loved one on the other end. It captures a variety of emotions — the waiting period, the anticipation, the boredom and the engagement when the call connects.
"The video depicts me not just waiting for a call but trying to make that connection, dropping signals and all of this continues to happen over the course of the video. And in the song also it says 'lambi judaiyan humko nahi hain manzoor'. It's a declaration of love in that space," said the 'Faltu Pyar' singer.
Each getup that Noorani adopts in the video makes a fashion statement of sorts. From Rapunzel's dotted braid to the colourful popsicle crown to the high-collared floral sari. As diverse as they may appear stylistically, one thing that connects the trio is the "isolation and desire for communication and connection".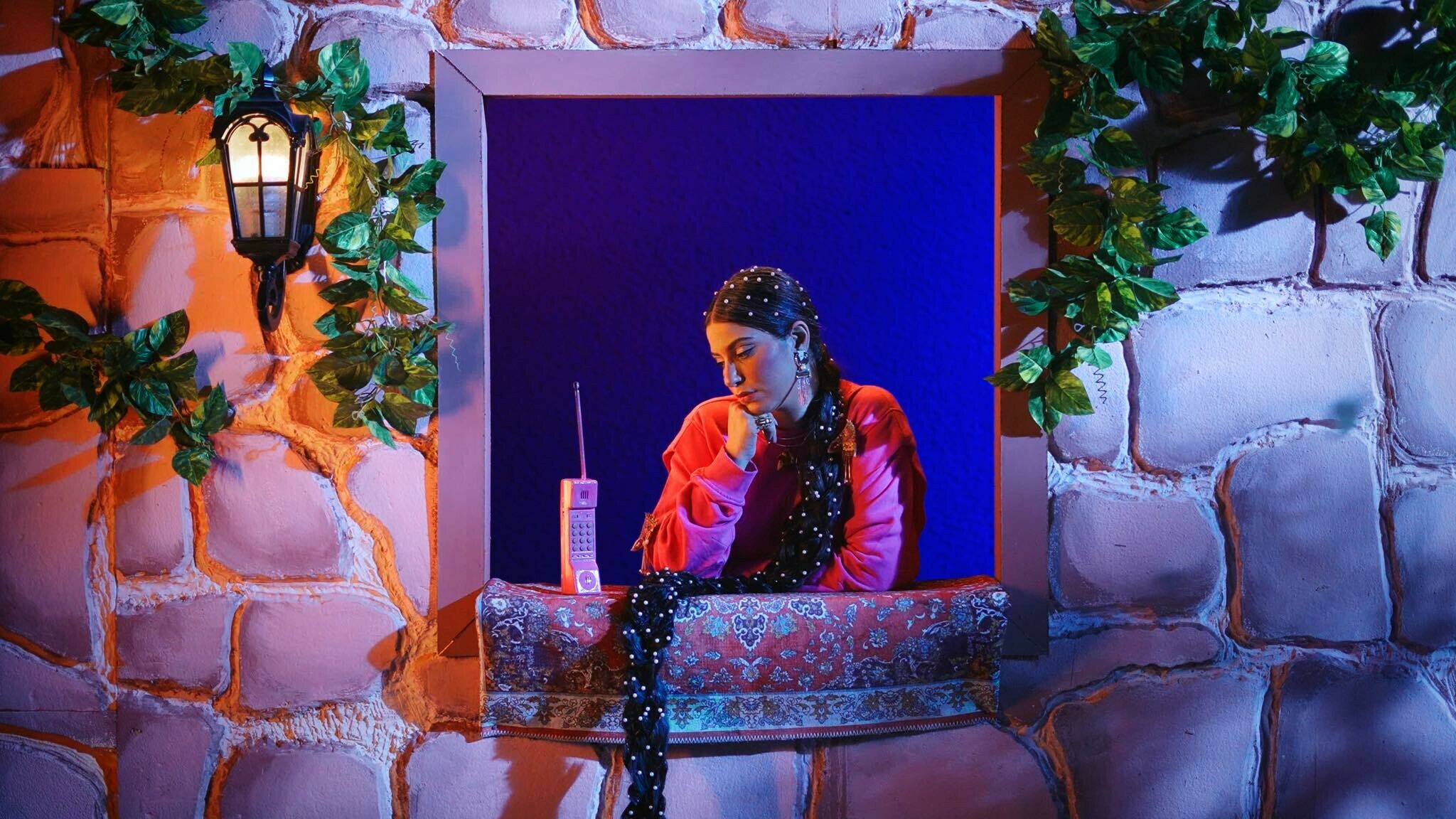 Describing the characters, the 'Trace' singer said, "One is a take on Rapunzel but it's not Rapunzel in a generic way, it's just her in that isolated space and she's waiting to catch a signal, to be able to speak to her loved one in that situation. And the other character I've posted has a lot more structured focus on it. There's a conveyor belt in front of me, the movement of which will be very obvious in the video. You'll notice different types of communication that are on the belt — it's all based on how communication goes through different types and modes."
The various items that make an appearance on the dynamic belt include communication devices used over the decades. Besides a telephone, it featured a typewriter, a pigeon, a letter writing kit, two cans joined by a string and a laptop. Nothing about the characters is set in stone though. "[They] are up for the people to assess because I don't want to colour anyone's experience of the video," added Noorani.
Just like the visual aspect, the musician wants to leave the meaning up for interpretation as well. The listener may take what they want from her music, they are not limited to the artist's perception. "I will leave that up for you to decide. Even in dosti yaari [friendship] it's very hard post-Covid to have these long distance friendships so I feel like it is up for [interpretation] but the lens through which I wrote it was definitely more romantic."
If you've been keeping up with the 'Choro' singer, you might have caught her vibing to some of her beats at London-based music platform Boiler Room's first-ever broadcast in Pakistan in July. Having experienced that, you may notice that 'Laiyan' sounds all too familiar. Noorani admitted that she did, indeed, leave out little nuggets from her upcoming album at the event.
"There were more glimpses. I think I played maybe only two of the songs, 'Constant Summer' and 'Choro', [that] were pre-released, everything else was a pre-reveal of Ronaq essentially. There's 'Laiyan', there's 'Baaz' that has been produced by Abdullah Siddiqui and there's 'Matlabi' and 'Nishana', both of which have been produced by Talal [Qureshi]."
Discussing what inspired RONAQ she said, "Primarily, the inspiration for the album has been a lot of figuring out pop problems in this new age and time we're living in. I enjoy the ability to take the elements of previous pop Pakistani music while trying to infuse more elements of myself into it as well musically," adding that though it is overall character based, it draws on real life experiences.
'Laiyan' has been produced by Talal Qureshi, like much of the album. The two artists have been working together for years but only last year were they able to collaborate in person. "There's a lot of overlap in his musical language and mine, and I think that I was able to find a space where I could develop melodies, write lyrics and develop music that was very relevant to me today."
The 'Saazishein' singer spoke about why the duo's professional partnership just works. "Talal is magnificent in that he's very open to lots of ideas and keeps pushing me. As a producer he has been super inspiring and keeping me in line to figure out my own sound. I think this release is also a culmination of that. Most of the album has been produced by Talal with two songs by Abdullah Siddiqui. This specific collaboration is a Talal one."
Noorani hopes to release the entirety of the album by the end of this year. Calling it a snapshot of where she stands as a musician today, she said it is "the kind of pop music that I want to hear in Pakistan". She hopes the audience will grasp something meaningful from it. "The process of writing a song and sharing that with massive audiences is revealing a lot of yourself. I just hope that people manage to hear what I've attempted to do, the feelings that I'm trying to get across and the stylistic difference in my writing. I'm hopeful that it will have some kind of impact."
Though she has got her fingers crossed for the release, she is vibing with her music and feels a sense of pride associated with her work. "I'm honestly just so happy that I've developed this much music that I am personally happy to listen to on repeat. I think that's the best sign of a good song in my opinion, if I personally am enjoying it and it's bringing me some value, that's like the perfect situation to be in."
When asked about her dream collaborations, she said, "Oh my God, they're too many. I would say Ahmed Jahanzeb is definitely on top of the list, he is an icon forever and definitely Annural Khalid — I think she's really phenomenal."
We don't know when we'll get to see Noorani's dream collabs but there's definitely a lot to look forward to that's currently in the pipeline. "There so many collaborations I have with other artists that are in the works, just waiting to be released. I won't reveal much of that yet but trust me, it's with some of the most exciting, current artists of Pakistan," she said. "It's a good problem to have, there's too much music, that's like the best kind of issue one can go through at this point."