Follow our live updates to know who showed up and who said what and what you all think!
The Lahore Literary Festival is officially a go and will it be a jam-packed event?
The three day festival kicks off with a keynote address remembering Faiz Ahmed Faiz by Zehra Nigah while Day 1 has 6 hour long sessions in store for us. While we love Faiz as much as the next gal, we did think a woman could've been celebrated in the keynote instead such as Fahmida Riaz. We've got Faiz Fest, Faiz Aman Mela which just ended —maybe it's time to give someone else the limelight?
Images has headed to Al-Hamra Arts Center to give you live updates of whats happening at LLF 2019.
---
06:00pm: And we're done with day 1!
We've wrapped up day 1 of the Lahore Literary Festival! And we deserve a snack!
---
05:21pm: Metro Lahore
Lums student, employee and also a travel photographer, Faizan Ahmed sits with Amna Rizwan Ali to talk about his work; a photographic journey along Lahore's metro bus.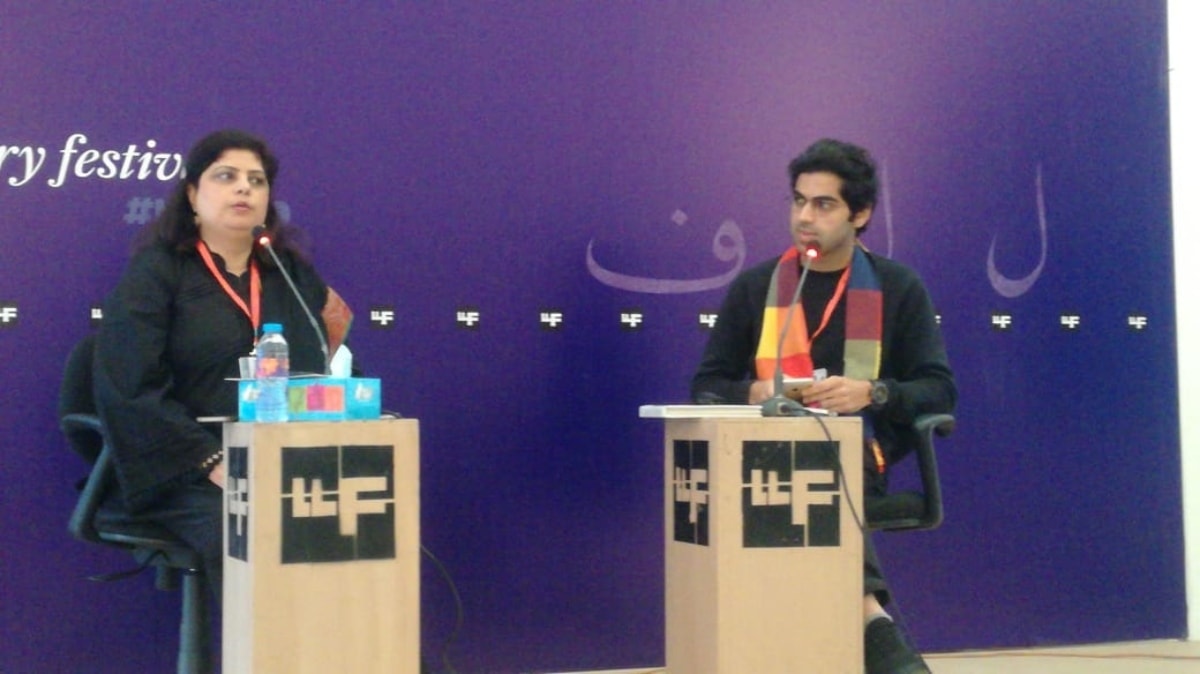 Faizan says, "I started using Metro bus in 2013. I began talking to people in the bus. I started by taking pictures of the people and sharing them on Instagram with their stories."
He shares a slideshow of the pictures he's taken and shares the stories that came with them.
He took these photos over a period of five years, all on his iPhone.
He admits it was hard at first to get people to talk to him and they didn't always reciprocate especially women. By the end of it though, he reveals "I took down 10,000 stories."
---
05:05pm: Securing Pakistan's water future
Technocrat Shamsul Mulk has declined to attend the talk and is replaced by Ahmed Bhatti. However, former CJP Mian Saqib Nisar is here. We've been looking forward to this one.
Moderator and environmental journalist, Rina Saeed Khan gets to the point, and relays, "It is in the agricultural sector where water is wasted."
Saqib Nisar starts talking and points out, "Pakistan is facing a water crisis. And the resolution of this issue is to be expedient... I've been thinking about the water scarcity situation in the region, but especially Karachi's water scarcity."
He adds, "If Kalabagh dam cannot be made, then all the four brothers (provinces) are not on the same page. We need to construct a Pakistan dam."
On why the matter was taken up by court, Nisar says, "In our constitution, there's a beauty that we have fundamental rights. And to our good luck, the first and utmost right is the right to life. It means it has all the facets of how to realise that right of life."
He refers to Article 184-3, which states that if there is a fundamental right, the Supreme Court has unfettered jurisdiction to enforce that right for the public.
"That is what the court has done... That is why we directed the government of Pakistan to secure that right for the people of Pakistan."
Saqib Nisar's speech is cut short due to lack of time but other panelists appreciate his words.
.
Ahmed shares, "Water security is strictly tied to water management. The governance of water can only improve with the participation of people. Our water resources are not a resource. Our primary resource is rainfall and snowfall."
Erum holds the view, "The country's water problems are much more complex... We use water very inefficiently for irrigation."
She adds, "Per capita water availability does not make sense. We have too much water doing very little food production. We need integrated conversations. Let's talk about how we move forward."
Saqib Nisar praises Erum, saying, "Erum has been kind enough to help us. She's been part of the plan. I have no reason to disagree."
"Implementation is very important. Conservation of water and the uses and management of water needs to be rethought."
Bhatti differs with Nisar, saying, "We should look to the technology to help us in certain areas... For example, there was a lot of water wasted in rice cultivation. Recently, there are some innovative approaches and paddy fields are being cultivated like wheat cultivation... Once people get to know, they use new and innovative techniques and methods."
When Rina asks Erum whether there is no regulation on ground water, she responds, "One of the things to recognise is, he concept of ground water changes from place to place. In Punjab they say don't line the canals. In Sindh they say please line the canals because he ground water is salty. It has to be tailored according to the specifics of a place."
Erum adds, "It's a national secure problem. 8 million people in Quetta who rely on ground water cannot just vacate the city... Essentially people have developed sophisticated ways to use ground water resource around the world. We can learn from that. But we need sophisticated set of laws... Provinces will really have to step up. We need to improve the capacity there so water conservation and usage can be tailored"
Ex-CJP is given the mike again and says donations made by citizens are important but fund donations were never intended for building dams. "Our object was to create a campaign, to make people aware of how important the water issue. The money was never supposed to be fully used for building the dam fund...To be build the dam, we'll need to mobilise more resources."
A question pops up from an audience member: Why are dams the only solution for water conservation?
Erum replies, "They're not, there's actually a huge move away from building dams because it disrupts the ecosystem of the vicinity. We have to move beyond one solution to a problem."
---
05:00pm: Populism and the future of global democracy
Ayesha Jalal, Afshin Shahi and Eugene Rogan sit with moderator Ahmed Rashid to discuss whether 'history' is relevant today and how it is used by populist regimes to achieve their ends
Historian Ayesha Jalal, "Even as we live we don't realise how our historical consciousness affects the questions we ask."
Jalal adds, "History is a dialogue between present and past. When you engage with the past the way populist leaders do, it is their take on history that is important. It's not that history is irrelevant."
Shahi comments, " History is more about collective forgetfulness than collective memory."
He also touches on the topic of objective vs subjective violence:
---
04:59pm: In book launch for My Pakistan: The Story of a Bishop
Author Alexander John Malik sits with moderator Nelofar Bakhtyar to talk about his journey to becoming a bishop.
Says the author, "I wasn't always a bishop... but when I returned to Pakistan I was told by extremists I wouldn't ever be able to find a job."
He adds, "I've always been very nationalistic. Pakistan is in me and I'm in Pakistan... If there are difficulties it doesn't mean I should leave. this is my message... Don't run away from this place... This is our Pakistan and our forefathers worked for this place with Jinnah."
---
04:15pm: Out and about
We're checking out LLF now and we're kinda digging the set up.
---
03:50pm: Remembering Faiz Ahmed Faiz
Says Zehra, "He was always conscious of everything around him when he was editor, poet, and even while he was in exile."
"Mere dill mere musaafir expresses so much pain, the strife that he was going through."
She adds, "When a poet writes poetry he is someone else. But Faiz and his poet-self is never separate. Even when he spoke, his soft spoken style and rhythmic words showed that."
She also reads some of Faiz's work.
Nigah also receives a bouquet of flowers after her keynote address.
---
03:34pm: Zehra Nigah takes her seat for the keynote address
Nasreen Rehman gives us an introduction on poet/writer Zehra Nigah.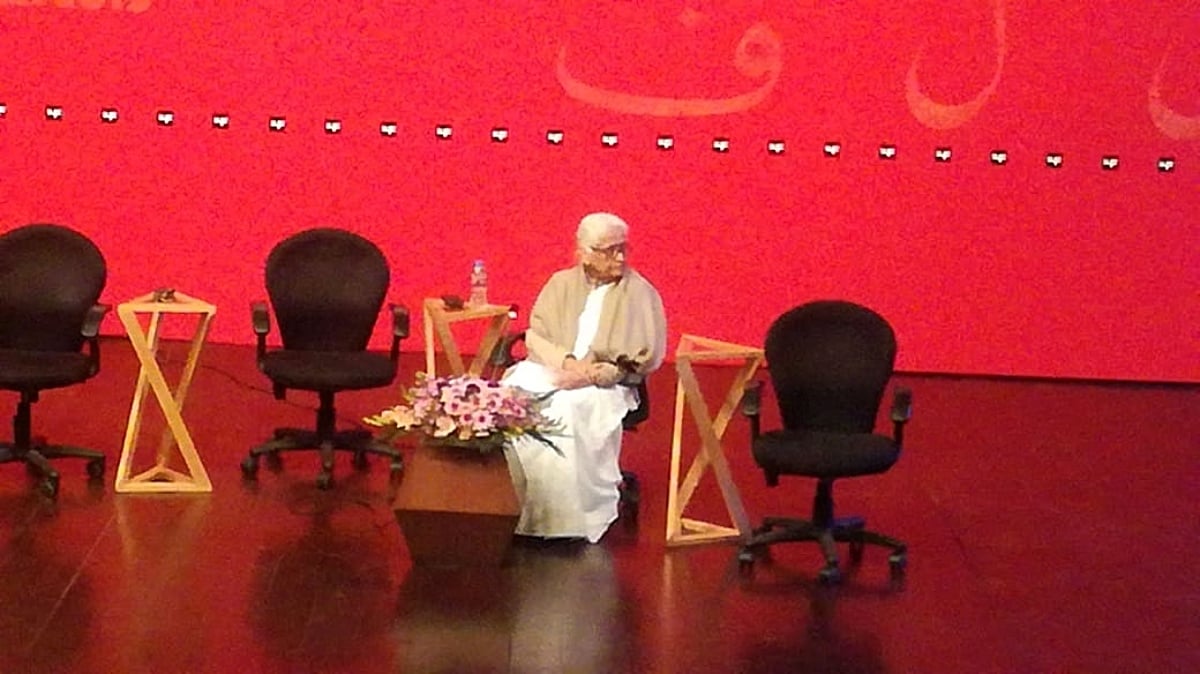 "Her poetry is a balm for our pain but also tells us of what's happening around us and has always done so," says Nasreen about Nigah.
---
03:25: Hameed Haroon has an important message about journalism's future in Pakistan
Says Haroon, "This is not a good time for freedom of expression and freedom of press. These rights are not handed out on a platter, they have to be fought for every inch."
---
03:10: The opening ceremony commences
Fasih Ahmed takes the podium to say, "As Pakistan is opening up, and the government is easing visa restrictions, festivals such as these will go a long way in attracting crowds."
Also present is Thomas Drew, the British High Commissioner who says, "Culture and literature are one of the two things that bring our countries together."
Asia Society's Rachel Cooper comments to the festival saying, "LLF is a home away from home, in New York. It's an important way of showing Lahore and Pakistan in a global context. It's a kind of place making. It's a catalyst of ideas."
---
3:00: We're here!
We're right on time and watching the place fill up!