The pioneer of film journalism in Pakistan has now faded from our collective memory.
Walking up an old and narrow staircase, sandwiched between old shops opposite the once iconic Metropole Hotel in Karachi's bustling Saddar, one almost feels like they are walking into history. The rundown stairs lead to an even older newspaper office that has withstood the test of time.
This is the office of Nigar Weekly, a film newspaper that once led the wave of film journalism in Pakistan. Almost as old as our country, Nigar Weekly, founded in 1948, has seen the highs and lows of the political, cultural and socioeconomic journey of Pakistan.
Looking at the current condition of the office, one can conclude that Nigar Weekly has certainly seen better days.
The Man, The Myth, The Filmy Legend
The brainchild of Ilyas Rashidi, Nigar Weekly emerged onto the scene soon after the creation of Pakistan. Before Partition, Ilyas Sahab, as his son calls him, did film reporting as an assistant editor for an Urdu newspaper called Chingari in Delhi. He moved from Delhi to Karachi at the time of Partition and began working for his older brother Umar Azad's newspaper Anjam. DAWN, Jang and Anjam were the only major newspapers being published at the time.
One year later, he decided to publish a newspaper that exclusively focused on films in Pakistan called Nigar Weekly.
The first challenge he faced was the lack of films being produced in the newly formed country. Most of the established film centres such as Bombay (now Mumbai) and Calcutta (now Kolkata) in British India went to independent India. The only film city Pakistan inherited was Lahore. The governments of each country reallocated studios to migrant film producers and distributors on both sides, thereby prolonging the dearth of films in Pakistan.
This led to Ilyas Sahab republishing stories from Indian film magazines like The Screen and Filmfare about Hindi film actors, illustrating the early demand for cinema-related news. As studios gained momentum in Lahore, Nigar Weekly started focusing more on Pakistani films and stars. It featured news about upcoming films, reviews of recently released films, messages and opinions from readers, and satirical illustrations. With a variety of elements in the six-pager, the newspaper enjoyed immense popularity amongst film lovers.
The parallel growth of the industry with the newspaper engendered a reciprocal relationship between the two. The paper would promote the films; in return, film personalities would divulge insider news about upcoming films and personal stories about celebrities.
Ilyas Sahab came to be held in high regard in the industry. He was often invited to chair and act as an oath taker for elected office-bearers in major film journalism associations in the country. One such instance was in 1975 when he administered oaths to the elected office-bearers of the Karachi Film Journalists' Association (KFJA). This is where Rashidi was given the title of Baba-e-Film Sahafat (Pioneer of Film Journalism) by the then-elected vice chairman of the Film Producers' Association (Karachi Zone), Nazir Soofi.
The KFJA's then-president, Munir Husain, expressed his deep gratitude for Rashidi's services in uplifting the status of film journalism. He also thanked him for birthing the tradition of film awards in the country as opposed to the government which for decades had no official awards to encourage and reward good cinema.
Pakistan's Oscars
The second brainchild, and arguably the more famous of the two, were the Nigar Awards, which were established in 1958. The first series of awards were given to films released in 1957.
The awards quickly gained prestige and significance in the country. Senior journalist Humair Ishtiaq described the accolades as the "Pakistani Oscars". A predecessor of the state-introduced National Awards, the Nigar Awards were the only regular annual accolades that took place in the country for almost five decades. The awards were inspired by the Filmfare Awards in India, birthed by Filmfare Magazine.
The first Nigar Awards ceremony was held at Evernew Studios in Lahore. It has been reported that Rashidi himself chose a statue of "an elegant lady wrapped in film" that he discovered at a market in Saddar. So prominent were the awards that even General Zia ul Haq took notice of them — especially the award statue itself. During his tenure, the statue was changed to one that read the word Nigar in Urdu script at the government's insistence.
In a conversation with The Express Tribune, Aslam Ilyas, the son of Ilyas Sahab, stated, "The original award was a figure of a lady that my father had found in a metal workshop in Saddar." He said that during Zia's time, they had to replace the lady with a textual representation of the word Nigar. "I was upset; I liked the previous one more because it embodied the class one attaches to an award ceremony. The statuette was something the winner would feel proud to receive and take home."
The family business
When I met Aslam Ilyas, the now chairman, publisher and editor of Nigar Weekly, he was more than happy to talk about the magazine. He took over as editor after his father passed away in 1997.
Walking into the two-room office on the first floor of the building opposite Metropole, the first thing one notices is the antiquated nature of both the building and its furnishings. The worn-out nature of the office mirrors the bygone era of Nigar Weekly.
On the right is the room where Aslam sits behind a desk. From this tiny room, he controls and oversees all processes related to Nigar Weekly.
But even though he's now the boss, when I asked what made Nigar Weekly famous, he immediately began listing the qualities of his father. For Aslam, Ilyas Sahab was synonymous with Nigar Weekly.
Ilyas Sahab was intrinsically connected with Nigar — they were inseparable parts of each other.
"Mehnat, khuloos aur imandari [Hard work, heartiness and honesty], these were the characteristics of Ilyas Sahab," he said, attributing these traits to why Nigar Weekly gained so much popularity in the world of Pakistani films. "Straightforwardness too… Whether one liked it or not, Ilyas Sahab would always be upfront."
The late editor established a relationship of reciprocity and mutual respect between the industry and the paper by promoting young talent. "If an artist is good then he would promote them in his paper — a lot of artists like Aijaz, Shabnam, Sangeeta, Shamim Ara, Zeba and Saud were introduced by Ilyas Sahab," Aslam added.
Ilyas Sahab, in his last interview before his death in 1997, with Ishtiaq for Dawn, touched upon this by naming famous names that began their journey with Nigar.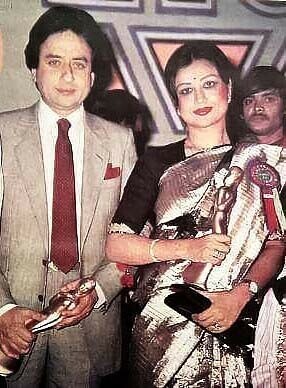 When Ishtiaq asked him about his family's thoughts regarding his extreme passion and involvement in the filmy duniya throughout his life, Ilyas Sahab responded by saying, "The whole industry stands up when I walk onto the stage. They respect me to the point of being willing to eat out of my hands. Why would my family object to it?"
Two and a half decades later, Aslam echoes this sentiment with pride. "My father ran this paper for 50 years without any gap," he said.
Perhaps this is why he does not want to let it go. Despite the circulation level of the newspaper hitting an all-time low, he wants to continue publishing Nigar Weekly till the end of his life, following in his father's footsteps,
"It has now been 74 years of publication. We only took a break during Covid," he said, when cinema houses were closed and there was nothing to write about. "Sometimes, I think ke bus, final kardeta hun [enough, I can end Nigar Weekly]. It might sound like a simple sentence 'Kal se koi akhbaar nai ayega [There will be no newspaper from tomorrow]' but when my father died, I told myself I would continue this. I was not aware back then ke itni azmaish bhi ayegi [that there would be so many challenges]," he chuckled. How was he to guess the country would move on from Nigar and its importance to Pakistani cinema?
"I will be honest, the circulation has changed a lot. Initially, in my father's days, the circulation used to be around 22,000 for a normal issue and around 28,000 for a special edition, which was a lot for a weekly paper," he explained. In 2017, circulation fell to 7,000. Today, it continues to fall.
Aslam was once travelling in a car with his father and a third person. The third person asked, "Ilyas bhai, ap ke parchay ki kya circulation hai? [Mr Ilyas, what's the circulation of your paper]?"
To this, Ilyas Sahab jokingly responded, "Like a woman never tells her correct age, a publisher never discloses the correct number of his circulation."
Nigar Weekly's current publisher is as closed mouth about today's circulation numbers as his late father. "We are surviving. That's a big deal," he said.
After taking over the reins, Aslam made quite a few changes to Nigar Weekly. He increased the number of pages from six to eight/10. However, the rise in inflation forced him to make changes to cut costs. He changed the paper from being released weekly to now being released fortnightly. He also began printing the inside pages of the newspaper in black and white. He also reduced the number of permanent employees to five. Most writers who contribute to Nigar Weekly today do so on a freelance basis.
The end of an era
The Nigar Awards, which were once seen as an integral part of the Pakistani film industry, are no longer held today. The most recent Nigar Awards took place in 2004.
Aslam paints a gloomy picture of the fate of the awards since then. With the rise in private television channels and new annual award shows such as the HUM Awards, ARY Film Awards and Lux Style Awards, holding yearly Nigar Awards has become unsustainable.
In 2017, Aslam tried to revive the awards and even held a press conference announcing the nominees, but that was it. Today, he has practically forgotten the attempt.
"Ilyas Sahab ne chalis saal ye awards kese chalaye? [How did Ilyas Sahab hold these awards for 40 years]? I sometimes wonder," he pondered.
These days, it has become extremely difficult for him to compete with other commercial awards that gave the support of private TV channels. "Now, if we have awards then we need to match the scale of other awards taking place in the country and they have budgets of millions," he argued. He was critical of the channels' interference and involvement in the awards. On a monetary level, he asked rhetorically: "Why would any TV channel invest in the Nigar Awards when they can just invest in their own?"
According to Aslam, the fall of the Nigar Awards was primarily due to the lack of films being produced in Pakistan. "If there are ginti ki filmen [a few films], then who do we award?"
Zia and the domino effect
If one wants to understand the fall of Pakistan's film industry, one must trace it back to the time of Zia ul Haq's dictatorship. "Kaam jo kharab kiya wo Zia ul Haq ne kiya. [The one who ruined things was Zia ul Haq]," Aslam stated. He shared another anecdote with me, however, this one was more serious with dire consequences for Pakistani cinema as well as Nigar Weekly. He recounted an incident in the 1980s when the military dictator called a film convention in Islamabad to which he invited major film producers, directors and artists. There he screened Punjabi, Pashto, and Urdu films. He complained about the rising 'obscenity' in films, particularly Pashto films at the time. "Kaafi narazgi hui, Zia-ul-Haq Sahab ne kaha mai industry band kar raha hun [He was upset, Zia said that he would shut down the industry]," Aslam narrated.
Actor Muhammad Ali then tried to calm the autocrat down and compared the film industry to his children. Zia agreed not to completely shut down the industry but imposed a condition that all producers must get government registration before making any film. The process of registration was very slow and as a result, Lahore and Karachi studios bore the brunt of this decision. For one year there were little to no films being produced in the country.
"Unho ne Lahore and Karachi studios mai talaay daal diye [He shut down Lahore and Karachi studios]," Aslam lamented.
Consequently, film professionals had no choice but to change careers. Good directors like Pervaiz Malik, Hassan Tariq, and S Suleman stopped making films and in their place, people who were assistant directors at the time began making films once cinema picked up a bit. This resulted in the deterioration of the subsequently produced films' quality as these new filmmakers lacked the training and experience of earlier directors.
According to Aslam, the number of films released annually reduced from 100 to 125 before Zia's era. In 2004, when the last Nigar Awards were held, there were a total of 24 to 25 films released in Pakistan.
In 2022, 43 films were produced in Pakistan — 25 Urdu films, 10 Pashto and eight Punjabi — according to Sindh Board of Film Censors Secretary Adil Ahmed Dayo.
The blame does not lie solely on Zia's shoulders. For Aslam, this was a major setback that resulted in the end of the glorious days of cinema that bloomed in the 60s and 70s.
The lack of films being made in Pakistan hit Nigar Weekly the hardest. "A ship needs time to sink," Aslam said, implying that this was the beginning of the end for Nigar Weekly.
Journalist Ishtiaq sees the fall of Nigar parallel to that of the film industry. He brushed aside any connection between waning interest in print media and Nigar Weekly — the paper saw its downfall long before print's decline. He said when he interviewed the late publisher, Nigar Weekly had already become antiquated.
He argued that since Nigar Weekly was an industry-focused newspaper, it was hit the hardest by the low turnover of films after the 1980s. Other mainstream newspapers were not as affected because they had other topics to report on. Nigar, however, was completely reliant on film-related news.
The journalist argued that even though film stars still exist, the phenomenon of crazy fans has receded. He believes this has diminished the demand for consistent consumption of news related to film personalities. The existing demand is already being fulfilled by mainstream news sources.
I will argue that dedicated fan culture still exists in Pakistan, however, its manifestation has changed over time. Devoted fans now have easy access to the activities of their favourite film and TV stars via social media platforms like Instagram, Twitter and Facebook.
Ishtiaq argued that once films started being produced again — though not as many as before — contemporary news outlets began including sections on films in their newspapers and websites. For example, Dawn has Images online and ICON in print. Earlier, it was looked down upon to report on films in major newspapers. But by this time, Nigar had already gone obsolete.
The journalist agreed that Nigar had the social capital, given its extensive history and experience in the field of film journalism, but they lacked financial means and a working business model that could keep pace with the rapidly evolving times. The absence of the Nigar Awards, which were a major source of revenue for the newspaper, ended up being the final nail in the coffin.
Film critic and journalist Muhammad Suhayb thinks fondly of the heyday of Nigar Weekly. A fan of the late actor Waheed Murad, he still buys a copy of the newspaper on the actor's death anniversary every year. According to Suhayb, Nigar Weekly was a trendsetter in Pakistan for film magazines and newspapers.
Before Nigar, newspapers lifted content from Indian newspapers and translated it into Urdu. Nigar Weekly filled the void and started a shift towards original stories written by renowned columnists such as Basheer Nayar and Younus Hamdam. Nayar went on to become a famous scriptwriter; Hamdam moved to Lahore and began writing songs for films.
Ilyas Sahab's connections in the industry and his close relationships with people in films posited him in a unique spot where Nigar Weekly became a one-stop source to get all news related to cinema in Pakistan. Long before social media and the internet, Nigar was the place to learn about the latest gossip and insight into films.
A glorious past, turbulent present, but what of the future?
Sipping my cup of chai, I asked Aslam why all the archives of Nigar Weekly were placed in stacks in the office's other room. Aslam plans on digitising the archives so everyone can have open access to this significant piece of history.
As old as Pakistan, Nigar Weekly has managed to survive fluctuating governments and dictatorships, as well as a host of hardships, financial and otherwise. It reminds us of how a man with a vision became a pioneer of Pakistani film journalism.
Seven and a half decades since its inception, you can still buy a copy of Nigar Weekly from any newspaper hawker in Karachi for Rs100. Although its articles may seem a bit outdated and its stories still revolve around the heroes and heroines of yore, Nigar holds a place of nostalgia in the hearts of old film lovers.
But if you're looking for your daily dose of celebrity gossip, it's anyone's guess if you would actually pick up a copy of the paper at a time when news about your favourite film star is just a tap away on Instagram.