Did your favourite celeb make the list?
As another year comes to an end, we're back at the starting line, heading into the next. Looking back, there are some people who really stood out for us this year and to commemorate that, we bring you the second edition of the Images Awards.
In case you failed to keep up with celebrities this year, we'll make sure you don't miss out because we certainly did. Curating our very own hall of fame, we bring you this virtual award show, an overview and a vibe check, if you will, where our celebs are concerned.
The most meme-worthy person of 2022
Ahsan Khan
This one goes to Ahsan Khan, our very own British-Asian actor. We're going to need to send this award here and there as well.
Cutie first, cricketer second
Mohammad Rizwan, Naseem Shah and Shaheen Shah Afridi
It's a three-way tie for this award because the adorability factor with these three is particularly high and their fans are a testament to that. Even when they don't perform well, they have fierce protection from their fandoms.
We can't stop jamming to their tunes
Abdul Hannan
Abdul Hannan skyrocketed through the Pakistani music scene this year and some of his bangers are still on replay for many.
They don't catch feelings, they catch flights
Ayesha Omar
Ayesha Omar's plane-hopping to unreal destinations is the stuff our dreams are made of. We, too, would like to go feel our feelings in a place that makes us feel great feelings.
Someone we'd do an escape room with
Osman Khalid Butt
Man's smart, has strong comprehension skills from all the books he has been reading and is not afraid to look in the most unlikely of places. If anyone can get us out of an escape room, it's him.
The fandom we can't help but root for
Pakistani BTS ARMY
This one requires no explanation — is there a stronger fandom in Pakistan than the BTS ARMY? We think not. Our purple-heart flooded socials are proof.
Our candidate for PM
Sharmeen Obaid-Chinoy
Filmmaker Sharmeen Obaid-Chinoy may work behind the scenes but she makes sure her voice is heard beyond them. She puts the woke in vocal and we would trust her as our leader.
Heartthrob of the year
Fawad Khan
This is the year we were gifted Ms Marvel AND The Legend of Maula Jatt. Fawad Khan in two hits? Oof. Be it Hasan Nana or Maula Jatt, this man knocks us out with his TV personas.
An actor we can't stop gushing about
Alina Khan
If you've watched Joyland, you know why. Alina Khan's performance had us glued to the screen, both in awe and respect. Her character was badass and we can't wait to see her in more projects.
Cutest relationship alert
Malala and Asser Malik
Have you seen these cuties do a video together? Charismatic and funny, they go together like chai and biscuits. They for sure have all of us rooting for them. Also, @ God, when?
The ruler of baby gram
Yasir Hussain and Iqra Aziz's son Kabir
Baby gram analysis is a toughie. How do you rank insane cuteness? We don't know but we definitely think where Kabir is concerned. For him, grabbing your likes is as easy as grabbing candy from a baby.
Love them or hate them, you will be entertained
Hira Mani
From her Bollywood-esque dances in the rain and workout shirt sari pics to her daily shenanigans, it doesn't matter how you feel about her, you are sure to be entertained. She is Hira Mani, after all.
We'd raid their closet
Kiran Malik
Our lives would be a constant catwalk if we had access to Kiran Malik's glamorous closet. Stalk her Instagram if you have any doubts. You get it, don't you?
We'd like to adopt them as our grandparents
Manzar Sehbai and Samina Ahmed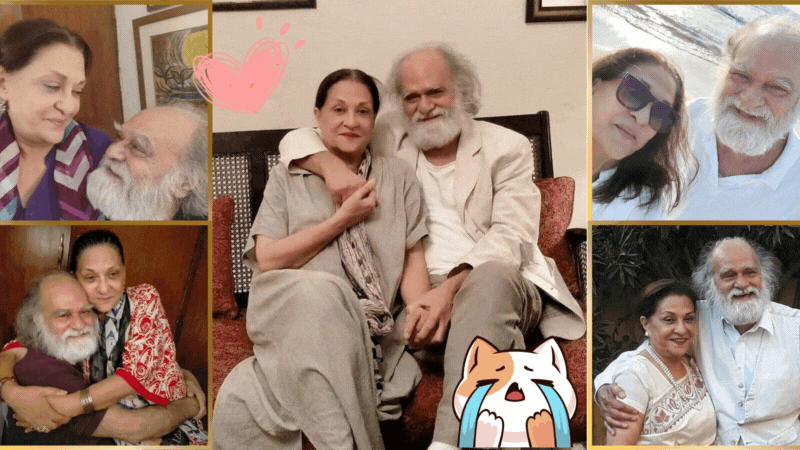 They're just one of those older couples that you look at and can't help but feel a little fuzzy in your heart. If they're not looking to adopt, we are. Someone connect us to them!
Instagram Baddie
Hania Aamir
Hania Aamir knows how to keep her fans hooked — be it through her fit pics, videos of her singing or dancing with friends or her vlogs. Her feed is sure to draw you in somewhere before you decide to hit the follow button.
Someone we'd take cooking advice from
Shaniera Akram
Besides speaking up for what she believes is right, Shaniera Akram is also a great cook. At least that's what her colourful foodstagram and Wasim Akram seem to suggest. She knows her way around food and likes experimenting, especially with vegetarian and vegan food.
The person we want to be pushed into a pool by
Gohar Rasheed
This one's more about poetic justice, to be honest. We just want Maakha Natt from Maula Jatt to get his revenge and recreate his last fall for someone else because we are not okay with his end. But also, Gohar seems like he'd help us back up afterwards.
A couple we'd go on a double date with
Usman Mukhtar and Zunaira Inam Khan
They seem like a couple that knows how to chill. Their dynamic also suggests they're thoughtful and funny — how could we possibly have a bad time with that?
The biggest fangirl
Mahira Khan for Sajal Aly
Women cheering for other women is one of the wonderful things about female friendship. Mahira Khan has often openly expressed her love for Sajal Aly's wins, for both local and international projects, and we love it. We stan this behaviour, more of this please!
Grocery shopping would be an adventure with them
Kubra Khan
We think Kubra Khan's contagious laughter would get us through anything. She also probably has some interesting stories to tell — plus, we'll be surrounded by junk food and snacking with Kubra sounds like an adventure on its own.
That's all for today, folks. See you next year!