The designer's latest show in Lahore, 'Ghar Gharati Gehnay', was an explosion of colour, embroidery and some unique Fahad Hussayn charm.
It was a Lahore winter wedding setting with a cluster of orange trees standing tall at one end of the venue and on the other end, an entourage twinkling in an eclectic mix of colour and embellishment. There were brides everywhere, sitting in small clusters, sometimes accompanied by a groom, surrounded by others in wedding-wear. Horses, tethered a short distance away roamed in the backdrop and the winter sun set slowly over the wide expanse of farmland that was the venue of Fahad Hussayn's latest solo installation.
At a time when fashion has predominantly succumbed to generic aesthetics, Fahad is one of very few designers who refuse to curb their creativity. His designs are distinctively his own — lehngas and cholis layered with heavy swathes of embroidery, grand statement dupattas, vivacious colours — all put on display in a setting especially created with the collection in mind. There is a passion that is evident in his work and, while his peers are mostly happy to simply float out collections on social media, Fahad has regularly been celebrating his work by inviting a selection of media and members of the fashion fraternity to come and see his designs up close.
Forming the background of the installation, titled 'Ghar Gharati Gehnay', were especially constructed multicoloured arched passages. Photographers roamed about, clicking at the models. In actuality, the installation had been set up for a detailed photo shoot of Fahad's latest formal unstitched fabric collection. Having made the effort of creating a backdrop and renting a venue, the designer decided to also host an event where the clothes could be seen physically. It's a very clever move — one wonders why other designers who go to great lengths to create sets for their shoots, don't do the same.
Fahad has often described his Print Museum Unstitched Formals collection to be a more economical option compared to his couture. While the latter is entirely created by hand, the former features a blend of machine and hand embellishments. Even so, the machine-work, under Fahad Hussayn's gimlet eye, becomes extraordinary and very, very formal. This isn't your typical unstitched formals collection, packed into a box and sold at retail outlets. It's far more pricey, much more elaborate and the machine-made patterns are difficult to pinpoint, having been carefully created in the style of hand embroideries.
There was so much to sigh over and entice the bride-to-be in the installation. Amna Babar wore a quintessential Fahad Hussayn black design — a lehnga choli that shone like a magical night sky, lit up with colour and shimmer against an all-black canvas. There were pastels that were lovely; off-whites, magentas, fuchsias, lilacs and salmon pinks thickly embellished with well-conceived mixes of embroidery and sequins.
Fahmeen Ansari wore an elaborate beige and gold, Maha Tahirani a deep rust targeted towards the predominant market for cardinal reds for the main wedding day.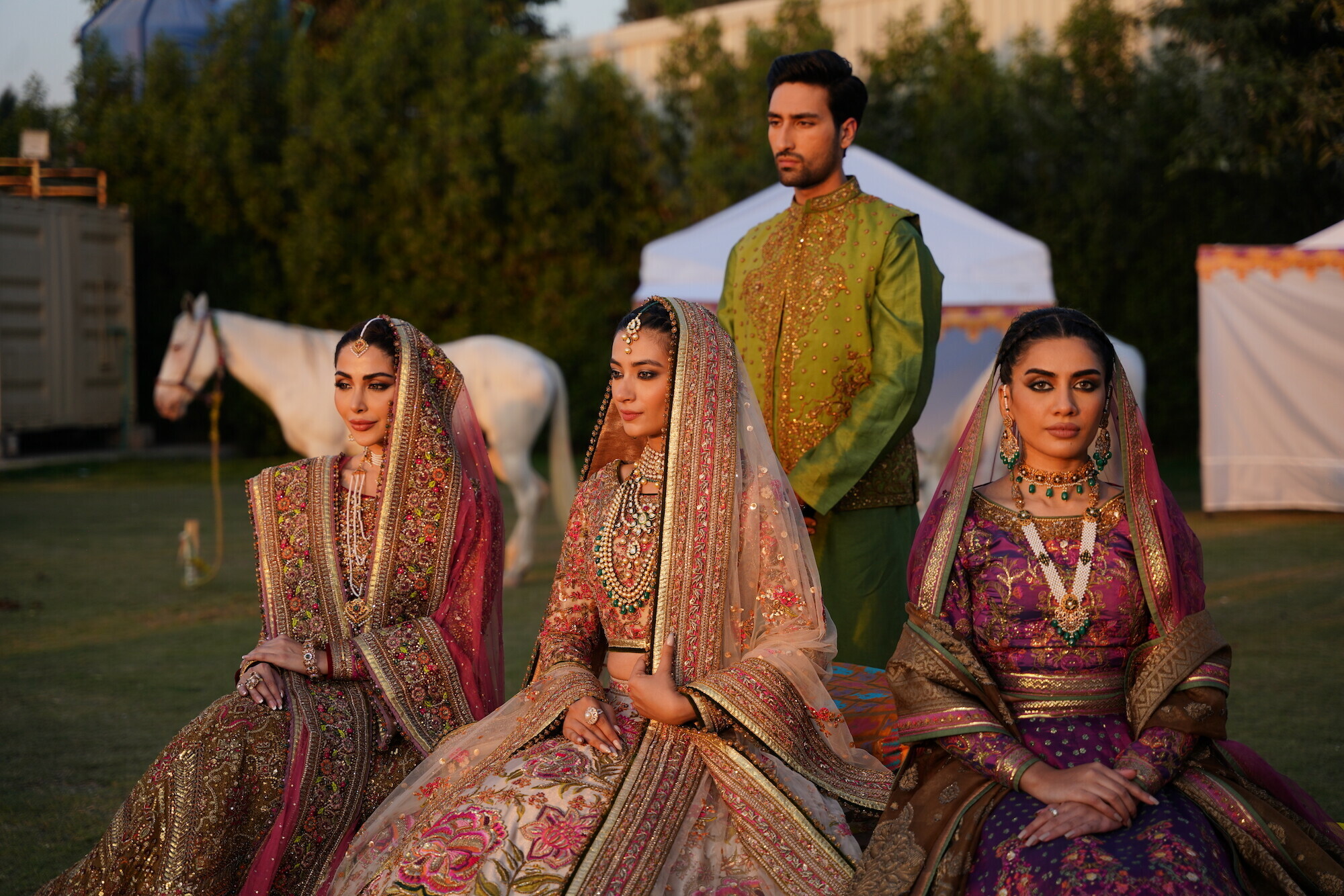 Giti Ara was majestic in an elaborate farshi, the off-white canvas worked with pink and gold. Sabeeka Imam's lehnga glittered with zigzagging lines of hand-embellished zardozi.
There were organza dupattas lined with thick borders, formal saris and a range of menswear that pushed the envelope without being over-the-top — sherwanis, short jackets, kurtas and even a flared angarkha. Jewellery by Fazal Jewellers complemented the designs.
The beauty was in the details — the swirling stems of florals meshed together down the length of a shirt, the arches etched along the hem of a lehnga, the opulent mix of crystal, mirror-work, colour, pattern. These weren't designs lifted off Pinterest — we see many of those around us masquerading as designer 'originals' — but patterns created the conventional way, in a sketchbook, by a designer who loves what he does.
It is this love that makes Fahad Hussayn's work stand out. Designing is his raison d'etre and he continues to stay true to it. There was a time when Fahad was such a stickler for design that he would eschew commercial concerns altogether, devising a range of out-of-the-box, unforgettable — but not very sellable — collections. In a post-pandemic world, though, all designers, including Fahad, understand the importance of being business-savvy. This latest collection is very likely to haul in business but also stays true to his very detailed ethos.
Actor Sonya Hussyn made an appearance at the show, speaking to the media while dressed casually in jeans. It was only much later, long after the sun had set and a bonfire had been lit to keep away the cold, that she was photographed in one of Fahad's bridal designs.
The crowd that had come to the show had mostly dispersed by then. This did not matter. The beauty of a fashion installation is that you can walk in and walk out whenever you like. There is no show that has to start and end. The models are simply there, showcasing the collection from different vantage points. In fact, fashion installations work particularly well for bridal-wear where the details can be better appreciated up close rather than swiftly passing by you on a runway.
There have been times in the recent past when fashion purists have observed that unstitched formals are the death of couture, pointing out that machine embroideries replicating hand-worked details, even untidily, at a fraction of the price, will eventually eliminate an appreciation for bona fide couture. This may be true for the multitudes of generic formal-wear lines currently available in the market but Fahad's signature mix of hand and machine-work has a completely different aesthetic.
Yes, it's commercially savvy and there are no wild, wacky takes on bridal-wear that will win acclaim but not bring in business. Even the accessorising was relatively conventional, a far cry from the crazy crowns, masks and costume jewellery that Fahad has often created for his shows, which make for fabulous images but may be far too funky for the desi bridal-market. I won't deny that I miss them. And yet, even while toeing conventional requirements, there was a distinctive beauty to the collection. There was a creativity to the design, a love for craft that is evident even in the blend of machine with handcraft.
This love for fashion, which once propelled Pakistani fashion forward and built it into a veritable industry, is so rare to find these days.