Mansha Pasha, Ushna Shah, Sarwat Gilani, Usman Mukhtar, Osman Khalid Butt, Mariyam Nafees and other stars took to social media to support her in her case against ex-husband Feroze Khan.
The entertainment industry is rallying behind Aliza Sultan after bruised photographs of her emerged online along with a medical report detailing her injuries. The documents were submitted by her lawyers to a Karachi family court in a custody case filed by her ex-husband and actor Feroze Khan.
In an Instagram post in September, Sultan accused Khan of abuse and infidelity while announcing their divorce. Details recently emerged of a court hearing in which her legal team submitted documents after Khan requested the court to restrain Sultan from sharing details of the case on social media. The documents were shared as proof that she was not lying on social media, her lawyer told Images.
These documents have resulted in an outpouring of support from members of the entertainment industry, including from some of her ex-husband's co-stars.
Mariyam Nafees
Actor Mariyam Nafees was among the first celebrities to share the news. She shared a Geo article on domestic abuse on her Instagram stories that included Sultan's photos and documents proving that she had been abused.
"I'm sorry people attacked you when you spoke your truth. I'm sorry that people knowingly stayed quiet. So sorry you had to go through this Aliza Sultan Khan. Stay strong, we're with you! Allah is with you."
With a photo of the hospital documents, Nafees asked why "do we raise voice only when they're dead? Why do we blame them when they manage to escape?"
She compared Sultan with Sarah Inam, a Canadian national who was killed in Islamabad on September 23, and highlighted the "selective sympathy" and victim blaming prevalent, suggesting that people must "learn to call people out when they're exposed."
Osman Khalid Butt
Chupke Chupke actor Osman Khalid Butt shared Nafees's tweet and with a trigger warning and said he hoped and prayed that Sultan gets the justice she deserves.
In another tweet, he shared that the MLO report that Sultan presented as evidence states "blunt injuries on both arms, back, chest and face". Butt also wrote, "I know we're an incredibly desensitised society but read that again. Let it sink in."
Butt took to Instagram stories as well and renewed his prayer that Sultan gets the justice that she deserves. "When a woman in this country is brave enough to break her silence and share the pain, suffering and humiliation she went through: The least you can do is show her empathy. It's literally the bare minimum. (and judging by some of the comments underneath wherever her story has been shared, even that seems to be asking for too much)," he wrote.
Mansha Pasha
Mansha Pasha also expressed her thoughts on Instagram. "There is no excuse, no fandom, no friendship and no idolisation so important that it allows us to ignore violence and/or make excuses. Its time to put a stop to this! We won't sit by and wait for more Noor Mukadam, more Sara Amirs just for the sake of not troubling the waters."
She urged people to speak about important issues.
In another Instagram story she clarified that her post was not directed towards anyone nor was it an attack. "We need to speak up as and when we can when we see someone has suffered in this way regardless of who that person is — friendship, colleague, fandom shouldn't matter. Only then can we honestly speak about all the other ills with sincerity as well cuz we spoke up too when it was closer to home!" she wrote.
Pasha suggested people must speak up regardless of who the perpetrator is and sent "strength and love" to Sultan. "I can't imagine what she has suffered and the trauma and fear which ultimately led to her coming out with all this!" the Laal Kabootar star concluded.
Minal and Aiman Khan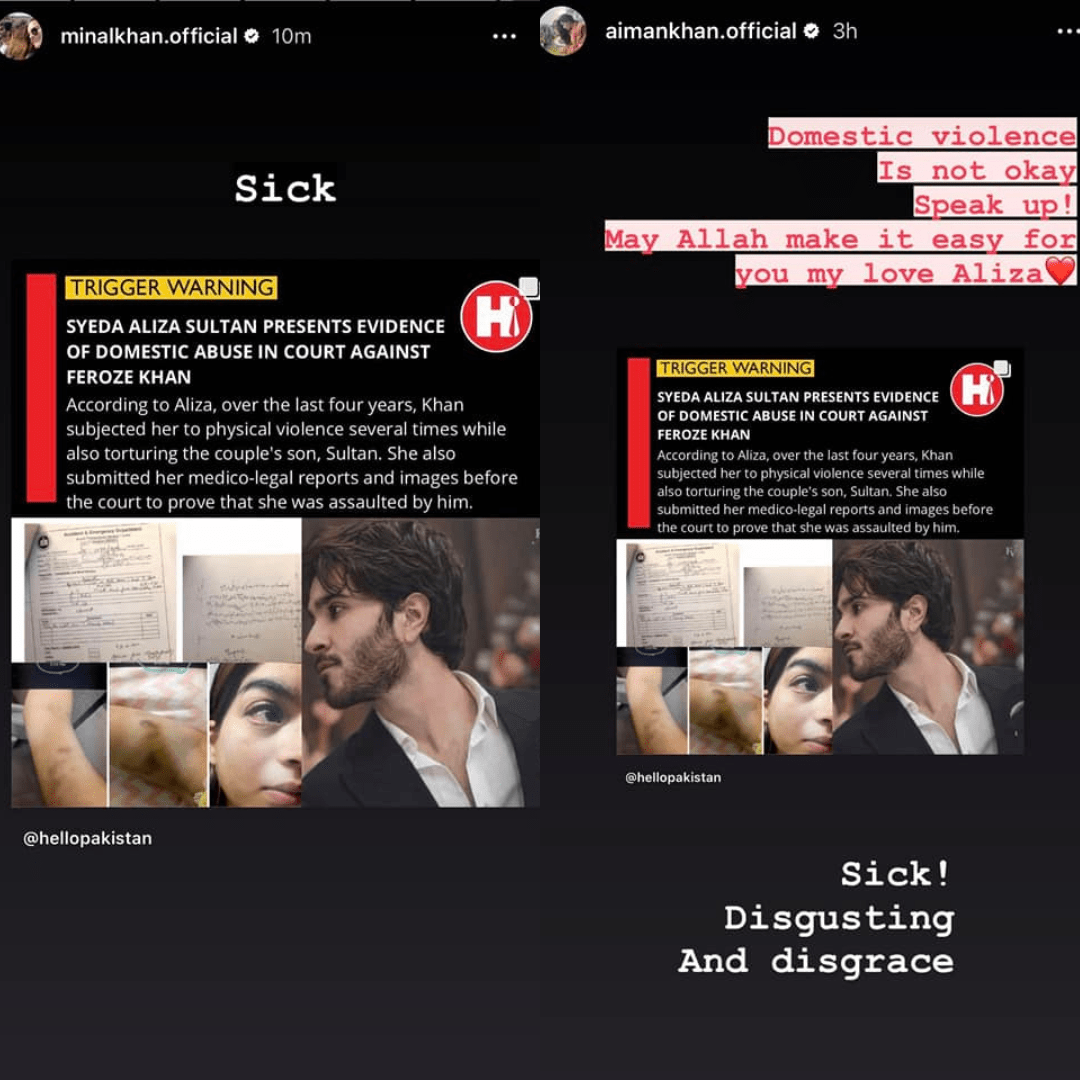 Sisters Minal and Aiman Khan also took to Instagram to share the news. The Jalan actor called it "sick" while Aiman pointed out that domestic violence "is not okay", encouraging others to speak up and prayed that "Allah make it easy" for Sultan. "Sick! Disgusting and [a] disgrace," she wrote.
Sarwat Gilani
Sarwat Gilani also shared a news post about Nafees' Instagram stories and called for a "ban [on] wife beaters and cheaters from representing our industry". She shared it with the hashtag to ban Feroze Khan.
She also shared a comment on Instagram in which she once against called for a ban on the actor. "No wonder he played such kind of roles so well, came naturally to him," she said.
Armeena Khan
Janan actor Armeena Khan also shared Nafees' tweet and said that if people truly stand for women then "now is the time to speak up!" otherwise they shouldn't bother when they're dead.
Merub Ali
Model Merub Ali also commented on the matter and said "domestic violence is not okay" and prayed for Sultan and her children.
Anoushey Ashraf
RJ and TV show host Anoushey Ashraf apologised to Sultan and said "there is no room for violence" in her world and that she would feel sorry for turning a blind eye to this specific case.
Lauding Sultan, she wrote, "It's awful that people may still ask why it took you so much time to speak up. Little do they know how brave it is for you to speak up even now. As difficult as it is for us to speak up against someone we know personally, it'd be wrong for me to look the other way this time."
Ashraf hoped that Sultan gets justice and that court extends an anger management programme for those who are "dealing with 'intermittent explosive disorder'" and suggested, people who are unaware about the condition, to read up in order to "make this world a safer place for all".
Zara Tareen
Actor Zara Tareen posted a comment on Instagram in reply to Gilani in which she said she is sick and tired of having to be quiet because there's "no real approach to addressing abuse of any sort". "People assume we in the industry somehow have more power when in fact we are constantly cornered by threats of defamation or worse," she said, calling for a ban on Feroze Khan and "all other lowlifes like him".
Mushk Kaleem
Model Mush Kaleem also hoped that Sultan gets justice and that people get to see some difference here. "I really hope she doesn't become another statistic in the books," she wrote.
In another story, Kaleem highlighted how people are unable to comprehend how hard it is for women, especially young mothers, to "come forward and publicly share their stories of abuse against men in power, especially their partners." She said people shouldn't wait for the other side of the story and that action needs to be taken immediately.
"These celebrities with God-complexes because of their families and their influence, need to be cancelled, they need to be named and shamed. Say it with me, say his name, Feroze Khan needs to be cancelled and Aliza Sultan Khan needs to be brought to justice [sic]," she wrote, calling for justice for Sultan.
Usman Mukhtar
Hum Kahan Ke Sachay Thay actor Usman Mukhtar said he was disgusted at the news and expressed his hope that Sultan gets justice.
Shae Gill
Coke Studio's singer Shae Gill demanded Khan be put behind bars and called him a "disgusting human being". "Praying for Aliza and her family," she wrote.
Ushna Shah
Khan's co-star from on-air drama Habs Ushna Shah also sided with Sultan and wrote, "I'm still processing this and am in a state of shock. Nothing can and will justify violence against a woman. My heart is with Aliza as well as Sultan and Fatima."
Musaddiq Malek
Habs director Musaddiq Malek also took to Instagram and said that the on-air show will have its 25th episode up today. "A team of 40 people worked day and night for 100+ days to put up a show with literally blood and sweat, can't let some ignorant, self-centered, egoistic man to ruin that for all of us. Please keep the art (Habs) separate from the artist i.e. (a*****e) in this case," he wrote. Malek also plays Fahad, Khan's best friend in the show.
Dania Enwer
Khan's Habs costar Dania Enwer also posted about the news and said working with Khan was "unpleasant", calling his "derogatory remarks on women in general" not easy to cope with. "My last day of shoot with him was the most painful to deal with."
She sent strength to Sultan and her child. "It's not easy to bring your trauma in front of the public," she said.
Asim Azhar
"Domestic violence is unacceptable. No ifs and buts. No 'other side of the story'," wrote singer Asim Azhar on his Instagram story.
"Takes a lot of strength to speak up. Praying for Aliza and her family."
Aliza Sultan and Feroze Khan's divorce
Both Sultan and Khan confirmed their divorce on September 21. Sultan posted a detailed note on Instagram in which she said the thought of her children finally made her call it quits. "The welfare and well-being of my children have played a significant role in this decision. I do not want them to grow up in a toxic, unhealthy and violent household. I'm afraid that their mental development and approach to life would be negatively impacted by exposure to such [a] hostile environment," Sultan wrote.
"No kid should ever have to grow up feeling violence to be a normal part of relationships. I would rather teach them that no wounds are too deep to be healed, no scars too shameful to be concealed at the cost of one's safety," she added.
In a statement posted a few hours later, Khan said "As a law-abiding citizen of Pakistan I have full confidence in the justice of the Court. Our divorce was finalised on September 2, 2022, after which I filed a family law case asking custody of and visitation rights pertaining to my children Sultan and Fatima in the eighth family judge district, East Karachi on September 19 2022."
At that time he addressed Sultan neutrally and refused to discuss more. "As concerns my ex-wife, I shall extend her my respect and support as she is the mother of my children. I am afraid I am not in a position to further discuss this matter as the case is pending before the Court."