Wealth and the pursuit of wealth often play a big role in Pakistani prime time dramas even when they have no need to.
'Marriage' and 'money' seem to be the two overwrought themes driving the narrative of Pakistani prime-time dramas. The question to ask is, who is watching these dramas and why is such content dominating our television screens? Disturbingly, this formula of centring all our drama plots around affluent and often unnecessarily rich families — who are inevitably classist and powerful by default — works as far as commercial success is concerned. Most of these shows are labelled 'family dramas' about rich families either mingling with each other or belittling not-so-rich families.
In some cases, wealth is driving the plot, for example the mega successful drama Parizaad was centred around one man making life altering and unrealistic decisions all in the pursuit of wealth. It was almost as if the show's entire purpose was to drive home the point that if you are not rich, you will remain worthless and disrespected by society. A supporting character literally tells the protagonist Parizaad, "A man's face, his personality, status and his worth are entirely determined by his money," after which this noble man quits his education at a prestigious university, renounces his home and scholarship and makes it his life goal to amass material wealth in order to fit in — often risking his life and getting involved with powerful criminals. Once he acquires wealth, he gains validation and respect from all those people who snubbed him because of his appearance and the fact that he was from a low-income family. This concept is highly problematic and questionable messaging was reiterated in almost every episode of the show.
In several mainstream dramas, the casual display of wealth is inconsequential to the plot and almost annoying because producers run to the same shortlisted mansions in Karachi to shoot all their shows. Jalan, Khuda Aur Mohabbat III, Fitoor and Muqaddar were all shot at the same location when they wanted to showcase a rich family with a giant mansion. The point is, with minor changes to plot, these same stories can be told without every family in the dramas either being extremely wealthy or in the pursuit of wealth.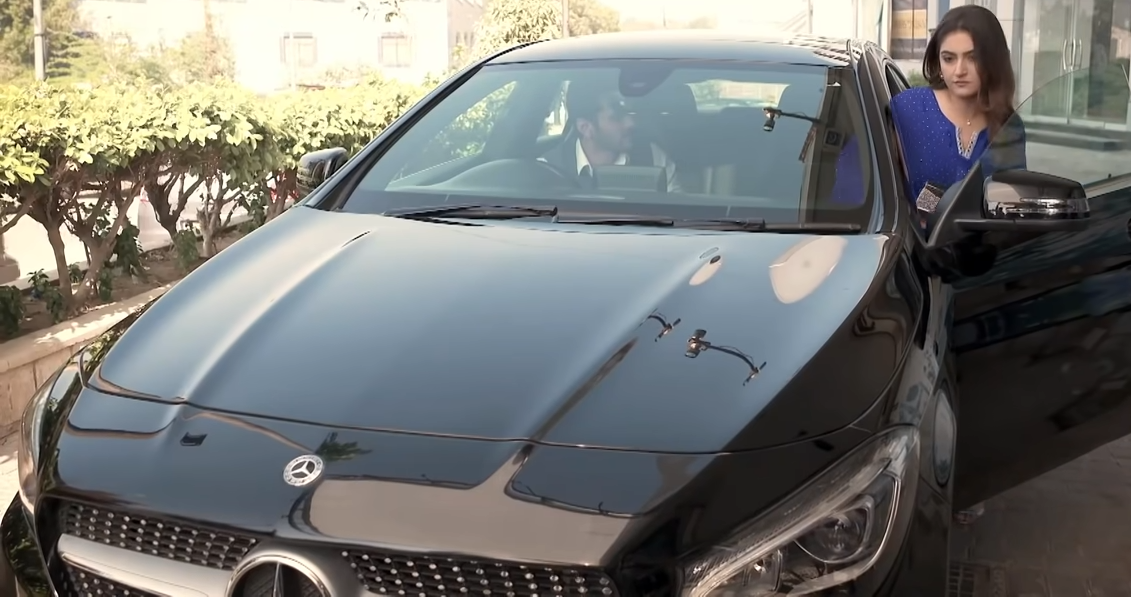 Dobara, for instance, attempted a refreshing change by marketing the story around a middle-aged woman, Mehru, remarrying a much younger man by choice. However, more than half the drama was spent discussing the protagonist's wealth, her status and in every episode she had to remind her family, children and friends about her wealth to gain agency and control over any messy situation or overbearing supporting characters in the drama. The show miserably failed in showcasing a refreshing romantic relationship centred around the significant age gap between two partners. Instead, it became an ugly winding saga about who will acquire Mehru's wealth, status and property and when.
Throughout the show, the primary objective of the supporting cast in the drama, including but not limited to Mehru's sister-in-law, daughter-in-law, her son and her son-in-law, is to take over the bungalow and thriving family business that have been willed to Mehru. The show makes it clear that if Mehru was not rich, no one would give two hoots about her. This wealth-centred plot device completely ruined the purpose of the show, was counterproductive not just for the narrative, and also inadvertently inhibited the chemistry between the leads.
It is hard to recall a single Pakistani TV drama in the recent past that does not place a rich mansion-residing family or families with money problems at the fulcrum of its plot. From the record breaking TV serial Humsafar (2011) to dramas like Zindagi Gulzar Hai (2012), Bin Roye (2016), Khasara (2018), Anaa, Dil Ruba, Yeh Dil Mera (2019), Sabaat (2020) to Ishqiya — all these dramas succumb to an unabashed display of wealth which could well be avoided. Even the recent string of Ramazan TV serials, such as Suno Chanda (seasons I and II), Hum Tum, Taana Bana, Chupke Chupke and several more, don't really seem to have anything to do with the month of Ramazan or the spirit of fasting or festivities of Eid — they are simply light romantic comedies exaggerating the inanity of one or more wealthy family.
This seems to be a good time to recall classic shows like Khuda Ki Basti, Aangan Tehra and 50-50, which showcased the joys, sorrows, struggles, victories and humour of the working class and did not need money as a key device to drive the plot. From recent television screenplays, screenwriter Fasih Bari's TV serials such as Khatoon Manzil, Mithu Aur Aapa and Quddusi Sahab Ki Bewah are some of the exemplary shows that offer comedy, romance and snippets from Karachi's diverse neighbourhoods and their quirks without involving insanely wealthy families through intelligent writing. Are rich family plots a means to conveniently avoid production challenges that would otherwise compel producers to recce authentic and less luxurious shoot locations? Or is it becoming a default device used by lazy scriptwriters to avoid innovation, diversity and intellectual labour?
When it comes to the consumption of such TV dramas, it is possible to speculate why audiences are lapping up stories about rich families. Ellen Seiter, in her article published in the Journal of the University Film and Video Association claims that there are two possible reasons for the popularity of such stories — one is that television immersed in displaying luxury provides an avenue for escapism, which can in turn prove to be a source of momentary relief, because it is relatively affordable to switch on the idiot box. In other cases, she states that such shows offer catharsis to certain audiences as they "reveal the lives of the rich and powerful to be full of strife, anxiety and personal torment."
The biggest problem with Pakistani TV dramas is the lack of diversity when it comes to telling stories for mass consumption. As a developing nation replete with political instability, public debt, abject poverty and unemployment, it is baffling to note the entertainment industry's obsession with telling stories centred around the obscenely wealthy, powerful and elitist upper-class strata of society that makes it a point to belittle people they consider economically inferior on screen.