We examined some primetime Urdu dramas and found that the depiction of romance in them was severely lacking.
The idea of love and romance propagated, endorsed and projected on mainstream television today is a deadly cocktail with a standard recipe — a concoction we have seen, consumed and inadvertently internalised ad nauseam.
The ingredients in this cocktail are premarital relationships, extramarital affairs, a patriarchal regime, misogyny defended and justified with religious overtones, and the currently trending invisible forms of abuse that are conveniently brushed under the carpet and unabashedly almost always meted out to women characters in the story. This includes gaslighting as well as verbal, psychological, emotional and narcissistic abuse.
Old-school romance and love stories in the days of yore were characterised by periods of silence, longing, patience, subdued tears, and years of yearning, the mere sound and fragrance of one's lover, withered letters, fleeting glances and the evergreen epitome of romantic rendezvous — the rain.
The 21st century idea of idea of romantic love is somewhat different. It is immensely conditional, materialistic and replete with compromise. Impractical terms like "selflessness" and "unconditional" can no longer be associated with it. A key trait of a half decent romance is also letting go when things are not going as anticipated in either a one-sided dynamic or even between a couple.
A study of the plots of recent primetime Pakistani Urdu drama serials will make viewers rethink whether this is what romance should be and how grossly misleading the plots of our dramas can be when it comes to depicting romance.
Here are some excruciatingly cringeworthy notions of romance that have been served to us. A self-sabotaging idea of love, presented as the epitome of passion and intensity, has become a trend on Pakistani television and it is up to the producers and drama writers to change this toxic narrative.
Fitoor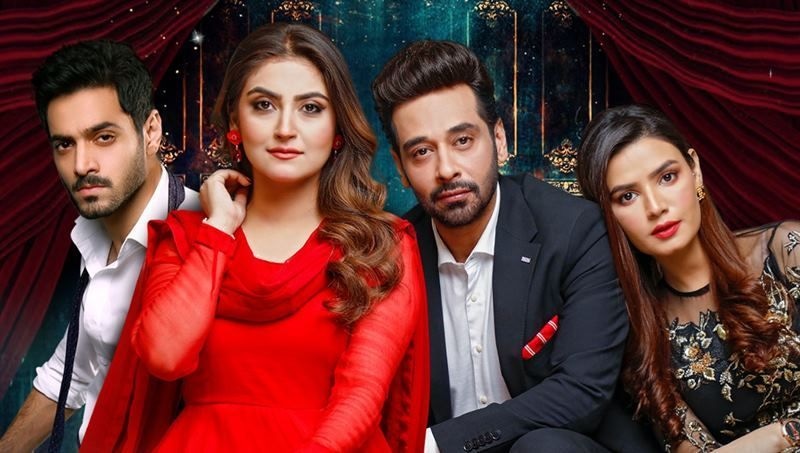 A filthy rich man named Haider (Faysal Qureshi) marries an innocent young girl, Dilnasheen (Hiba Bukhari), who is half his age. She has recently ended her relationship with Hamza (Wahaj Ali) before she gets hitched to Haider because both Hamza and Dilnasheen could not get their families to agree to their match (due to social class differences) after which Hamza attempts suicide and on surviving, resorts to drugs from heartbreak.
Haider continues to shower his first love and first cousin Mehmal (Kiran Haq) with time, attention and affection despite having a new wife whom he conveniently neglects. Mehmal is already married to another man and has a six-year-old daughter. Haider even professes to his wife Dilnasheen that Mehmal is his first love and will always remain so, but he is committed to making his marriage work.
Dilnasheen falls in love with Haider and tries her best to win his heart but then catches her husband with Mehmal, booking a hotel room under the name "Mr and Mrs Haider" following which Haider's mother brings Mehmal home from the hotel — apparently to protect her son's marriage. While this toxic love triangle is escalating under one roof, what is abominable and extremely hypocritical is how Haider tells his innocent wife that he will never tolerate even an iota of romantic association that she might have had with any man, even if it was before they were married.
Mehmal then uses Dilnasheen's association with Hamza, branding it — absolutely incorrectly — an 'affair' and blackmails her. How audiences are able to digest this sordid story rife with double standards as a riveting love saga is beyond anyone's imagination.
Khuda Aur Mohabbat
Farhad (Feroze Khan), a jobless college dropout from a lower middle class family, falls in love with Mahi (Iqra Aziz) who is the only daughter of a rich and conservative landowning family that also happens to be embroiled in political fights and enmities. After meeting Mahi at a wedding for two days where she casually offers to be friends with Farhad, he falls head over heels in love with her despite her having no interest in him whatsoever.
He then stalks her all the way to her hometown and begins to live at her home, working as a live-in driver. He refuses to leave even after she dismisses him, makes it clear she feels nothing for him and tells him to get lost, while also pointing out the massive class difference between them. Just before Mahi is to be engaged to another wealthy landowner, Farhad curses her and gives her a 'baddua', which fills her with guilt.
Mahi's new husband is shot dead the night of their wedding and we are led to believe this is Mahi's punishment for rejecting 'true love' in the form of Farhad. Where is the Khuda (God) in what seems to be marketed in this drama's story as mohabbat (love)? There is no divinity in the depiction of love in the magnificently shot season three of the Khuda Aur Mohabbat series. It has merely resulted in an endorsement of a stalker syndrome, justified with religious and mystic overtones.
Qayamat
Rashid (Ahsan Khan) is romancing Ifrah (Neelam Munir) after he punches and pushes her pregnant sister, Samrah (Amar Khan), his first wife. Rashid's character has a full-blown affair with a stage dancer whilst he's married to Samrah.
When Samrah raises her voice and begs her husband for some scraps of loyalty, he gets enraged and pushes her when she's almost nine months pregnant, as a result of which she dies during labour. Ifrah, her sister, is forced to marry him so she can babysit and raise his daughter (also her niece). Despite his despicably abhorrent personality, Ifrah still falls for him, and we are supposed to digest their romance and laud his temporary and misleading reformation. Soon, he shows his true colours and Ifrah finally realises what a horrifically oppressive man her husband is and vows to never forgive him. But she stays married to him and accepts him nonetheless. The end.
Where is a young educated woman's agency or sense of judgment? What are these characters presenting viewers in the name of marital bliss and affection?
Raqeeb Se
Despite critical acclaim and some great performances, Raqeeb Se is essentially the story of four hapless women — Hajra (Sania Saeed), Insha (Faryal Mehmood), Sakina (Hadiqa Kiani) and Almira (Iqra Aziz) — all pining for the love, affection and validation of one pompous man, Maqsood Ahmed (Naumaan Ijaz).
In spite of a stellar star cast and layered characters played by veteran actors, we fail to see how this drama serial is supposed to be lauded as a love story. Sakina gets beaten up by her husband, Rafiq Ali (Saqib Sameer), for 20 years because she believes this is her punishment for having her first love Maqsood jailed on false pretences. Two decades later, she suddenly arrives at her former lover Maqsood's house to seek shelter for her daughter from her abusive husband. This sets up her daughter Almira (Iqra Aziz) as the 19-year-old teenager who falls for her mother's former lover. She becomes infatuated with the married man in his early 50s and when she is reprimanded for this, Almira attempts suicide.
Meanwhile, Maqsood's wife Hajra (Sania Saeed) just mopes about trying to please her husband. In the midst of this middle-aged soup of romance, Maqsood's step-daughter Insha is also pining for some scraps of genuine fatherly love, attention and affection from him, which she does not receive.
The most problematic element is that Maqsood and Sakina's fiery village romance that is narrated as a golden love fable by Maqsood's wife, who constantly says that her husband has done an unmatchable favour by marrying her instead of Sakina. Insha has grown up listening to her mother narrate this saga as a bedtime story, just like a classic folk tale, like that of Heer Ranjha, Sassi Pannu and Laila Majnu.
Qarar
In Qarar, Maya (Sanam Jung) marries a man named Salman, after she breaks off her engagement with Ammar (Muneeb Butt) who is hopelessly in love with her. She then gets divorced, marries Ammar's affluent brother Junaid (Mikaal Zulfikar) and then cheats on him, now her second husband, with her first ex-husband Salman, whilst she is pregnant with her child with Junaid. Salman then pushes (literally and figuratively) her to have a miscarriage and then remarry him. Meanwhile, her poor cousin Fariha (Rabab Hashim) is married to Ammar (Muneeb Butt) and falls in love with him while he continues to treat her poorly, mistrusts her and shuns her loyalty.
Exemplary Urdu dramas
However, all is not lost as Pakistani television also has a small yet exemplary repertoire of dramas that have depicted a nuanced representation of love to the extent where some iconic women characters emerged and even prioritised self-love over romance and marital bliss.
These are a few serials that deserve to be lauded and examined because there is a dire need to revive love stories with women protagonists who have agency, free will and minds of their own.
Tanhaiyaan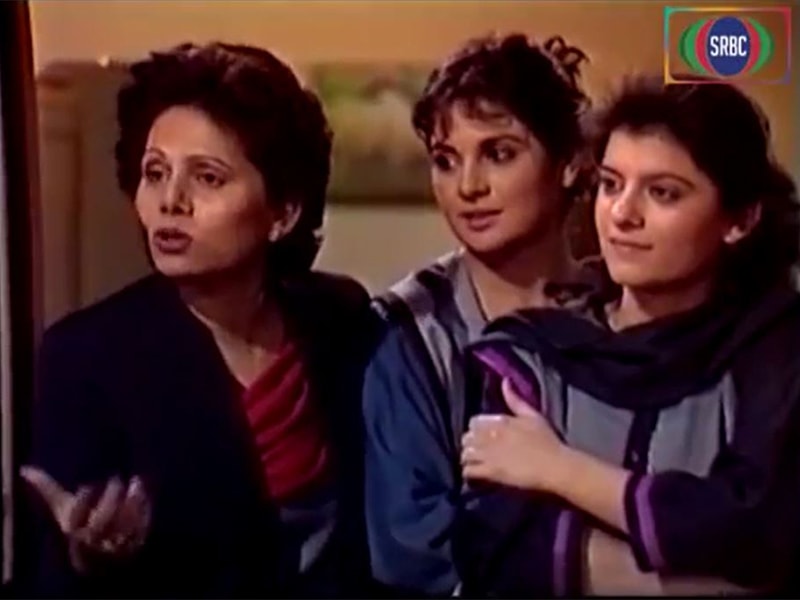 Tanhaiyaan was not devoid of emotional intensity or tears but it gave ample room for audiences to laugh, cry, and, more importantly, grow invested in all its characters and their dramatic arcs. Tanhaiyaan was not just an ode to womanhood but also to sisterhood and celebrated the strength and self-reliance of women of all ages.
Even the women in the supporting cast were exemplars when it came to drawing boundaries and prioritising their self-worth. With a strong woman like Zara (played by Shehnaz Sheikh) leading the play and the delicately nuanced script penned by the legendary playwright Haseena Moin, Tanhaiyaan will always remain a classic.
Ankahi
Sana Murad (Shehnaz Sheikh) was vocal about her feelings for her boss who did not have the courage to make their relationship official. Sana's character prioritised her self-respect despite all the conflict, confrontations and deliberations she faced and refused the constant advances of Faraz (Javed Sheikh) till she was convinced that she can plausibly reciprocate his feelings.
The fact that getting married was not a priority for her, despite family pressure, and that she lived her life on her own terms despite being deeply attached to her family was her most commendable and iconic trait. The show did not end with her getting married, but rather had an open-ended last scene that left the viewers yearning for more.
Ghisi Piti Mohabbat
When abused and attacked by her sister-in-law, Samia retorts, "I'm not some oppressed, subdued and voiceless woman from your family that I will continue to be beaten up by you and drown in tears. If someone tries to hit me, I will hit back! I am not afraid of divorce, neither am I uneducated or helpless. I have a lot of other options."
Samia's fearlessness is a personality trait that is coveted by women across the globe but few are fortunate enough to possess and utilise it. However, when Samia, a woman with opinions, carries a mainstream television drama on her shoulders, this subverts norms, spreads awareness and teaches other women the art of self-assertion and self-expression. Her journey in the play ended not with a happy wedding but with her starting her own business as a restaurateur and rejecting a fourth wedding proposal.
The drama established the fact that even after three broken marriages, a woman can have a life, be financially stable and have a fruitful career. Samia may be outspoken, emotional and impulsive but she made audiences root for her with her sincerity, ingenuity and fiery spirit, which inevitably made her character iconic. It is never easy for working or middle class women to seek work based on merit, claim fair pay or get the world to see them for their skills rather than their physical appearance and Samia's struggle is rife with dignity and sensitivity.
Kankar
Kankar (written by Umera Ahmed) dared to venture into uncharted and sadly unexplored territories in mainstream television. Played beautifully by Sanam Baloch, Kiran's voice broached one of the most sensitive and controversial topics within Pakistani society: the rights Islam gives to women and what exactly the Holy Quran says about how women should be treated.
Her most iconic dialogue from the play is in episode 18, when Kiran confronts her mother-in-law and questions her immensely orthodox and religiously incorrect views on the role of what a 'good wife' is. "The duty of a good wife doesn't include getting beaten up and perpetually humiliated by her husband. The Holy Quran states that the human race is the noblest of all creatures (Ashraf Ul Makhluqat), this equally refers to and includes both men and women, not just men. There is no mention in the Holy Quran that a man has the unwarranted right to mortify and physically abuse a woman at the drop of a hat," she says.
Kankar also highlighted domestic abuse and the protagonist, Kiran, vehemently rejects the violence that accompanies material wealth and decides that she would rather accept the stigma associated with divorce with dignity rather than the abuse meted out to her by her husband. As someone who came from a middle class background and was married into an excessively wealthy household, it took immense grit and guts for Kiran to prioritise her dignity over material comfort and social capital.
She sought a divorce after being domestically abused and makes it clear to her second husband, who is also her first cousin and friend, that she will not tolerate his aggression or the slightest iota of verbal abuse. Kiran's character went on to become a role model for young women who are conditioned till date to believe that domestic abuse is an inevitable result of being someone's wife.
Uraan
Uraan (written by Umera Ahmed) showcased three educated Pakistani women — a designer, a TV anchor and a divorcee — who are strangers but strong enough to fight the gaslighting and psychological abuse they are subjected to by the same psychotic man. The play ended with all three women choosing to remain single rather than entering toxic marriages.
Khaas
Saba's character in Khaas (played by Sanam Baloch) made us realise that it is possible for women to live alone without the financial, emotional and moral support of a man — be it a father figure or a husband. Her most memorable line in the play is in the last scene of the final episode where she explains to her friend Javeria, who wants Saba to remarry her narcissistic and toxic ex-husband, that she has learned that there is no point in depending on other people for support.
"All the support we need is possessed by us, within us, and all we need to do is remember and reach out to the divine omnipresent, omnipotent, and omniscient power which guards us as long as we breathe our last," she says.
Written by Sarwat Nazir, Saba's journey in Khaas was a fight against invisible forms of abuse that aren't as widely spoken about, such as gaslighting, as well as verbal, psychological, emotional and narcissistic abuse. She emerged victorious but in the process she was left alone and isolated as a single mother and widow. However, that did not kill Saba's spirit and her character gave hope to millions of women who may have lost faith in themselves.
Khaas is an exemplary story about self-love, spiritual democracy and love for the Almighty.
The verdict
Love is, perhaps, the only emotion that has the capacity to be interpreted in a million different ways yet those intricate layers have yet to be explored on Pakistani television. We seem to have forgotten that there are many forms of love and not all of it has to be romantic. There is love between siblings, between parents and children, between pets and their owners, and between the Divine and mortals.
It is crucial for producers, channels, screenwriters and viewers to understand that most of what is being showcased in the name of love and romance on Pakistani television today is outdated and regressive. Our content creators need to come together to break this chain of monotony and misogyny and showcase new and better interpretations of love.