The Hira Mani and Affan Waheed starrer doesn't fall back on any of the usual tropes and that's what makes it so great.
Do you remember watching a Pakistani TV drama in the recent past that has not repeatedly showcased a marriage, divorce, an extra-marital affair or families waging war over a couple's union? One of the primary reasons to watch Yun Toh Pyar Hai Bahut (YTPHB) is that in the span of 22 episodes the plot has steered clear of any engagement-wedding-divorce drama and not a single wedding or divorce has been portrayed in any episode yet. This is an intriguing enough reason to watch this show.
YTPHB, starring Hira Mani and Affan Waheed, has been written by Aliya Bukhari and directed by Kashif Saleem. The serial has several merits and is a must-watch for those interested in a storyline that tries to balance the fine line between off-beat yet mainstream storytelling along with potent social messaging.
A strong female protagonist
It was a pleasant surprise to find Hira Mani playing Aima, a refreshingly feisty, no-nonsense lawyer. Aima is an educated, aware, fearlessly ambitious, determined and persistent young woman who is outrightly blunt when it comes to giving someone a piece of her mind. That being said, there are several moments where she expresses her vulnerability and hurt and those scenes add layers of complexity to her character.
What is most interesting (and several fresh graduates, especially women, will identify with this) are the scenes that depict Aima's job hunting challenges as she goes to one job interview after another.
A senior woman lawyer rejects Aima's application on the basis of her inexperience (Episode 4), stating "Law is not an easy field and you have no experience, your good grades mean nothing," to which Aima gives a very measured and coherent argument: "How can I possibly gain experience in this field if I am not given a fair opportunity to prove my mettle as a lawyer? Success in any field is measured by one's ability to work, so to begin with, I need an opportunity to do that".
A senior male barrister then rejects Aima on the basis of her gender (Episode 5). He says that while he is not opposed to women working, he doesn't have any women on his team because in his experience, women can never fully dedicate themselves to any profession, especially law, and that their careers are never a priority. He insinuates that no matter how excellent or credible a woman's qualifications and capabilities may be, she will always give importance to domestic responsibilities over professional ones. Aima points out how narrow minded his approach is during her interview.
Aima is shown as the responsible older daughter who also supports her family financially. She rejects a marriage proposal from her first cousin and love interest Zain (Affan Waheed), stating that marriage is not a priority for her and she needs to establish herself as a lawyer before she can commit to marriage. Zain is a struggling musician who fails to make ends meet and Aima tells him to get a stable job before he considers getting married.
Watch out for a scene in which Aima gives a memorable speech and credits her mother (Episode 21) for her personal and professional success, stating that women find strength in adversity. She talks about the challenges her mother faced raising her daughters alone after Aima's father abandoned the family.
When Aima is upset, she either hides her tears or cries alone — she doesn't let her internal turmoil, trauma or heartache interfere with her job as a women's rights lawyer who fights pro-bono cases for underprivileged women.
Strong writing and nuanced direction
The script is the sole foundation of any audio-visual piece of work and forms the very basis of a story. YTPHB's script has an interesting premise that incorporates themes like young people pursuing their passion, prioritising career over marriage, the challenges of single parenting and job hunting, adoption, the gritty reality of elitism, classicism and a bittersweet romance. The plot will keep you engaged, wanting to know what happens to the protagonists in the end, and the dialogue, especially when the women in the play are taking a stand for themselves, is crisp and memorable.
The direction is most notable in emotional scenes where, for a change, we do not see anyone crying buckets or using foul language. Instead, all the characters use alternative and nuanced expressions of hurt, either through anger, extreme ambition, impulsivity or curt dialogue embellished with overtones of stress and conflict.
YTPHB uses different storytelling devices other than sister rivalry (Jalan, Qarar, Kashf, Yaariyaan, Thora Sa Haq, Mere Harjai), cousin marriages (Hum Kahan Ke Sachay Thay, Thora Sa Haq, Aahista Aahista, Madiha aur Maliha, Maat), extra-marital affairs (Fitoor, Bandhay Ek Dour Se, Qayamat, Mere Paas Tum Ho) or stringent moral policing combined with melodramatic joint-family sagas of revenge (Ishq Hai, Baddua, Qissa MeherBano Ka, Anaa, Diyar-e-Dil).
Progressive overarching themes
In 22 episodes of this drama, there are several positive overarching themes in the story and none of them are enhanced by deafening background music.
For one, you have two protagonists pursuing their passions. Zain's journey as a struggling musician comes to fruition when he finally makes a breakthrough with his album and music compositions and moves to Lahore after Aima rejects his proposal. Aima's journey as a lawyer starts when she ends up getting a junior associate job at a small but reputable law firm.
YTPHB not only shows the challenges and trauma faced by a single mother but also makes it a point to highlight what a difficult job parenting can be. It brings forward the turmoil that parental separation and abandonment brings to both a spouse and her children, as well as how the absence of a father figure can deeply impact the personalities of children. The bond that Aima shares with her mother as the supportive daughter as well as the elder sister is inspiring and deserves to be seen more on TV as opposed to the cringeworthy sister rivalry, endless mother-daughter squabbling and helplessness shown in most Urdu drama serials.
An artistic, progressive and noble leading male protagonist
As rare as it is for women on television to be progressive and supporting of other women or family members, it is equally rare to see creative, off-beat, liberal and progressive male protagonists.
For once, the male protagonist (played by Affan Waheed) is not a creep. He understands that Aima's no means no, he does not stalk, threaten or harass her, nor does he attempt to commit suicide to emotionally blackmail Aima or her family when she breaks up with him due to a misunderstanding. Zain never discourages Aima from working, nor does he ever make unreasonable demands (which should be a given but unfortunately isn't in dramaland). Zain is a character who, outside the world of romance, is honest and forthright towards his passion for music and rejects a tempting and lucrative offer of an album launch from a rich girl who is smitten by him.
Zain also goes on to adopt the child of his neighbours/fellow tenants when they have to flee for their lives and treats Saru as if he was his biological child.
Verdict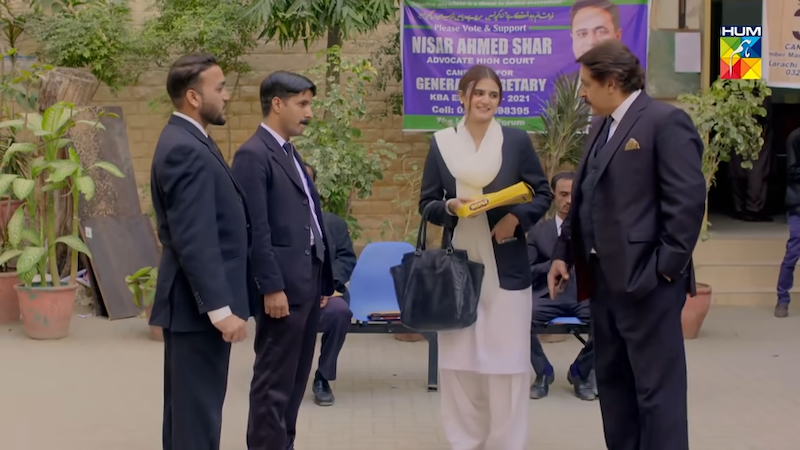 Yun Toh Pyar Hai Bahut is definitely worth a watch and is a story that has strong leading characters, commendable performances, a progressive storyline as well as condemnatory critique on several social issues with some poignant scenes and memorable dialogues that will prove to be heartening to watch.