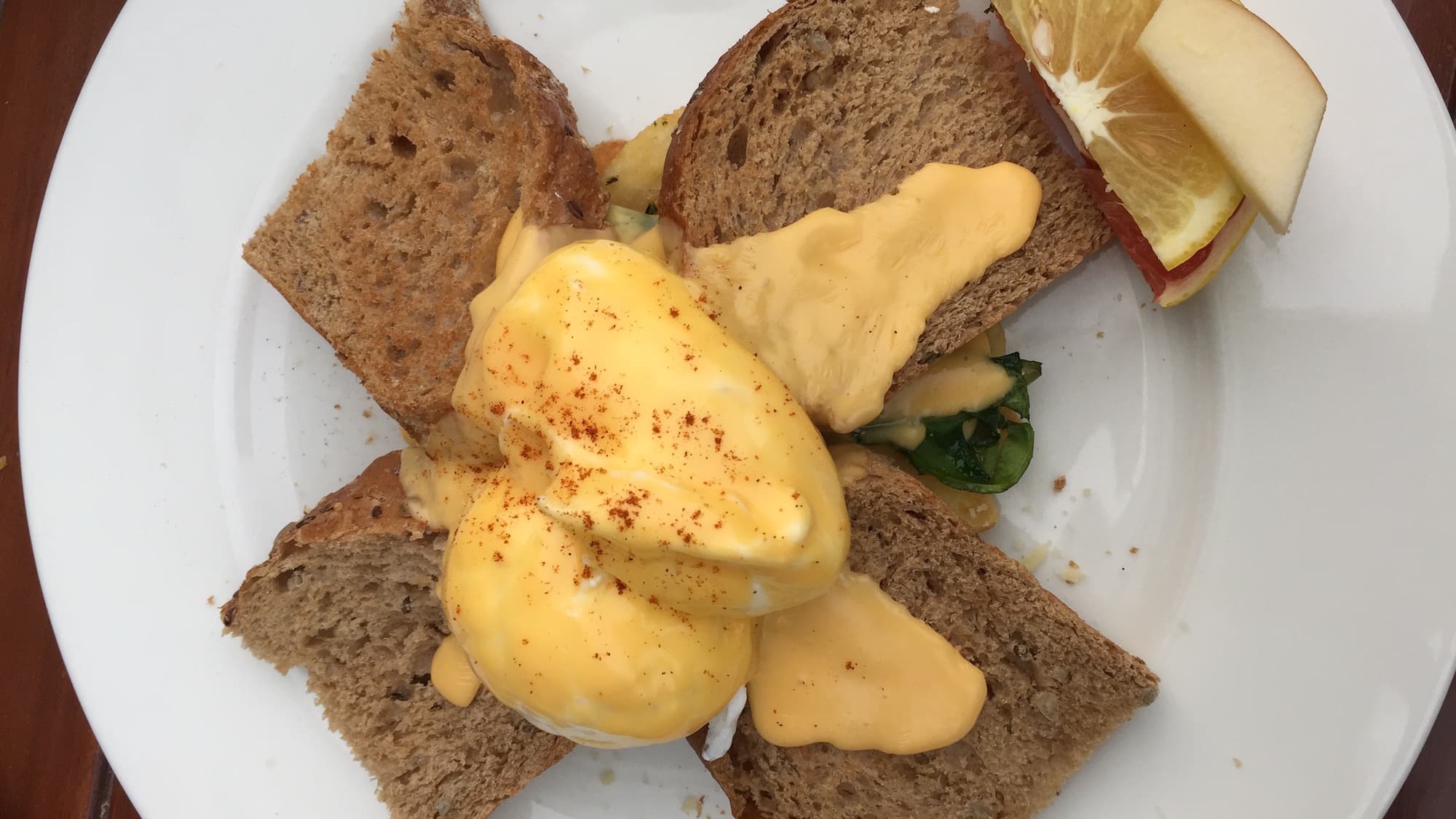 The short answer — probably not.
If you're someone who enjoys a good hearty American breakfast in a comfortable, yet hip ambiance, you'll be overjoyed with the recent addition to Lahore's culinary landscape — Montreal-based chain of restaurants Eggspectation, best known for its wide range of all-day breakfast and brunch options.
As the name suggests, there's a whole lot of egg to offer — omelette, scrambled, poached, baked, fried — you name it, they've got it! But it doesn't stop there — you can also enjoy a wholesome lunch or dinner of seafood, steaks and continental delicacies.
Located on Main Boulevard, Gulberg in Boulevard 57 — that also houses Cue Cinema — Eggspectation opened its doors (not literally, though, because of Covid-19 restrictions) with outdoor dining in mid-February right when the third wave of coronavirus was announced. With a no-fuss, basic, sort of abstract façade and the outdoor dining area and furniture in whites, greys and blacks, the space has a cool, sophisticated vibe. Inside, the spacious dining hall and mezzanine have an industrial chic café feel with wood, metal pipes, a bar and some artwork.
The diverse and extensive menu may boggle the mind and make it hard to choose from all sorts of sweet and savoury options — crepes, bagels, loads of eggs, pasta, burgers and sandwiches, flatbreads, some mighty main entrees and "sweet conclusions".
After taking a while to make up our minds, we were good to go with our order. The first course was the Smoked Wild Sockeye Salmon Crostini that had cream cheese spread on toasted ciabatta bread slices topped with smoked salmon and sprinkled with capers and diced red onions and cucumbers. Damage on the pocket: Rs1,149.
The salmon stood out like a star and sang through the plate, but we just wished the bread was toasted a bit more and was crispier.
Next up was the Eggspectation Bagel Breakfast Sandwich: lettuce, tomato, onion, fried egg, Swiss cheese and beef bacon sandwiched inside a Montreal-style sliced bagel, with Lyonnaise-style potatoes served on the side. Damage on the pocket: Rs1,499.
This one was a letdown as the egg dominated the sandwich, the whole thing had a one-dimensional flavour profile, bordering on bland, and lacked a kick. We wished the New York-style bagel was used instead whose sourdough could have added some much-needed tang. The potatoes on the side also should have been crispy.
We then tried the California Dreaming, which was a stack of salmon, spinach and the Lyonnaise-style potatoes covered all around with slices of multigrain bread on top of which rested two perfectly poached eggs topped generously with hollandaise sauce. Damage on the pocket: Rs1,899
This plate of food had pretty much the same issues as the bagel sandwich: eggs and the hollandaise is all we could taste. We wish the salmon was seasoned a bit, the spinach slightly creamy and, again, the potatoes crispy. On the positive side, the bread was quite fresh.
Just when we had almost given up, things started picking up when we tried the Panchetta flatbread. Damage on the pocket: Rs2,099
The crispy base was topped with luscious double-cream brie, beef bacon, and fresh rocket leaves tossed in a homemade olive oil and lemon vinaigrette. Just the way we like a good ol' flatbread: crispy, cheesy, delicious!
Save the best for last, they say, which is exactly what happened here. The final course was the Grilled Salmon: a perfectly grilled, chunky salmon fillet topped with tangy mango salsa and served with a pile of spicy, chewy pearl barley. This was accompanied on the side by three very distinct tangy, creamy, cheesy sauces. Damage on the pocket: Rs2,499
What stood out in this dish was the gelling of flavours of the soft, melt-in-your-mouth, aromatic salmon and the al dente grains that complemented each other. A fulfilling conclusion we'd say!
While Eggspectation had its ups and downs and the quality of ingredients and presentation is impressive, it is a bit too heavy on the pocket, especially for the sort of food on the menu. The restaurant sure does have an appeal — which is evident from the crowds even on weekdays — but how many people will want to return is the question, and how often.
All photos by the author