It is a great addition to the Pakistani coffee scene with its tasteful coffees, relatively affordable price points and spacious interiors.
After nearly a year of anticipation, the coveted coffee chain from Canada, Tim Hortons, finally opened its door to coffee enthusiasts of Lahore.
The question in our minds was, does it live up to the hype of that in Canada? At first glance, the restaurant is the same as in Canada. The interiors are bright and warm as expected from a fast-food franchise. The red color and maple leaf embedded within the interiors is a patriotic nod to Canada. It is spacious making it a great hangout spot for large crowds.
Let's get down to brass tacks — the menu, the flavour and of course, the damage. Tim Hortons Pakistan does not offer a diverse menu, but what it does limit in variety, it caters for in flavour.
Naturally there is great expectation from a cup of coffee from a chain like this. Tim Hortons segregates hot and cold beverages in Espresso, Tims Classic, Brewed Coffee, Blended Iced Capp, Tims Signature Blends, Coolers and Iced Tea. Among these categories you can find a variety of flavours, prominent of which is their signature French Vanilla that transports you to Canada in a single sip. A jarringly missing piece in the coffee section was the much-loved takeaway coffee tins that Tim Hortons offers worldwide.
Nothing pairs better with coffee than donuts. Tim Hortons donuts are soft, fresh and delicious. They offer ten different flavours categorised into Classic, Premium and Filled. Classic has four options original glazed, white chocolate ring, vanilla dip and chocolate dip. Premium has pistachio, Smarties and maple. Filled has Boston cream, maple and strawberry.
All donuts are soft and light without feeling heavy or greasy. The original glaze is an obvious choice. For those seeking a little more pizzaz, the Boston cream is topped with a delicious chocolate frosting and its filling has the perfect consistency without being too runny or resembling the dough. Word to the wise, the pistachio flavour is an acquired taste. Not everyone will, or should, fall in love with it. Moreover, the crunch on the Smarties donut was welcome but the flavour profile was uninspired at best.
There are four options for the restaurant's coveted TimBits: honey dip, double chocolate, Oreo and strawberry snow. The TimBits are fluffy, cake-like treats dipped in donut frosting. For chocolate lovers, the double chocolate is a flavour-bomb. There is also an assortment of croissants, muffins and brownies for those less inclined towards donuts.
If you are seeking savoury, Tim Hortons does not ignore you. There are decent options to choose from including sandwiches, paninis and wraps. Two of these flavours have clearly been adapted to the Lahori taste buds such as the Lahori Bhajhi and the cheese tikka sandwiches. The standout among savoury items was the grilled cheese and jalapeno sandwich: an absolute winner. The quality cheese has a melt-in-your mouth feel and the jalapenos lend a perfect tanginess to the overall taste.
The coffee at Tim Hortons is meant to be fast and affordable. In Pakistan, a small cup of Tim Hortons will set you back by Rs 350 to Rs 600 and a large one will range from Rs 450 to Rs 800, depending upon which flavour you choose. Donuts range from Rs 290 to Rs 330 each. TimBits are Rs 810 for a box of ten. Savoury items range from Rs 600 to Rs 750. The price points in Pakistan compared to those of Tim Hortons Canada, even in today's economic conditions, translate well. Is it worth the damage on your pocket? Absolutely.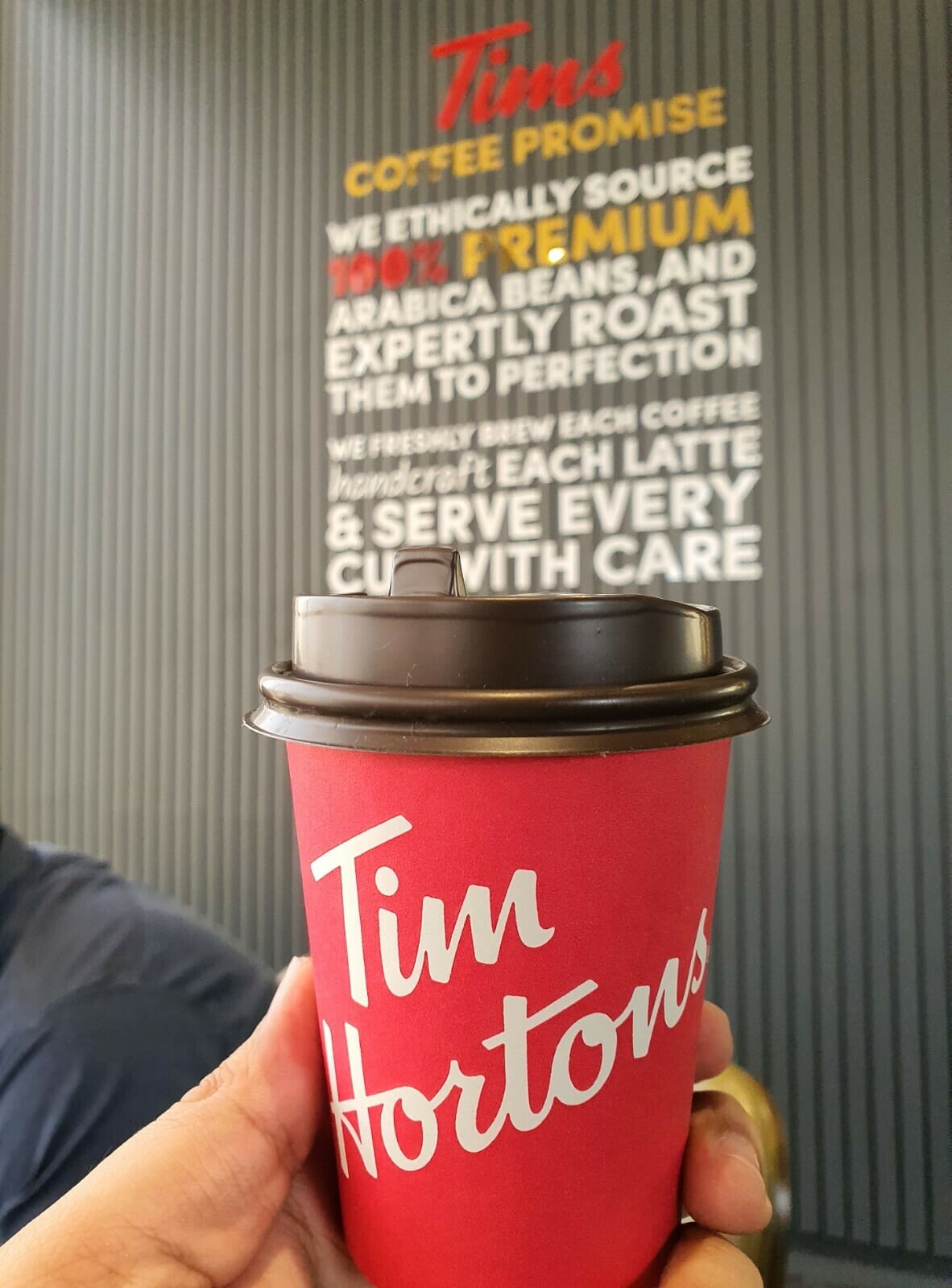 Tim Hortons is Canada's largest coffee chain with more than 5300 restaurants across 14 countries. The restaurant has three outlets currently, one in DHA Phase 6 and two in Gulberg (launching on February 18 and February 25 respectively). It is expected to launch two more within this year in Lahore. The flagship outlet, DHA Phase 6, boasts a seating of more than 150 people over 8000 square feet, a first of its kind for any coffee shop in Pakistan.
Tim Hortons is a great addition to Pakistan with its tasteful coffees, relatively affordable price points and spacious interiors. When in Lahore, it is a must-visit.