Panels with renowned filmmakers, thrilling musical performances and brilliant films — all an ode to our local artists.
2022 marks year five of the It Happens Only in Pakistan filmmaking contest organised by Germany's international broadcaster Deutsche Welle (DW) and Dawn.com. The film festival was abuzz with excitement as we navigated through fruitful filmmaking discussions with renowned filmmakers, thrilling musical performances and brilliant films, all by our local artists.
On Sunday, the filmmaking community of Pakistan gathered at District19, Karachi to celebrate up-and-coming talent in the filmmaking industry. The event was packed with keen spectators who were constantly introduced to exciting segments one after the other. The festival kicked off with a panel discussion called 'Who gets to tell our stories', moderated by Academy and two-time Emmy winning documentary filmmaker Haya Fatima Iqbal. The panelists were skilled filmmakers Sourath Behen, Ali Mehdi and Shahrukh Waheed.
The guests were then lead to the outdoor seating area where a female DJ was vibing atop a balcony with a bird's eye view, entertaining us all between segments. Next was a peacock dance performance from a subject of a film that won in the previous years.
The dazzling Ghulam Hussain stepped out in a costume he designed himself and we're not sure if we witnessed a man or an actual peacock with the way his expressions and movements mimicked the mighty bird's.
In the era of social media taking up most of our time, how can there not be a component on content creation? This year's contest included a reels contest and popular Instagram influencers Patangeer, Amtul Baweja and Fahad Tariq Khan, were invited to host a talk called 'Content Creation — A new era of filmmaking'. Sadly, only Khan could attend the event but he brought his wife's energy onstage to keep the audience engaged.
Before we moved on to the next panel discussion, our ears were soothed by the Baluch Twins who wowed the listeners with their musical prowess. The mini concert, a mix of songs and qawalis, included bangers loved by all such as 'Mast Qalandar', 'Laila O Laila', 'Tere Ishq Nachaya' and 'Ali Mola Ali Dam Dam'.
After appeasing our musical appetites, it was time for some brain food. Some experts took to the stage for a discussion called 'Films you can(t) make, topics you should(n't) explore' moderated by the humorous Zarrar Khuhro who made sure to elicit some laughs out of the audience. The panelists included CEO of Khoosat Films, Sarmad Khoosat, known for Kamli, Zindagi Tamasha and Manto, Laal Kabootar writer Ali Abbas Naqvi and former Teeli general manager Gul Zaib Shakeel.
Following a short break was the moment all shortlisted artists were eagerly waiting for — the award ceremony. Filmmakers, both professional and amateur, from all over Pakistan were invited to submit short documentary-style videos that capture subjects that are uniquely Pakistani. Every year, the contest announces a unique theme. This year's theme was celebrating Pakistan's food, culture, song and dance and natural splendour.
The contest kicked off earlier this year and received over 150 entries over a span of six weeks. The winning entries were screened at the festival before the winners were called up on stage to receive their accolades. The best of the reels competition proved to be Uzair Ansari, Zahid Raza and Shahbaz Ali — third, second and first, accordingly. They covered the people of Pakistan — minorities of Pakistan, the food of Pakistan — a 70-year-old café in Saddar, Karachi, and the music of Pakistan — the singers at late Sufi poet Shah Latif Bhittai's shrine.
After that, the top five documentary film entries were announced, with two being honourable mentions as they had "something that stood out". They were Mangrhaar by Maryam Qureshi and Asad Bin Ajmal, and Roshan by Altamash Sultan. While the audience recovered from the brilliance of the special mentions, they were knocked out by some more greatness as the top three films started playing.
Well crafted and meaningful, their work was a testament to their success. The winners for the documentary film contest are as follows, Khanabadosh by Khurram Ali, Seher Ali, Hamza Shahid and Ali Sahil, Blind Music Teacher by Abdul Basit and Junaid Mukhtar and Sikandar Sanam by M. Rafiq, Abdul Nafees, Muhammad Ayoub and Mehran Ali Shah — first, second and third respectively.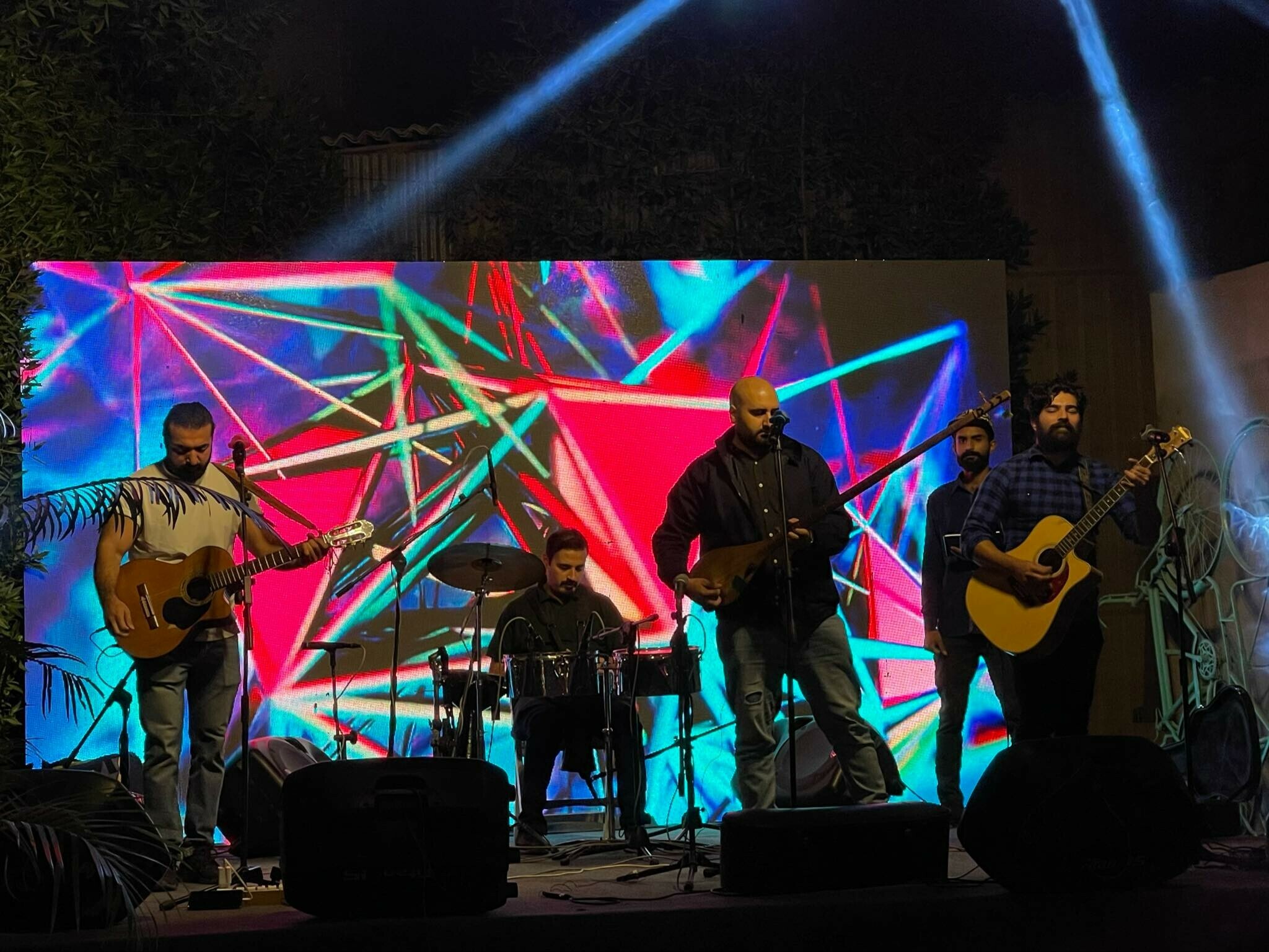 After traveling from Sindh and Balochistan all the way to Hunza enabled by the magic of filmmaking, the festival closed off with an instrumental performance by popular Pashto band Khumariyaan. Starting off slow, the tempo quickly picked up and soon had the audience up and dancing, ending the night with a bang!