Why must we only analyse statements by those in power? It's time to zoom in on their plates too.
What do politicians snack on — that's a question we never thought would cross our minds, especially given all the political turmoil in the country right now.
But thanks to one curious user on Twitter, our minds are thinking of all sorts of food they could be consuming.
This netizen, who tweets from the handle @HassanJavid_, not only brought up this very important topic but also did our homework for us by zooming in on photos of leaders such as Imran Khan, Maryam Nawaz and Asif Ali Zardari and giving us a rundown of what they've been munching on or have had on their tables when hosting other politicians.
We've taken the opportunity to add to Javid's valuable work and suggest some on our own snacks for the leaders:
PML-N
Nawaz and Shehbaz Sharif
The Twitter thread started with both Sharif brothers Nawaz and Shehbaz meeting in London on May 11. While the brothers hugged, Javid's focus was on the healthy spread of fruits and olives.
Maryam Nawaz
The fruit bowl theme continues at Maryam's end, pictured here with JUI-F chief Maulana Fazlur Rehman, but to up her game, she has two bowls filled with all kinds of fruits instead of one. And as the location changes from the UK to Pakistan, the olives are swapped with dates.
Our suggestions:
Kashmiri Chai for Nawaz
To embrace his Kashmiri roots and accept a warm bowl of Kashmiri chai served with Bakarkhani is what we'd suggest Nawaz enjoy and offer others too.
Caviar for PM Shehbaz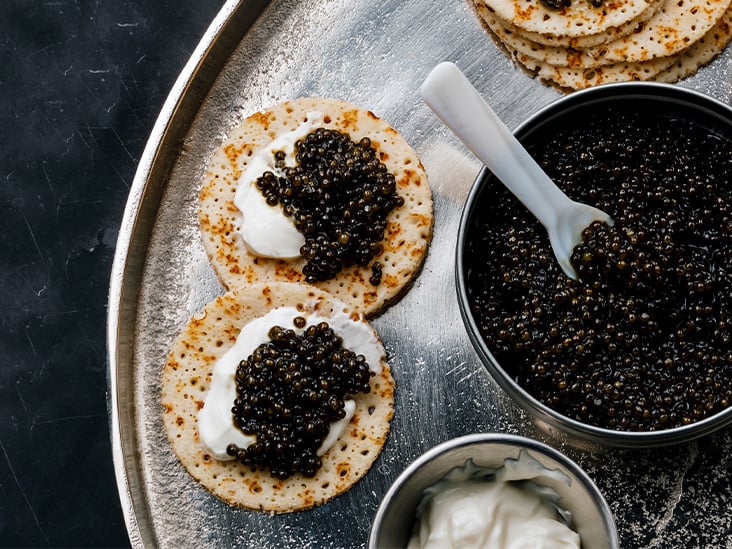 If the man can be fancy with his hat collection and his suits, you best believe the fanciest of all foods would be something that the PM might like.
Charcuterie board for Maryam Nawaz
You can never go wrong with a cheeseboard. Perhaps a charcuterie board with fresh fruit and jam would be perfect for Maryam.
PPP
Asif Ali Zardari
As obvious as it is, décor comes first and food comes second for Zardari. At least it seems like it from the photo of him chatting with PML-N supremo Nawaz. At the Zardari house, a few dates, dried apricots and some aromatherapy was the way to please his guest.
Our suggestion:
Mawa for Asif Ali Zardari
Mawa is a sweet dish from Larkana, the hometown of the PPP co-chairman, which is why we think it's something he would enjoy. Made with milk and sugar, the dessert is served room temperature, hence it could be given as a treat for his guests.
Croissant for Bilawal Bhutto Zardari
While he may not be in the initial photo, we still want to give some suggestions for the foreign minister. All we can imagine Bilawal eating is a classic, croissant at a French patisserie with a hot cup of coffee in Paris. So a croissant is what we believe to be the perfect snack for Bilawal and his guests.
PTI
Imran Khan
While others enjoy dry fruits and olives, for the PTI chairman, protein is the way to go. A bowl of chickpeas, yogurt, fried eggs, orange juice and mangoes is the way the former premier likes it, but not for sharing. But really, who would share? If we get a bowl of mangoes or perhaps seasonal fruits, we wouldn't want to share either.
Our suggestion:
Painda for Imran Khan
For the former cricketer, we would suggest Painda, a dish made with a bed of roti soaked in tomato-based gravy with chicken and potatoes placed on top. The dish hails from Bannu and we think he might really enjoy it.
While the former Interior minister and the information minister weren't in the initial tweet, here are some suggestions for them as well.
Nihari for Sheikh Rashid
Many videos have surfaced online in the past in which the former interior minister simply enjoyed food. It could be the pulao at a rally with Imran next to him or Rashid having paya for breakfast on the streets of his hometown. With that being said, we think nihari would be the ideal dish for Rashid.
Samosa for Fawad Chaudhry
A roadside potato-y treat sounds just about right for Fawad. Served piping hot, it will make a great snack for the former information minister. Though in our imaginary world, we can envision Fawad having a French espresso in one hand and a piping hot samosa in the other.
JUI-F
Fazlur Rehman
As if the food décor wasn't enough, Javid also shared a photo of Jamiat Ulema-i-Islam-Fazl (JUI-F) chief Maulana Fazlur Rehman with Abdullah Gul, son of former ISI chief Hamid Gul. On the table a bowl of creamy salad, chicken skewers and what looks like a chicken roulade, a tea cake and a lonely cup of tea.
Our suggestion:
Fruit cake for Fazlur Rahman
Fazlur really seems to like cake and if we were to amplify his table-spread, the one thing we would place is a fruit cake instead of a plain one for a punch of flavour.
PML-Q
Chaudhry Shujaat Hussain
For PML-Q president Chaudhry Shujaat Hussain, bite-sized food items are enough for his table-spread, be it mini sandwiches, mini samosas or pakoras.
Our suggestion:
Kachori for Chaudhry Shujaat Hussain
We would suggest Shujaat try out kachoris as it seems like he enjoys the kind of food or snacks that are small, bite sized and not as messy as your ordinary snack.
Jamaat-i-Islami
Sirajul Haq
Compared to others, Jamaat-i-Islami (JI) chief Sirajul Haq seems to like simplicity over grandeur. Four selected fruits, a tray of nuts and sandwiches is all that it takes to please your guests, even if it's Zardari.
Our suggestion
Fruit chaat for Sirajul Haq
Since the politician seems to think less is more when it comes to his table, a dish that mixes different types of fruit seems to be the ideal snack for Haq and his guests.