Embroideries, intricate materials, floral, paisley laces. What in a festive outfit wins your approval on the spot?
Let's admit, figuring out the right look for the festive season is one of the biggest struggles we have to face, especially at this time of the year.
With tons of options for outfits, makeup, jewelery, footwear and so much more available in the market, it's next to impossible for us to not throw a fit while deciding what will help us look our best.
This season we've got GulAhmed presenting their finest luxury pret ensembles that make for exciting formal wear options for all sorts of fashion tastes out there.
Let's discuss.
Want to keep it chic and minimal? Go for a classic black and white number
Got a style statement to make at a dinner party or wedding?
This outfit puts together a timeless combination of black and white on a cotton-net kurta, organza dupatta and silk pants with intricate embroideries bound to help you stand out.
Last-minute dinner plans? Put on a Ruby red kurta that needs nothing much to stand out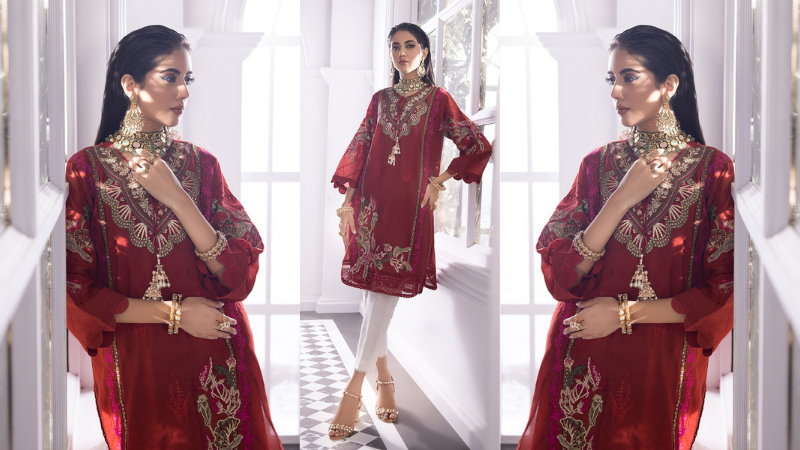 This option comes with an ornamental paper-cotton shirt that uses a mix of muted and bold gold embroideries to get the job done.
We say it's the hot pink embroidery intricately etched on the ends of the shirt that makes this an exciting outfit to add to the wardrobe for those last-minute plans.
Classic mint and coral florals with traditional jewels? Yes please
This two-piece outfit brings together floral patterns and embroideries, creating a beautiful mish mash of pastel hues with a stunningly contrasting coral dupatta.
We'd totally pair this up with a classic polki set to look our traditional best.
Who can ever go wrong with embroidered paisley motifs and lacy hems?
Can't say we'd ever enter a clothing store and not get instantly wooed by embroideries that make use of intricate paisley motifs and lots of lace work.
This outfit has sleeves and hemlines etched with gorgeous pink lace, while a set of raw silk trousers and delightfully embroidered dupatta ensure the outfit makes you look put together no matter how you style it.
Struggling to find the right outfit to go with a bold eye or lip? Slip into muted greys and pinks
This number's surely going to help us upgrade our wardrobe for this year's festivities.
With timeless colour combos (like greys and pinks), we know such stuff stays relevant year after year, particularly on occassions where we feel we've got nothing good to wear.
For more details, head over to GulAhmed's e-store.
---
This content is produced in paid partnership with GulAhmed and is not associated with or necessarily reflective of the views of Images or Dawn.com.