A single Twitter post and a heartwarming story helped boost Choudhry Zaheer Jan's business selling his mother's macaroni.
Choudry Zaheer Jan has been selling homemade macaroni at Islamabad's G-9 Markaz for over a month but he never imagined a single post on social media would change his life and bring in hordes of customers.
On November 24, Twitter user Marriya Malik posted his story on her account and it went viral.
Jan, who sells boxes of macaroni out of his red Suzuki Mehran, was surprised to find customers already waiting for him when he pulled his car in its usual spot outside a mall. His boxes were sold out in a mere two hours and he left early that day. Many customers even messaged him and asked about his whereabouts. "I am thankful to the people who uploaded my picture and stories. I have been receiving a really good response," he told Images.
Every day, he and his younger brother Adnan bring 18 to 20 single-serving boxes of macaroni in their car and sell them for Rs100 each. To catch people's attention, Jan has put fairy lights on the rear windscreen of his car along with a poster which reads 'Home Made Macaroni Rs:100/-". Three boxes are kept on the roof of the car and then he waits for customers from 5pm to 10pm.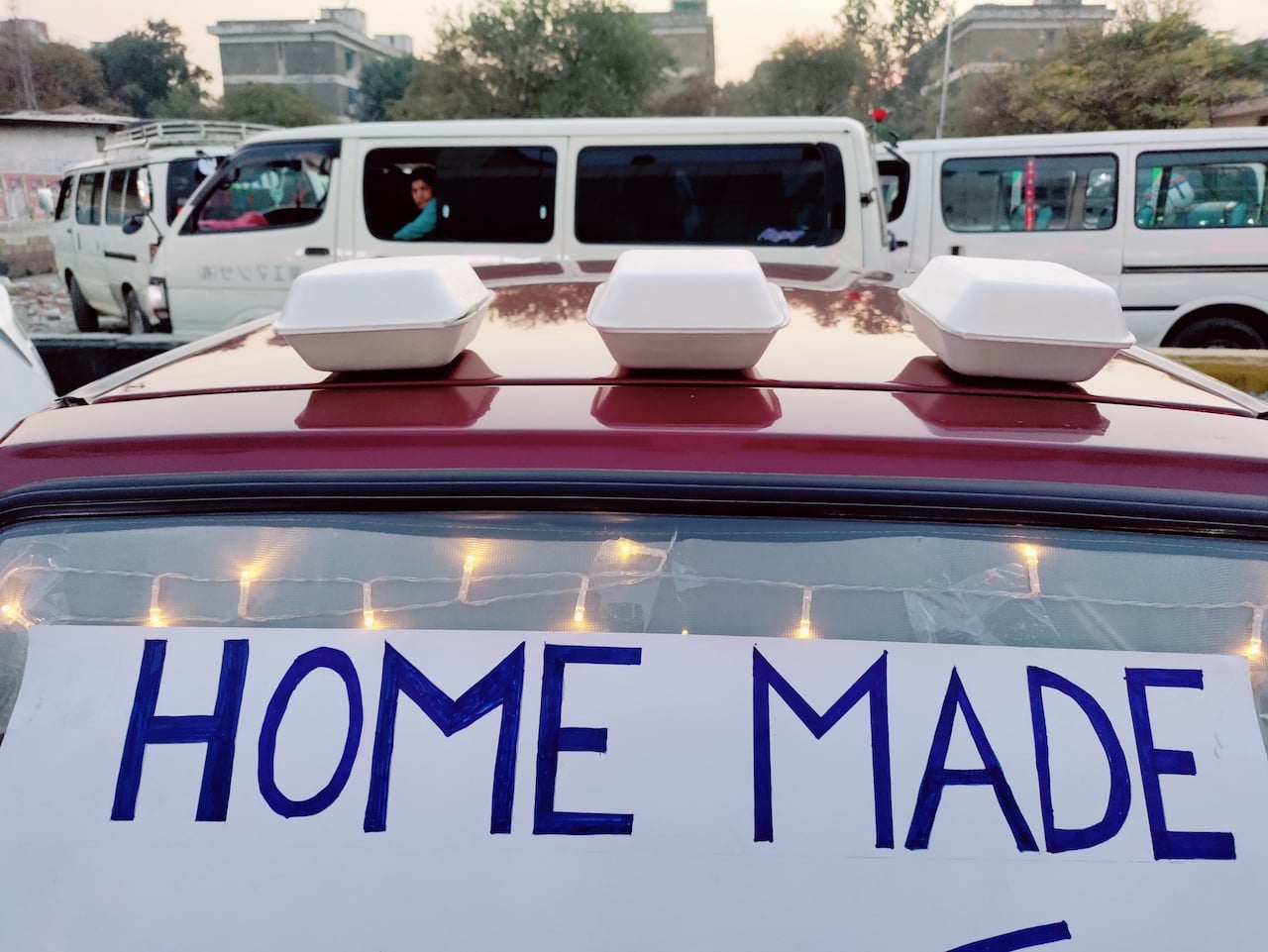 Jan, who is completing his Intermediate privately, shared that he started the venture to help his father financially. My father makes Rs25,000 per month and, sometimes, it's not enough as we are a family of six, he explained.
His biggest sources of help have been his mother and younger sister who make the macaroni every day. The preparation process takes three hours from washing and cutting vegetables to making the chicken and putting the dish into white thermocol boxes and packing it with two sachets of ketchup and chilli garlic sauce.
Jan, who donned a black Fortnite beanie with a beige jacket, shared that he decided to sell macaroni to bring some variety to Islamabad's culinary palate. "Most places sell burgers, fries, rice, and chicken dishes, and I wanted to offer a different dish and it helped that my sister and mother make really good macaroni," he smiled.
Speaking about the price, he reasoned that he wanted his product to be affordable for everyone. "People have told me that I am selling my product for too little but I want everyone to be able to taste our dish."
He plans on expanding the business and including other dishes such as spaghetti. Some food app representatives have gotten in touch with him too and negotiations are underway.
Jan's pleasant demeanour and gentle nature, along with his heartwarming story are likely to win customers over. He has even customised his car with stickers on different parts of the car; an electric guitar near the number plate, a butterfly on the fuel tank door, and a dagger through a skull sticker with 'Death Race' written on it pasted on the quarter glass.
All photos by the author