Muneeb and Mubeen run a blog where they interview old musicians and instrument makers in an attempt to preserve classical music.
As someone with a tremendous amount of love and appreciation for classical music, I am often disappointed when I see classical music either slowly disappearing from our society or young people referring to it as monotonous and outdated. This explains why I immediately get excited when people from my generation or younger than me flaunt their knowledge of cultural music or their love for old melodies in general.
I hadn't met teenagers madly in love with this genre until I came across two young boys who not only wonderfully exhibited their love for classical music but also urged others not to let it die out. Muneeb and Mubeen Irfan Chaudhary are two brothers who have taken the initiative to bring back classical music in Pakistan. The boys are 15 and 13 years old and run a blog called Save the Sitar where they post interviews with old musicians, their journey through Lahore and discussions on the current status of the music industry and the slow decline of classical music in our country as well.
It instantly blows my mind to imagine two teenagers being so enthusiastic about such a profound cause and that too at such a young age.
Save the Sitar
Save the Sitar, was created in order to not only help preserve classical music, but also spread awareness about it. The way I see it, the boys must have wanted to encourage young people by recording the stories of other musicians and luthiers. It's easier to grab someone's attention by telling them a story and the brothers have provided audiences with those stories in the form of experiences on Save the Sitar and they need to be heard.
"Save the Sitar was created to help generate interest in Pakistani classical music. This is done by creating a first of its kind audio visual database where the experiences of old musicians are archived through their interviews. We also wanted to generate interest in this genre by publishing trivia about classical music on the blog," they explained.
The brothers travel through the city with a camera and microphone. They choose musicians they'd like to interview and have conversations with them. They have also interviewed people who made and repaired musical instruments and whose businesses were once flourishing but are now in decline. The conversations they have are very casual, yet they are not random at all.
After a short interview with Muneeb and Mubeen, I realised that they really are interested in preserving classical music and this isn't something they were accidentally introduced to or something they were pushed into. Teenagers will not step out to do something they don't like over and over again. They genuinely seem to care about the cause deeply and that's what makes their blog unique.
However, this isn't the only content you'll find on the blog. It also has a series of tabla lessons led by the brothers.
"We also run a series of lessons in which we teach people how to play the tabla. The series is based on the Farrukhabad gharana's, Ustad Keramatullah's Smithsonian Folkways Recordings," they explained.
This adds to the uniqueness of the blog. Regardless of their age, people have not noticed the problems of so many musicians and luthiers the way these boys have, nor has anyone really tried to teach inexperienced people how to play the tabla based on the efforts of Ustad Keramatullah yet.
The name of the blog is also something that stands out as it is quite self-explanatory. The name 'Save the Sitar' is not only catchy but also immediately informs viewers about the concept behind the blog. You know they're talking about an instrument that is not being used in our music as much as it should be. At the same time, you also realise that it's not just the sitar that they're referring to, rather a vast framework of perspectives and issues regarding the music of this generation.
"We chose a rather catchy title because of its alliteration, with the sitar obviously representing classical music. This name was suggested by Mubeen when we were considering the idea for a website. We turned down several ideas like 'Rescue the Rubab' or 'Rescue the Raag' only to settle on this one for its bounciness as well as its relative shortness," they explained.
"It was as musical a name as we could think of! Since out of all classical instruments the sitar, with its timeless appeal and reputation, symbolises classical music the most, it was a natural choice."
The forgotten artists
Going through their blog made me realise how many musicians have been forgotten. Some of these people had been a part of prominent projects in the past and now, they're unemployed. I also read some interviews where the financial instability of musicians was discussed as well as issues regarding young people's lack of interest in classical music.
The interviews on the blog are not only informative but also thought-provoking. Muneeb and Mubeen recently posted a video where they interviewed Pride of Performance recipient sitar maker Ziauddin who is 75 years old and has made sitars for experienced sitarists like Ustad Sharif Khan Poonchawaley, Ustad Kabir Khan, and Ustad Nafees Ahmed Khan.
In the interview, he raised an interesting point — he said the number of clients he had had in the past versus now hasn't changed much as he did not sell that many sitars in the past either. According to the blog, "he cautions against romanticising the past." However, he later goes on to tell the boys that his only student has been one of his sons, Muhammad Kashan, who is also the only one carrying the family's legacy forward.
Ziauddin did not encourage his other children to make sitars as he believes there is no financial security in this profession. I believe the issue here is not the fact that only one of his sons wished to carry on the family's legacy but rather the fact that a Pride of Performance recipient sitar maker believes that his children are better off doing something else due to the financial instability people face in this profession. Ziauddin also knows how to play the sitar, but prefers sticking to his family profession.
"We try to make people interested in classical music and also spread awareness about the current plight of classical musicians, many of whom are penniless. It is heart-wrenching to see [musicians from] tabla players to sitar makers to music directors generously opening up to us and discussing the hopelessness of the present and remembering the glory days," the boys explained.
"We want to spawn off a movement that will force the government and encourage NGOs to invest time, energy, and money to preserve what is left of Pakistan's rich musical heritage," they said.
It's heartbreaking to imagine brilliant sitar makers saying this. Financial instability is no stranger to older musicians and luthiers and Muneeb and Mubeen have explored this in a brilliantly simplified yet interesting manner on Save the Sitar.
However, despite their wish to spread awareness regarding this genre around the world Pakistanis are Muneeb and Mubeen's main target.
"We like to be as inclusive as possible because classical music belongs to the entire world. However, Pakistanis are the ones who have created this problem and it is Pakistanis who must solve this problem as well. So, we do target local and expatriate Pakistanis. For this reason, we are currently planning to start working on an Urdu version of our website as well."
Whether or not classical music is important is something that has always been a debatable subject for me. I believe basic knowledge of classical music helps musicians and singers enhance their skills, but not everyone agrees. So the question here is, why are only musicians being emphasised on this blog? And why is knowing about these composers and musicians important?
"We created a website about classical music in the hope of spreading awareness about the rapid death of a centuries-long tradition," explained Muneeb and Mubeen. "There are so many classical musicians who do not deserve to live in their current pathetic conditions after having worked so hard all their lives. We once interviewed a music director named Saleem Haider saab, who had worked on the song 'Ae Watan Pyare Watan' and had been a key part of numerous hit films, such as Patay Khan etc, as well as being the music director for many [productions], but was he recognised or celebrated? No. His meagre income comes from a couple of apprentices who are learning the art of singing from him."
And this is exactly why Muneeb and Mubeen want others to pay attention to what they have to say. The blog clearly has the ability to make people think. The brothers also have a YouTube channel by the same name where they post either snippets or full versions of their interviews.
"We think that respect for our musical heritage is missing in the music industry today. As one of our interviewees once said, classical music is the juz, or main ingredient in each and every type of music. It is the base. We understand the need for commercialising music, but even in the West along with Ariana Grande, we will have Beethoven. We seem to lack the balance between commercial and artistic music," they said.
"We wish that the top names in our film, TV, and music industries spent more time not only with the famous singers but also start to regularly include musicians in their [bands]. These people are in dire financial straits and need to make a decent living.
"The young generation needs to experience the amazing TV programmes such as the 1970s music programme Nikhar that featured singers such as Iqbal Bano and Ustad Salamat Ali with a full orchestra of classical musicians, movies like Wada that featured Sharafat Ali singing 'Jab teray sheher say guzarta hun' whose music was composed by Rashid Atre and the lyrics were of Saif-ud-din Saif. People need to hear better music, so that they can start appreciating what we once had, and are about to lose permanently."
The future of Save the Sitar
The brothers were introduced to classical music at a very young age.
"We were introduced to classical music and singing of kalam-e- Faiz, Iqbal and Jalib at our school Maktab when we were in Grades V and VII back in 2016-17. We began learning to play the tabla and the harmonium as well. This is when both of us realised that music was our passion. At that time, Mubeen was nine and I was 11 years old and from there our interest grew gradually," said Muneeb.
I find the boys' initiative very progressive. Of course adults do talk about musicians not being respected in our society and classical music slowly vanishing as well, but it's always the adults who do so. Two teenagers talking about this makes it different. It also makes it valid. If a teenager can notice this, then why can't everyone else? It's obvious that the boys saw something that deeply affected them and that just added to their purpose behind preserving classical music.
"About two years ago, we went to the androon shehr (downtown Lahore), to buy a harmonium from Delhi Music, behind Badshahi Mosque. While we were there, we noticed the horrible conditions of elderly musicians who had fallen on hard times after they were unable to play music. And even the ones who had made it a profession were clearly struggling to make ends meet.
"Their bitterness on being unappreciated and stigmatised as being mere 'merasis and gawwaiyye' appalled us and we resolved to do something to help them. Our teacher, Sir Farhan Iqbal, kindly helped us find a retired music director, Tanveer Hussain, who amiably agreed to an interview with us. While we were interviewing him, he recited a poem he had composed on the decay of classical music in Punjabi. His bitterness against pop and western music was palpable. You can listen to this poem on our website."
If the problem wasn't that serious, why would so many musicians, singers, and composers complain about it? No artist can work forever, this is true. But what's being discussed here is not just the fact that they aren't working, but also the fact that people are slowly moving away from their cultural music. This is causing a rift between people who are really capable of making extraordinary pieces and people who do this for fun without any prior research, practice, and knowledge of music. The brothers have something in mind regarding this issue as well.
"We also must start talking to NGOs within Pakistan and outside Pakistan who could potentially help set up some kind of a music academy where these master musicians/instrument makers can continue to transfer their knowledge to the younger generation. We would also like to use social media and other platforms to raise awareness," said the brothers.
"Maybe one day the government will listen to the plight of our dying culture. And once we achieve these targets, we are sure we will have more things to add," they said.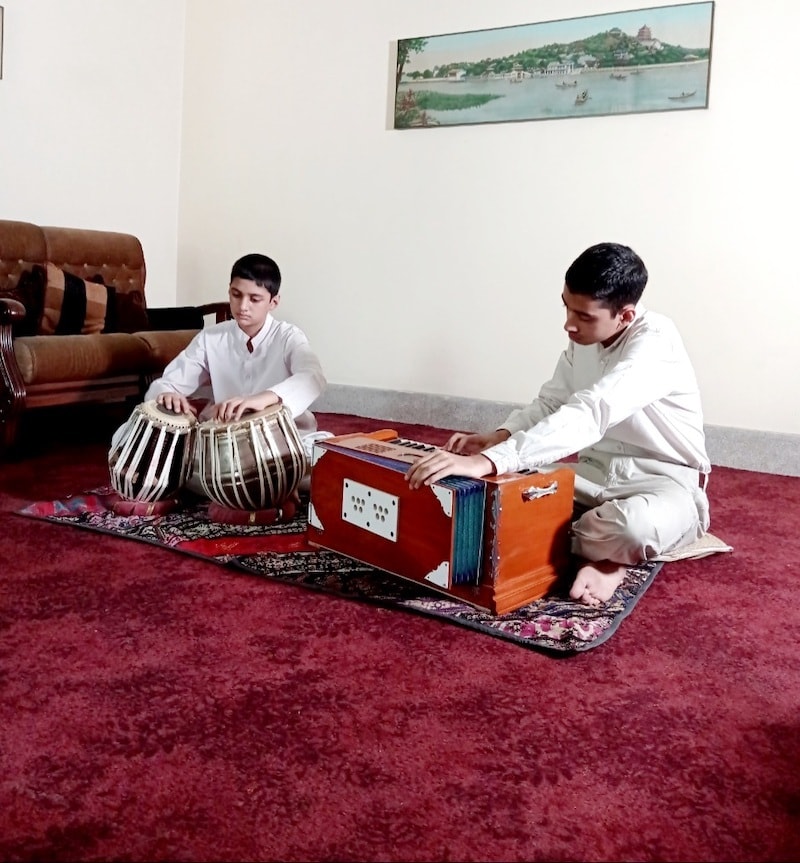 Since Muneeb and Mubeen play the tabla and harmonium themselves, their future as musicians seems bright too.
"Music to us is a way of becoming closer to our culture, as the two are so closely tied that it is impossible to separate them. For both of us, it is also quite simply a way to have fun, and relax! Thankfully we have not encountered any difficulties so far due to our privileged background, access to contacts in the androon shehr and our parents' full support and encouragement.
"In terms of our own musical professional development, we love playing music and we will continue to do so throughout our lives. But we are nowhere near becoming professional musicians. We do not know what life has in store for us, but we will continue to study and play the tabla and see where life takes us. Right now, we have to complete well in our O and A level exams!"
If it's taken seriously, I believe the future of the blog is bright. We can be happy about teenagers talking about a profound cause, but I hope the blog won't go viral and be forgotten after it gets its 15 minutes of fame. These issues are genuinely concerning. Something that's very important is being lost and we aren't talking about it as much as we should.
The most interesting thing about this blog is that when you begin reading the interviews, you instantly think of an old person disagreeing with modernity. But then you realise it's not an old person behind it at all — it's two teenagers. It's heartening to know that these problems are recognised by more than a group of older people reminiscing about the past.
Muneeb and Mubeen mainly focus on musicians and composers on their blog. "We have indeed interviewed singers, but they are not our main focus because we are more interested in instrumentalists. The ones whom we have had the opportunity to talk with do not have a very high opinion of pop music and in fact shun it," they explained.
"It really depends on each individual, but the majority of them are against it and see it bitterly as a danger to their art. New technology in pop music has made it possible to replace hundreds of skilled artists and thus nudging them closer to the abyss of anonymity," they said.
"We believe that adopting pop music, learning and enjoying it is perfectly fine as one should be flexible and adaptable to new, fun things. However, this must not be done at the expense of neglecting one's own centuries-old musical heritage. This is like kawwa chala tha hans ki chaal, apni bhi bhool gaya [when someone copies another and loses their own identity]."