Empty roads and public space restrictions during the lockdown made for an interesting experience for Karachi's young lovebirds.
Dating in Karachi has always been an extreme sport but the government-imposed lockdown made it 10 times worse. With public places closed, dating apps banned and physical movement restricted, the people of Karachi struggled to find love.
But the pandemic has been different for everyone.
A dating utopia
With no traffic, no road blocks, empty parking lots and no reservations, the lockdown was bliss for smart couples. Hamza, a 30-year-old accountant at a multinational in Karachi, has been in a relationship for a long time. He got married in October 2020 and was dating his future wife when the lockdown was imposed.
He believes that the Covid-19 pandemic and the lockdown laid the foundation of the best romantic environment possible in the city. "Living in Karachi, I fantasised about dates, which this virus actually made a reality," he said. Since food streets were closed, there was no crowd and this helped Hamza experience the sweet private moments with his fiancée that weren't possible before.
"Initially, when the spread of virus was at its peak during April/May [2020], we used to meet but didn't even shake hands out of fear. But later we went for long drives, which were more romantic than any others we had been on. There were no extra people on the road, no traffic and no traffic sergeants to intrude. It was magical."
According to Hamza, they went to Seaview Beach and because there were no crowds, he was able to take his car to the shore. He and his fiancée were able to sit and talk for hours without any disturbances. "Enjoying sea winds, the waves crashing on the shore and walking on the beach were the deliciously romantic moments I will always remember," he said. "We went to the beach at dawn and at dusk. We specifically planned to go there on full-moon nights, held hands, walked and embraced, it was the best feeling of my life. I've lived all my life in this city, I used to dream of dates like this."
All these moments, he believes could never have happened if not for the lockdown. Since they decided to get married in October, the couple did their wedding shopping in July and found wedding material was much cheaper.
Dating apps banned
On September 1, 2020, the Pakistan Telecommunication Authority banned popular dating apps such as Tinder in the country. The internet was taken by storm since people were already restricted from meeting and felt dating apps offered a safe space for them to connect.
Second chances
For some people, the pandemic and lockdown came with the additional baggage of emotional turmoil. Introverts went through extra work at jobs and family pressure while they struggled for a deeper connection and love. Since virtual dating comes with untrustworthy features, many young people ended up getting back together with their exes. "I was in a relationship with a junior doctor that lasted last year. But since I was alone during these depressing times, I sent him a text message one day in May 2020 and said since you will definitely test positive in a few days since you are exposed, so let's have some fun before you die," said Shaheen, a nurse in her 30s. "I remember it now and I laugh. It's like Covid made me miserable enough to go back to the man I chose to leave earlier."
According to psychologists, this happened with most people because they felt it was an easy way out. Young people were scared that they had no time left.
Jaffar, a 20-year-old business student at IBA, believes virtual dating during the lockdown was far more cost effective than traditional modes of dating. "I saved so much money by not going out to fancy restaurants, buying flowers, chocolates and transferring easy-loads to her mobile after every few days. It seems like I haven't saved this much money in ages!" he said.
We met thanks to Covid!
Alina, a 28-year old entrepreneur in Karachi, was not dating before the pandemic lockdown. But every since March 2020, she had to share her office workspace with Khalil and they ended up dating after becoming good friends. "It's like the only good thing that came out of this pandemic," she said. Alina believes that she would never willingly opt for online dating because it is simply not her thing so this pandemic actually led her to interact with a bunch of people at work she normally never would have. Khalil was one of them.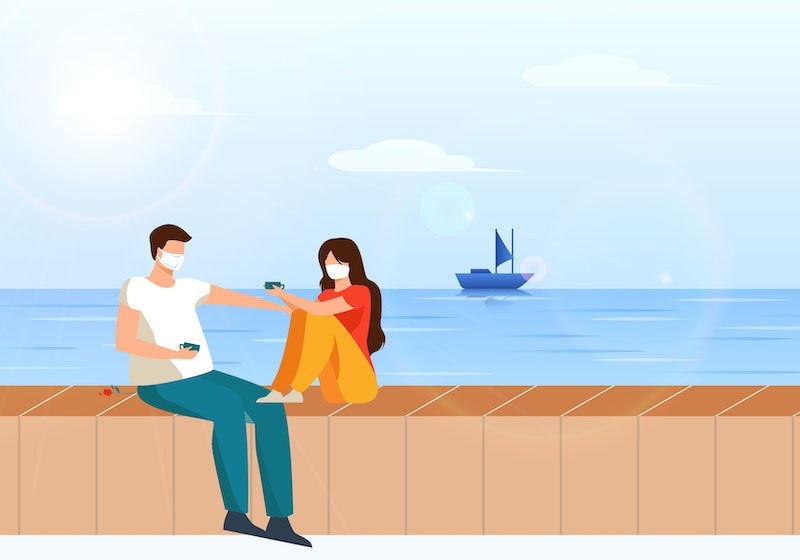 During her new relationship, Alina contracted Covid-19 and had to quarantine herself for about two weeks but surprisingly, she enjoyed the time. "Usually, one does not expect to be talking to that special person a lot during the day, especially while being at work but since I was working from home, we used to talk on the phone for the entire night," she laughs. "One wouldn't think they can actually go this crazy but trust me you do go crazy in love. God knows how desperate I was when I got my negative Covid report and called him to say let's go on a long drive on Shahrah-e-Faisal tonight!"
All masked up
With public places, workplaces and almost everything else closed, people suffered from stress, depression and loneliness during the pandemic. Rahat, a 29-year-old businessman in Karachi, was dating before the lockdown was imposed and used to take things for granted. His usual haunt was the foodcourt at Dolmen Mall Clifton but the new government restrictions banning indoor dining meant he had to sit outdoors in the new open air patio. For him, this was very awkward.
"It is so uncomfortable eating with your girlfriend and having people looking at you from their cars. I was so irritated at being checked for my temperature at every entrance of the mall," he said. He wanted to go out with his girlfriend because staying home was depressing but the pandemic induced restrictions made going out into a hassle.
His girlfriend didn't share his concerns. For her, the best part of the restrictions was mandatory masks because it meant no one could catch them on dates.
When all romantic moments during the lockdown had to be inside a car, couples were eating, sleeping, fighting and patching up inside their vehicles. Some took the time to have better moments and connect on a different level, while others simply grew exhausted due to lack of space. For 24-year-old Husan Bano,"the main issue we faced when we use to go out for lunch and dinner was that the dinning was closed totally".
Because of that they used to sit in their car and eat. "We were sick of sitting in the car. Everything was closed and that was really annoying for us, so we stopped meeting for some time and that created misunderstandings between us. It was a pathetic time," she recalled.
Nowhere to go
With public places closed, young couples were at a loss over where to meet. For 25-year-old student Sharain, the pandemic was tough. "Since I am engaged, it turned out to be the best thing for me. We had really intimate time together. We used to meet but not for fancy dinners or shopping, we met at home. But now there are some Covid cases in my house so we cannot meet and are facing issues," she explained.
"We are missing out on a few things because of Corona. In fact, we couldn't celebrate our birthdays or engagement anniversary outside because of Covid."
Aliza Raza, a 26-year-old advertising professional, was single for four and a half years. She is an introvert so she believed it was easier to just stay single. Just before the pandemic, a friend of hers was looking to become more than just a friend. She thought he was annoying, desperate and Tinder-addicted.
"No offence to Tinder users but Sameer used to think that he would find love on Tinder. I, on the other hand, believe that you always find love old school way," she said. Raza was not ready for this kind of relationship because of her past experiences and anxiety issues but she also did not want to argue with him so she started avoiding him.
She climbed onto the block, unfollow and delete number bandwagon to avoid a conversation with him. However, she later met him at a mall and they were able to talk. Sameer said he understood that dating scared her and that they should hang out as friends. When they started meeting, both had a good time and were ready to take the next step when the government announced its lockdown. "Initially, it felt like the apocalypse, like 'Terminator', standing with your mask on outside the subway," Raza said.
Sameer was crazy about the beach. He stubbornly made Raza go with him and they were then caught by the police, who warned them that they weren't allowed to visit. "It was so weird, we could not go anywhere and we were not crazy enough to book a hotel room to go on a date! I use to call him 'Covi-dot' because of his sneaky ways to date. Kuch nahi toh dahi ki dukaan pay aajao yaar! [if nothing else, come to the yoghurt shop]," she said.
So, they stayed connected via messages but every now and then Sameer would get the urge to meet. For three months, they stayed connected virtually and finally in June, they decided to meet. "Though I'm an introvert, I was still bored to death and just wanted to hang out anywhere possible," Raza said.
For her, the pandemic came with the realisation that they could finally focus on the personal side of people as opposed to the social. Dating, much like other social gatherings, is usually all about the food, pictures and ambiance but the pandemic took all of that away and left just the people. "People were so deprived of interaction that they were yearning for chances of human connection and they were really trying to listen and look beyond what they see. Even getting your groceries became more interesting," she explained.
Raza started talking to Sameer during their grocery store visits and realised that she liked the real person she was finally able to see. "At one point I was discussing new business ventures with him because he wanted to invest and I was taking interest in his life goals," she said.
Dating is for everyone
Dr Muhammad Moiz is an academic researcher and a comedian who often goes by his internet alter egos Phudina Chatni and Shumaila Bhatti. He untangled how dating in Karachi has been during the pandemic and what other possibilities have emerged because of it.
According to Dr Moiz, people who were dating casually before the pandemic started dating aggressively after it. "Iss say pehlay k agla pandemic aye, jaldi jaldi dil thanda karlou, jo kuch milta hai khalou, basically the valima concept, k line bot lambi hai jaldi jaldi khalou warna khana khatam hojaeyga [Do what you want before the next pandemic comes, eat whatever you can. It's basically the valima concept, the line is very long so eat quickly or else the food will finish]," he said.
He believes the pandemic has opened the doors to dating in Karachi, something that was previously an "elite culture". Dr Moiz believes that millennials today question why they can't date, especially after the pandemic.
Dating post-pandemic
Dr Moiz believes that Karachi was dating even when dating was not that common in other parts of the country but it will be more fun after this pandemic.
"It was like dating in the late 80s, where you jump onto every opportunity to meet the person with time constraints and limited venue options but you are also more earnest in enjoying that moment with your person because the pandemic taught me that anything can happen," said Raza.
"I am so glad that the relationship I developed during the pandemic is more organic, nicer and pure. People in general, I think will now value these nice things — spending time together and warm hugs — a little bit more after the pandemic!"
Composite Artwork by Saad Arifi