They think the track, mixed and produced by Umair Music, is the revival of hip hop.
Faris Shafi is back with another banger, this time in the form of a song borne of cross-border collaboration with Indian rapper Raftaar. 'JASHAN-E-HIPHOP', mixed and produced by Umair Music, is reviving hip hop, according to netizens and we're here for it.
The song, part of Raftaar's EP Hard Drive Vol. 1, dropped on Wednesday. Fans rushed to stream it and it immediately picked up raftaar [speed], even being considered by some as the best cross-border collaboration in a while. It has 324,000 views on YouTube as of now and is at number 18 on the trending list for music.
The song, as a fan described it, is a slap in the face. Every lyric is a little smack with the rapid rapping and smooth beats working together perfectly. Shafi's lyrics, as per usual, carry his spark of creativity making them fun not only to listen to but also to deconstruct.
Designer Munib Nawaz seems like he enjoys the 'Introduction' singer's music — he dropped down in the comment section to root for him.
Fans were going off about how perfectly the three artists go together in this collab. They appreciated Shafi's voice riding the beat perfectly.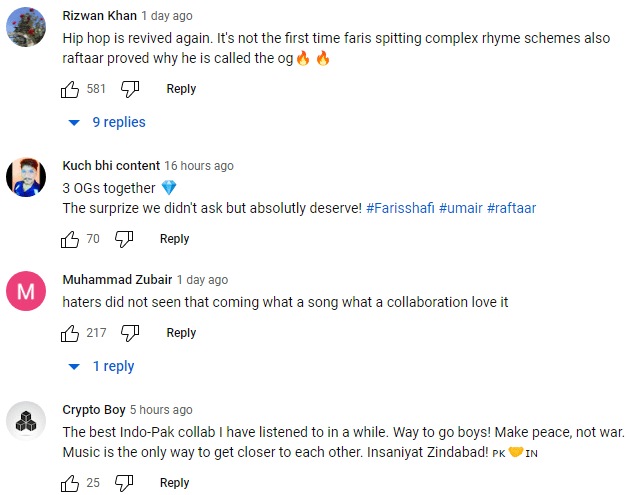 They pointed out the 'Awaam' singer's "complex writing" that always seems to bring in fun and relevant references, making it much more interesting when you understand them.
The producer shared a screenshot of the song details on his Instagram story. It was number 26 on the trending list yesterday — it has moved up a notch since then.
Have you listened to 'JASHAN-E-HIPHOP' yet?