West responded to his former sister-in-law and called her a liar, claiming he has been kept away from his kids.
Where American rapper Kanye West is involved, drama is bound to follow. Or maybe Ye is the drama. The singer is known to publicly speak about his private matters, especially with his ex-wife Kim Kardashian. This time, his former sister-in-law Khloe Kardashian called him out and tried to shut it down gently. Rather than cooperating, he lashed out and claimed he is being forcefully separated from his kids.
Ye is already knee deep in another controversy after he criticised Vogue editor Gabriella Karefa-Johnson for her commentary on his Yeezy show at Paris Fashion Week that featured "White Lives Matter" T-shirts. He has been going off about it on social media. Treading the same line, he made a strange connection between the matter and his personal family situation. "I wonder what Gigi [Hadid] and Venus's perspectives were when I didn't know where my child was on her birthday."
He kept bringing up the same topic, saying that people should have spoken up in that situation like they are in this one. "Why did everyone feel so free to attack me about my T-shirt but Candace Owens was the only public figure to say it was wrong for the Kardashians to keep me from seeing my daughter?
"And for all audience so outraged about my t-shirt, where [were] you when I couldn't see my kids? I went public in hope of public support at that time," he said, once again touching the topic.
Khloe dropped down in the comment section and tried to respectfully tell him to back off and stop using Kim and the family in his rants. "Ye, I love you. I don't want to do this on social media but YOU keep bringing it here. You are the father of my nieces and nephews and I'm trying to be respectful but please STOP tearing Kimberly down and using our family when you want to deflect. Again with the birthday narrative. Enough already. We all know the truth and in my opinion, everyone's tired of it," she wrote.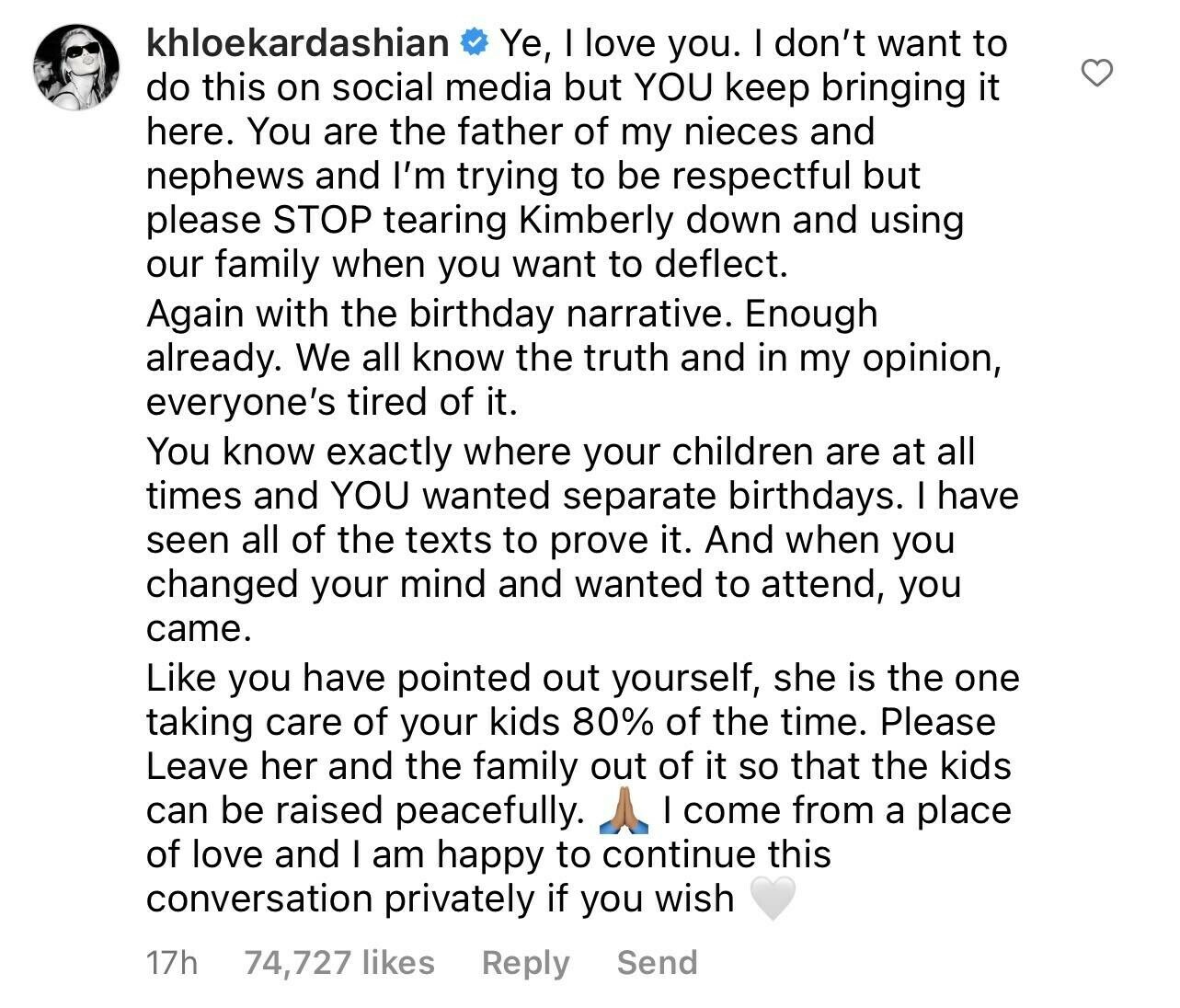 She explicitly said that the distance was created at his own request and she has the receipts to back up what she's saying. "You know exactly where your children are at all times and YOU wanted separate birthdays. I have seen all of the texts to prove it. And when you changed your mind and wanted to attend, you came."
Asking him to leave Kim be, she said she's willingly to continue discussing this in private if he wants. "Like you have pointed out yourself, she is the one taking care of your kids 80% of the time. Please leave her and family out of it so that kids can be raised peacefully. I come from a place of love and I am happy to continue this conversation privately if you wish."
Instead of settling it amicably, Ye shared a screenshot of the comment and went off. He called the whole family liars and said they're purposefully keeping him from his kids. "You are lying are are liars. [You all] basically kidnapped Chicago on her birthday so she remember her father not being there. Trav gave me the address of my child's party, that's how [you all] play with Black fathers.
"[You all] also threw a party before Psalm's birthday when I was flying back from Japan to be there for his birthday and the first I heard about it was seeing pics online. Also, I should see my children 100 per cent of the time but since there's a separation, it should have been 50 per cent of the time. [You all] wouldn't have played with Donda like that in Jesus's name," he wrote.