Suffering from a post-Eid hangover? Looking for something that is NOT mutton or beef after a week of carnivorous gluttony? Then no look no further than a veggie burger.
They've always been a South Asian junk food staple ― after all, who doesn't have a favourite bun-kabab wala that they frequent? And while this can't beat the much-loved street food, it does come close.
Lentils & Bean Burger with Mango Salsa
Light and quick to make, these are ideal for hot summer evenings. These can be made in batches ahead of time and frozen for up to three months. Pair with green and tamarind chutney for a desi twist or with mango salsa for a touch of the tangy but sweet. Don't want to spend time frying them in a hot kitchen? Pop these in the oven or grill them if you're already missing some good old barbeque.
For a gluten-free version, replace breadcrumbs with an extra egg and serve with corn tortillas instead of burger buns. For a vegan version, double the bread crumbs. For a crunchier bite, coat in whisked egg and then bread crumbs, and fry.
After the meatfest on Eid, embrace the vegetarian in you
Burger patties (makes 8)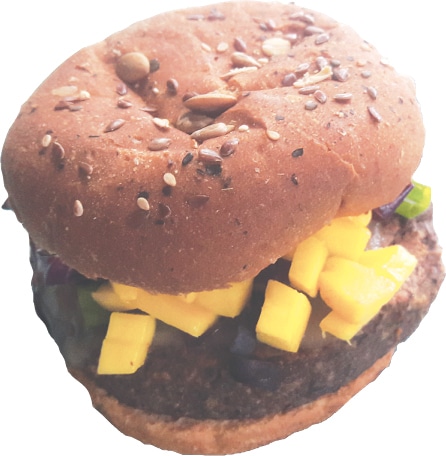 Ingredients
¾ cup green lentils
¾ cup black beans
2-3 green chillies, finely chopped (if desired)
3 cloves garlic, minced or crushed
2 small green bell peppers, finely chopped
1 onion, finely chopped
1 tablespoon oil
1 teaspoon chili powder
1 teaspoon salt
1 teaspoon pepper
1 egg, beaten
1 tablespoon Worcestershire sauce (can also be substituted with ½ tablespoon soya sauce and ½ tablespoon vinegar)
½ cup bread crumbs
1 tablespoon cumin seeds
1 teaspoon mustard seeds, crushed
Method
Soak the black beans overnight. Soak the green lentils for half an hour on the day you're planning to cook.
Sauté the garlic. Then add the chopped onion and peppers and stir. Add the lentils, beans, salt, pepper, chilli powder and green chillies, and stir well. Then add water. Boil the lentils and beans mixture.
Pat dry the boiled lentils and beans with a tea cloth or kitchen-roll tissue. Add one-third of the mixture, the egg, bread crumbs, sauces, cumin and the crushed mustard to the food processor. Pulse lightly. Add the remaining mixture and pulse again. Make sure not to pulse too much otherwise the patties will be mushy. Alternatively you can also smash everything with a fork and then mix together by hand. Make sure to add a little of the mixture at a time.
Scoop out a fistful of the mixture and shape into a patty. Place on a parchment or wax paper that has been lightly brushed with oil.
Heat some oil in a pan and fry the patties. To bake, pre-heat oven to 190°C Place the patties on a baking tray and bake for 15 minutes. Take patties out and carefully flip over. Bake for 10 more minutes.
Serve with grilled or toasted burger buns and sliced onions, tomatoes, cucumbers, lettuce etc. Drizzle or top with chutneys or mango salsa for an extra zing.
Mango Salsa
Ingredients
1 mango, finely chopped into square pieces
1 green onion
2 tablespoons cilantro, finely chopped
2 tablespoons lemon juice
Method
Put the first three ingredients together in a bowl and then squeeze/drizzle over the lemon juice. Toss together and serve with the burgers.
Originally published in Dawn, EOS, July 17th, 2022