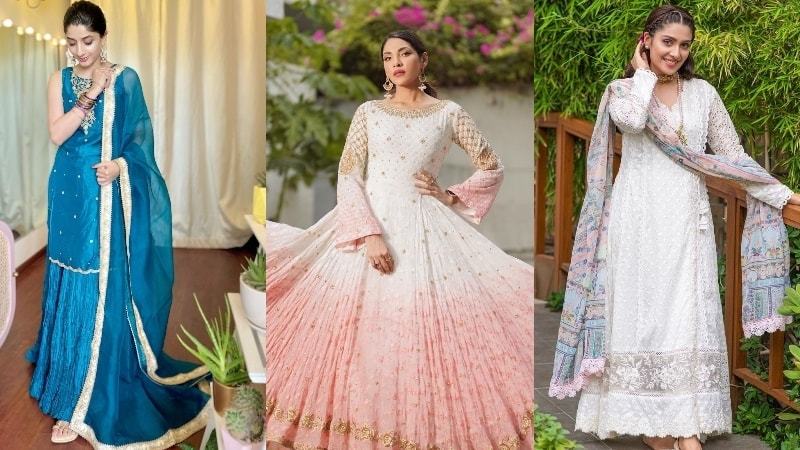 It's Eid again and most people are at home, celebrating with their families. The pandemic is still raging and the safe thing to do is celebrate at home with your loved ones. But don't worry, celebrating at home doesn't mean you'll miss out on Eid greetings and Eid fashion. Our celebrities have you covered.
A number of celebrities have already posted Eid messages and — more importantly — Eid outfit pictures on their social media accounts.
Sarah Khan's regal look
Pakistan's most romantic celebrity couple posted some loved up pictures this Eid. Sarah Khan looked very regal in an Agha Noor outfit paired with a bun and pearls and we wish Shabir had dressed up too but he made up for it with a bouquet of flowers for his wife.
Ayeza Khan twinning with her daughter
Starlet Ayeza Khan posted some adorable pictures of herself with her daughter Hoorain in matching white Ansab Jahangir outfits. We were already in awe of their matching clothes from Hoorain's recent Barbie themed birthday and we're sensing an adorable trend now.
Nida Yasir and Yasir Nawaz's sunglasses
A family that slays together, stays together, or so we've heard. Nida Yasir, Yasir Nawaz and their son posed for a series of breezy photos and we love them! Nida was wearing Rozina Munib and while she wasn't twinning with her son, they were both wearing green.
Zhalay Sarhadi's amazing photoshoot
Zhalay Sarhadi knows how to turn an Eid photo into a picture worthy of any magazine cover. She twirled her ombre outfit from R.I.A by Anzeela Imtiaz and left us stunned.
Sunita Marshall and her classic Eid pic
Sunita Marshall and her family might not be in Pakistan right now, but she definitely knows the art of a traditional Pakistani Eid picture. She's wearing an outfit by Nighat Shariq.
Anoushey Ashraf and her crew
Anoushey Ashraf isn't in Pakistan either but that doesn't mean she isn't celebrating Eid with her family! She posted a big old Eid picture and we love seeing all the colour and joy.
Reema's Eid message
Reema Khan went one step further with her Eid greetings this year. She posted a video of her and her husband wishing everyone Eid mubarak. She's wearing Parniyaan by Ayesha Jawad.
Asim Azhar and his goats
Asim Azhar kept it casual this Eid with navy shalwar kameez and didn't forget to pose with his sacrificial animals. His outfit didn't wow us but he gets an honorary mention for his cute goats.
Mawra Hocane's Eid glam
This year's Eid outfit game, however, was won by Mawra Hocane. Her blue Faiza Saqlain outfit paired with a gajra in her hair is serious outfit goals.