"You can either be a celebrity, or a bitter ex with no dignity," Aamir said following massive backlash online.
Celebrities have been on the receiving end of online harassment and bullying, with details of their private lives being made public and assumptions circulated in order to humiliate them, for years. The most recent actor to get caught up in a web of trolls was Hania Aamir, with the barrage of hate spiralling into a very public spat between her and ex Asim Azhar.
Recently, during an Instagram live hosted by Aamir, a part of the feed was trimmed and edited to include a picture of a man ejaculating onto her picture. That video was then uploaded online for thousand of people to see and share.
When a visibly disturbed Aamir ended up going offline to process what had just happened, she was also being simultaneously bashed for her close relationship with director Wajahat Rauf's son Aashir Wajahat.
The child, who is significantly younger than the Ishqiya star and refers to her as 'baaji' in their regular interactions, was also dragged through the mud for a video Aamir posted of her lying atop him with his brother Nayel standing by their side. The video has since been removed.
All three of them were jamming to Aashir's latest music release 'Kyun'. However, fans were unhappy at their physical intimacy, claiming it was abnormal and awkward to look at. Aamir has always maintained a close relationship with the boys on social media and often refers to them as her younger brothers. She is also very close to their parents and has posted videos of herself with them on multiple occasions.
In a surprising and honestly quite unnecessary turn of events, singer Asim Azhar took this opportunity to post a cryptic tweet on social media. People were quick to figure out that the gif was a jab at ex Aamir who was on the receiving end of a lot of hate.
The Jo Tu Na Mila singer's meme was a picture of Anupam Kher with the words "shukar baal baal bach gaya [thank God, managed a narrow escape]" on it with the caption "Alhamdulillah", suggesting that he was glad the relationship was over.
Simultaneously, Aamir who had been upset at the backlash she had been receiving, posted a video of herself on social media where a girl was trying to console her and wipe her tears, as she opened up about how difficult it was to be a public personality in a "misogynistic world with double standards."
"Where a woman showing affection to her loved ones is wrong but a man ejaculating on a woman's picture on video on the internet is re-tweeted and made viral content. Just another day surviving, hope you all are doing well in this disgusting world and keeping your goodness intact. Someone else's evil shouldn't ruin your goodness," she wrote.
She also replied to Azhar's jab with one of her own.
"You can either be a celebrity, or a bitter ex with no dignity," she clapped back. She also told her male fans to "show some responsibility" to their generation and their women.
"Be a man of substance," she added, saying it was time to call out "disgusting men" who were participating in heinous acts and who thought it was funny to put a woman down when the internet was trolling her.
This did not sit well with Azhar who has never publicly spoken about their relationship and breakup, despite being on the receiving end of mocking jokes and jabs.
In a retaliatory message, the Ghalat Fehmi singer was quick to remind Aamir of the time he was on the receiving end of trolling after as she had — during a live session with Aima Baig — claimed the duo were "just friends", as a way of breaking the news that they had parted ways.
Thus, fans who were rooting for the two couldn't handle the betrayal and trolls did what they could do best — they made lots and lots of memes.
"Where were all these supporters for the past one and a half year when I was on the receiving end, when everything was directed towards me, and people were constantly bullying me by talking about me everywhere they could've," he asked, adding that no one came to his defence during all the trolling.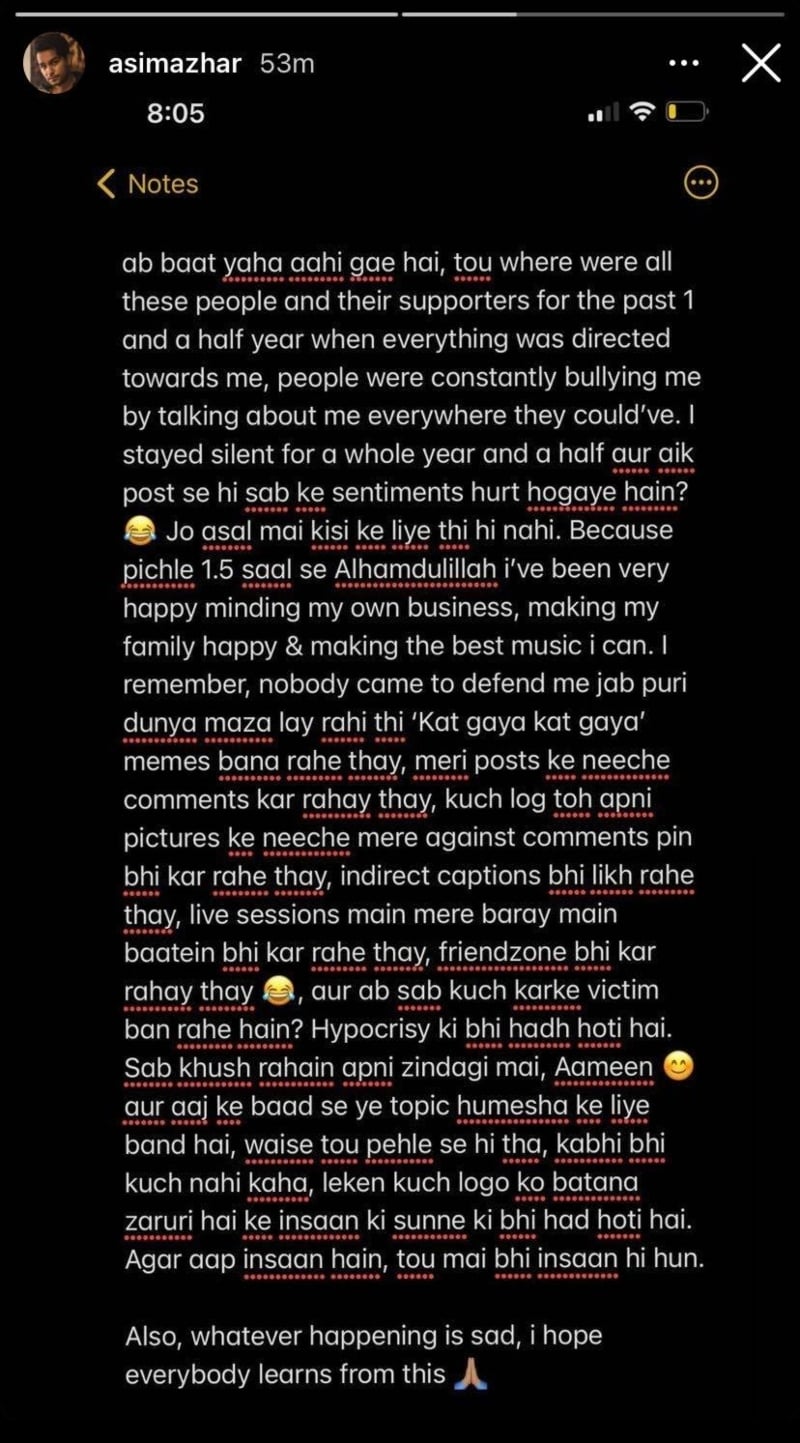 "Some people were also pinning comments against me under their posts, writing indirect captions, and talking about me on Instagram live sessions, friend-zoning me," he said, hinting at Aamir. "And after all that, you are now going to play victim?" he questioned.
"Hypocrisy truly has no limit," he said, revealing that for him, this topic has been shut forever. "It was shut for me before too, but some people needed to be shown that there is a limit to how much one can bear," he concluded, saying that he thought whatever was happening was really sad and should be a learning experience for everyone.
You'd think that would be the end of the episode, but Aamir then took to social media again and said this wasn't an "ex debate" but instead her complaining about how terrible she felt after being put down when she was only trying to lift herself up during the controversy.
"I am raising my voice against misogyny and the prevalent mindset that a man can get away with saying anything on the internet, without any shape or form of accountability."
However, some fans called her out for having double standards, saying that soon after their breakup, Aamir was the first to pin hate comments against the Tera Woh Pyar singer on her pictures.
Many also accused her of going on a hate spree against her ex, attaching screenshots from her past public interactions to prove their point.
This episode has given everyone a lot to think about but the one thing that is clear is that there is no justification for harassment. People who are triggered by Aamir's harmless relationship with her friends don't seem to be equally bothered when a man was humiliating her by ejaculating on her picture.
Some public personalities might be willing share intimate details of their lives with their fans but that certainly doesn't mean they are giving people the right to bully or harass them for it.
As for Aamir and Azhar, we don't know what went down but it's best not to air their dirty laundry in public. Azhar's initial tweet was in bad taste, given everything Aamir was dealing with at the time. Whatever happened during their relationship or afterwards isn't our business nor is it anyone else's but theirs. We just hope they choose to take their spat offline and stop giving trolls more fodder.