It was a long night at Fashion Pakistan Week (FPW). Eight shows were slotted in together simply because this was the day that was dedicated solely to wedding-wear. And bridals are what most designers want to show because that's what generates business for them.
But creating bridal-wear for the catwalk is not an easy feat. It can't just mean shaking out oodles of bling onto a glistening piece of fabric. There needs to be something distinctive about the design for it to stand out on the catwalk.
Above all, the bridal silhouette needs to be cut neatly – something that many ateliers tend to forget as they go about creating shiny, glow-in-the-dark, sequin laden contraptions. A well-placed cancan can make an outfit look so beautiful. It is, unfortunately, such a rarity.
Read: Milan comes to Pakistan and sets the second day of FPW to a great start
With more and more brands focusing on showcasing bridal-wear, it is common for bridal collections, even if they are showcased on the most coveted day of a fashion week, to be sidelined towards the utterly generic.
Forgettable at best. Ghastly at worst.
There were some forgettable collections at FPW. Perhaps some teetered towards the ghastly. But there were also some beautiful clothes.
What was missing, though, were the truly artisanal collections, the ones that make you think of poetry, where the embroideries are the stuff of songs and the most sumptuous fabrics float out as in a dream.
Also read: FPW Day 1: Al-Karam opens the show well...and then it all goes downhill
I suppose that this is to be expected. Bridal-wear, in its aim to entrance more customers, has more or less ceased to be creative, focusing instead on commerce…
Zainab Chottani
When I speak of beautiful clothes, I am particularly thinking about the opening act by Zainab Chottani. The collection ran the gamut from all-whites to multicolours that would make a splash at a mehndi to the requisite cardinal red with embellishments that were laid out in pretty patterns.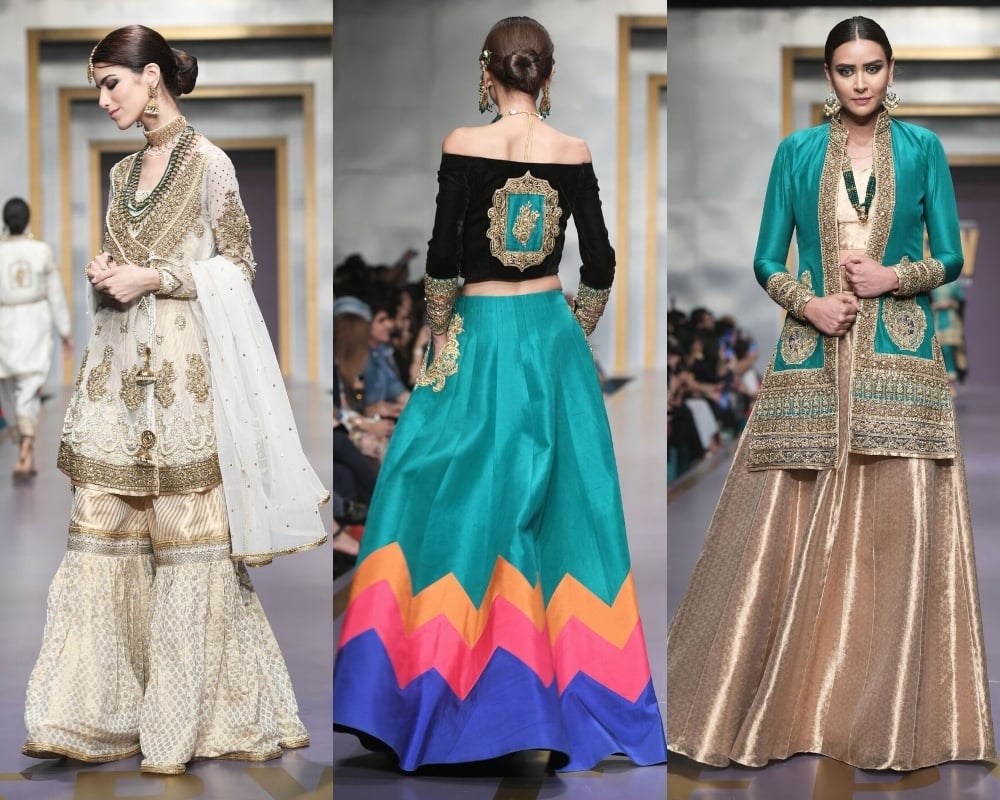 There were times when the embroidery did go into a bit of an overdose but heavy embroideries are par for the course when it comes to Pakistani wedding wear.
More than anything else, Zainab's palette caught my eye: the ivories and golds in the beginning, fashioned into old-world ghararas and sleeker shirts and pants, the dashes of turquoise that followed, the deep reds and blacks.
The designer has a strong client-base and with this collection, I feel that Zainab will only be able to strengthen it further.
My main bone of contention, perhaps, was with the resurfacing of the peplum. I thought that it had died and was never coming back again.
But the peplum made a return on the FPW catwalk, not just in Zainab's collection but throughout. I suppose customers for wedding-wear still like them, even if I don't.
Mawra Hocane and Fahad Mustafa walked out as showstoppers – quite a coup and a throwback to their hit pairing in last year's Jawani Phir Nahi Ani 2.
Huma Adnan
Huma Adnan offered some pretty colour ranges but perhaps should have innovated more with embroideries. Floral patterns have been seen far too many times and while they certainly must still appeal to clients, they don't manage to make an impact on the catwalk.
Neater cuts would have helped. Also, I wish that the designer had accentuated the accessories worn in the show. Huma is involved in an ongoing project with the UNHCR where she works with displaced refugees in the creation of hand-crafted jewelry. Some of her pieces are very unique but set against the glitter of bridal-wear they weren't as visible.
The white shirt worked with paisleys caught my eye – the many multicoloured layered clothes, not so much. Actress Noor Zafar Khan walked out as showstopper very gracefully.
But it was the designer's other showstopper who made waves for all the wrong reasons.
Deputy Consul General USA Darian Arkay walked out while wearing a black sherwani, paired with a maroon and gold shawl and a Bollywood-esque neck-piece. The Deputy wore sunshades and kept peering at the audience in a rather strange way.
Why? The Internet's been wondering the same thing.
Nauman Arfeen
Nauman Arfeen's 'Uraan' featured menswear that was commendably neat. The designer had dedicated his collection to the memory of his father and there was a certain timelessness about it. These weren't clothes catering to the roving dandy, aiming instead to entice the man with more sophisticated tastes.
Catching my eye were the crisp collars standing out on waistcoats and jackets, layered over matching kurtas, straight pants and voluminous shalwars. Having said this, this collection was the sort that deserved to be seen up-close.
Under the harsh lights of the catwalk, the beauty of its hand-worked embroideries couldn't possibly be fully appreciated: a bird with its wings splayed out across a waistcoat and subtle tone-on-tone embroideries. The palette ran from ivory to mint greens onto deep reds, offering a range of wedding-wear options.
What didn't work were the few bridal outfits. Menswear is, after all, Nauman's forte. The women's clothing was uninspiring and almost seemed to be an afterthought, placed on the catwalk simply to complement the grooms.
Father-son duo Wasim Abbas and Ali Abbas walked out as showstoppers. Quite apt.
Saba Asad
Saba Asad offered options that were wearable but brought on a sense of de ja vu. There was embroidered fabric that had been seen many times before and combinations that weren't anything new. The embellishments also lacked the delicacy that is the hallmark of subcontinental wedding-wear.
It was quite a forgettable collection, more deserving of a bridal-wear trunk show than of a fashion week.
Shiza Hassan
Shiza Hassan's colours were pretty but again, she could have tried to dabble towards more unconventional territory. The fledgling designer is apparently fast building her market in her home-town Lahore and I suppose that her clients appreciate her take on colour and silhouette.
Also, sometimes simpler designs look more beautiful in an outfit which is heavily embellished. Layers and layers of textures and cutwork can get overbearing.
She chose her showstopper well. Wasim Akram can always get the crowd cheering.
SFK Bridals
It's true that a lot of people were not looking at the catwalk during the SFK Bridals show. Designer Sadaf Fawad Khan's husband, actor Fawad Khan was sitting in the front row and cameras were constantly veering towards him, catching him in husband-mode as he did his duty by making videos of the show.
But moving away from the infamous Fawad, the collection was well worth the videos that he was studiously making. SFK Bridals has a restrained take on embellishments, opting for distinctive patterns and working them on a pretty, varied colour range.
The elegant menswear, also, had potential. And Feroze Khan and Hania Aamir made a beautiful showstopping pair.
After weathering a spate of boring collections – at a fashion week which was inexorably delayed – SFK Bridals came as such a refreshing, welcome relief!
Ayesha Ibrahim
Ayesha Ibrahim was thinking commerce. But she was focusing on it with such intent that she failed to showcase clothes that would make a lasting impression. A pink and white palette is appealing. Her customers will appreciate it.
The collection certainly would have fared better with a keener eye on fittings. Risqué cholis and blouses can't just be placed loosely over ghararas and lehngas.
Deepak Perwani
Deepak Perwani's finishing is indisputably impeccable. Long floral shirts whirled prettily over his lehngas and the screen-prints merging with mirrors were eye-catching.
The colours were appealing; the menswear was also very well-cut. I liked the simpler, more understated sherwanis better than the embellished jackets and the options in florid purple and pink.
It was a collection that exemplified how fine finishing and a knowledge of cut and silhouette can really amp up a collection.
A pretty ending to fashion week - but fashion week needs to be more than pretty.
It needs to be pack in the punches with smash-hit design that enthralls.
Deepak's bridal-wear is always pretty – his luxury-wear is in a different league altogether. But I know that bridal sells more and fashion weeks in winter are intent on hauling in profits.
Therefore, we will happily make do with a pretty ending.
On another note, the end would have been much happier had it taken place at a decent time. FPW this time was weighed down by terrible delays.
The first show started an hour and a half late on the last day. Deepak's finale took place well after midnight. That's far too much to ask of an audience – and a reviewer – even for the love of fashion.
Email