Hussain proposed to Iqra in a VERY public way at the LSAs and people have a lot of feelings about it...
Yasir Hussain proposed to Iqra Aziz in a very public way and that seems to have ruffled some feathers.
At the 18th edition of the Lux Style Awards on Sunday, Hussain went down on one knee and popped the question to his long-time girlfriend, Iqra. Don't worry, she said yes!
For a society that's obsessed with marriage, we sure seem to be full of haters. Trolls came down hard on the couple and it's ironic because just a few days ago, Aziz had posted about the damage cyber-bullying can do. We just don't learn, do we?
While some couldn't be happier for the newly-engaged couple...
Others were enraged by the PDA
It would be funny if it weren't so sad that people are more tolerant towards abuse than affection
Taking it to an entirely different tangent, some people thought that the venue selection for the proposal was a little tacky. Hey, to each their own!
People also called out Yasir's questionable statement where he drew the unfitting parallel of being Iqra's third award.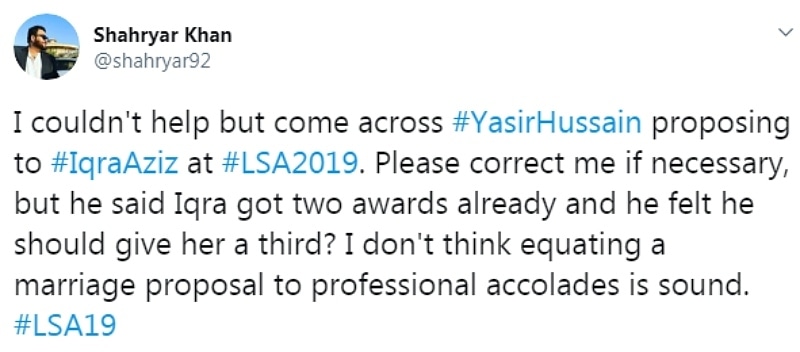 Okay, fair point. Maybe the Lahore Se Aagay actor did hijack Iqra's thunder a little bit...

That said, being raised in an a culture which conditions one to mistake love and expression for weakness and vulnerability, people are appreciative of Yasir wearing his heart on his sleeve.
We don't usually agree with Hamza Ali Abbasi but he's right when he says celebrate the good
Dropping some real truth bombs.
We have to admit, there were some funny memes doing the rounds on social media
Amidst all the criticism Yasir and Iqra have received, their fans stand stall and continue to extend love and support.
Regardless of what anyone has to say, we hope and wish the best for the couple!