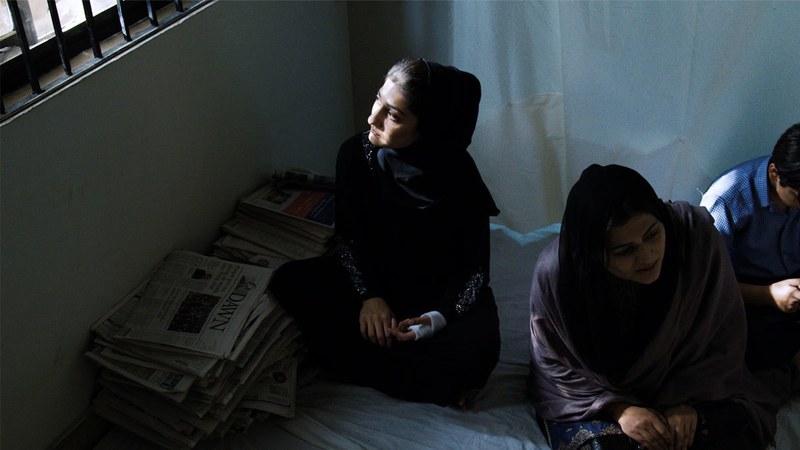 Filmmaker/theatre practitioner Hamza Bangash has developed a knack of dealing with thorny themes. His last short Rang Raaz tackled interfaith marriage in Pakistan. His 2016 play Suno! explored all the ways families can mismanage a loved one's mental illness.
With his latest short film Dia, Hamza gives us another glimpse of the latter reality.
Dia is a psychological thriller based on a true story of a girl who pursues a secret online romance and begins to break away from reality when the pressures of exams and a marriage proposal get too much to handle. Her family tries to treat her breakdown by taking her to a spiritual leader.
The film's examination of this intersection of mental illness and faith healing in Pakistan makes it an interesting take on the subject. Dia is one of three Pakistani films, including Zinda Bhaag (2013) and documentary short 298-C (2018), being showcased at Locarno festival in Switzerland that kicks off this week.
The film was co-produced by the Pakistan Institute of Living and Learning, who are one of the forerunners of mental health research and interventions in Pakistan.
"Mental health is something I've been passionate about for a long time now," says Bangash. "As part of the collaboration with PILL, I got to meet with many people struggling with mental illness. I found a case study about a girl whose mental condition was getting progressively worse and her family refused to seek out psychological treatment. It's only after the mother witnesses her daughter doing something truly horrific that she realises that she needs professional psychological help. That was the basic inspiration for Dia."
Bangash's research for the film included visiting a spiritual healer or pir and he spoke to one who boasted having cancer-curing powers. "The pir was telling us about how he got the jinn of cancer out of one of his followers by telling him to go to a masjid and drink the water of everyone's wuzu. He claimed it worked, that his follower was completely cured. When we asked to meet this follower, he said he moved really far away."
"He completely changed when we said we wanted to interview him on camera. He went from saying he's the ultimate healer to claiming that he had just began this profession and was a novice. I felt like I was with someone who knew how to manipulate people and their fears. So we tried to capture this fear and that's how we ended up making Dia a psychological thriller because it wasn't initially meant to be."
While he agrees that faith is an integral part of the healing process for South Asians, Bangash said he's had to toe a tricky line to ensure he didn't offend sensibilities in the film.
Dia was initially shot on an iPhone as a eight-minute short, which was titled Paak. Paak toured 14 countries as part of a medical film festival, after which Bangash and the film's executive producer Mina Husain were able to raise more money for the film through international donors. Bangash was also selected for Goethe Institut's Pakistan Afghanistan Film Talent Fellowship, sponsored by Prince Claus Fund. With further contributions by Pakistan Institute of Living and Learning, they were able to make a 25-minute version of the film that's being screened at Locarno.
Bangash now hopes to connect with donors who can help him turn Dia a feature film.
"Our plan now is to make this into a feature film because we feel we have enough material for it. If you look at South Asian films, even just in the thriller genre like Mom, they have performed quite well. After the success of a film like Cake, Pakistani audiences are craving something other than a romantic comedy or a patriotic film. I think we're going at the right time and I hope I can finally make the jump from shorts to features."
Email