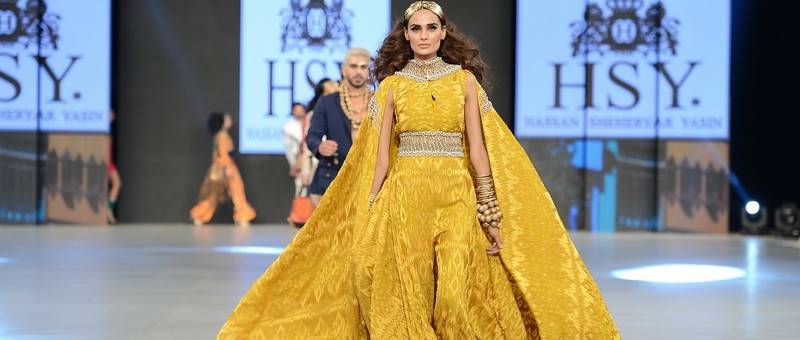 As PSFW wrapped up on Sunday, we were left feeling a little impassive. It certainly wasn't the best we've seen and even trend-spotting proved to be a challenge.
That being said, it doesn't mean fashion week didn't have its shining moments. Gear up for spring/summer with these eight top trends, hot off the runway.
1) White sneakers aren't going anywhere
If there was one normcore trend that was on top of the footwear ladder last year, it would be the white sneaker.
While the basic silhouette undoubtedly reigned supreme in 2015, we were at a crossroads recently; has the shoe peaked and is it moving towards decline? Well, don't toss away your white kicks just yet. It seems like even the ladies on the ramp have traded in their stiletto kitten heels for this versatile and comfortable alternative.
2) It's all about sporty wear
Never thought I'd say this but some of the best looks from fashion week were the ones that screamed luxe athleisure; fresh ensembles included embellished sweatshirts, jogger pants and bottoms with signature tracksuit stripes running down the sides, often coupled with florals.
Every time you see a model strutting down the ramp, you inherently wonder what that outfit would look like, rooted in practical life. These easy, breezy pieces were definitely worthy of being plucked off the runway without carrying too much of a risk — this is what luxury prêt is all about.
3) Matchy separates aren't just for grandmas
For as long as I can remember, an unspoken but legitimate style rule existed that being too matchy-matchy was a giant fashion faux pas. However, for the past couple of years, fashion has taken a distinctive turn; a new emphasis has been placed on the basics, and for the first time in a while, even the designers on the runway have started to lean towards fuss-free subtlety, much like the streets.
One such trend to emerge is that of coordinated separates. It's an easy way to look instantly more put-together and polished and basically stock your closet with three outfits in one.
4) Yellow, yellow...
I know, I know, most of us have an innate aversion to the colour yellow. Granted. it's not the most effortless hue to pull off but some of the most punctuating pieces at PSFW ranged from laser lemon and Minion yellow to marigold.
It's bold, it's daring and it's sure to make you stand out, not to mention colour specialists have deemed it symbolises happiness, new beginnings and clarity. Just try not to go overboard, we don't want to end up looking like Big Bird.
5) Culottes are here to stay
The gauncho-style pants initially invited a lot of hate but they've managed to win most sartorial aficionados over. The wide-legged cropped pieces that hit from below the knee but well above the ankle are personal faves but longer, floor-hitting ones were clearly the hippest new but not so new kid on the block as fashion week saw multiple incarnations of the modern-day gauncho.
It certainly helps that they have a feminist backstory: women's culottes first appeared when Victorian ladies got active. Initially known as "split" or "divided skirts", their two-legged nature was concealed by ruffles or panels, but gave women the freedom to ride bikes and horses properly. There you go, fashion with a noble history.
6) Go retro or go home
Like I always say, bring back the '70s, the era of free love and positive vibes! With big names like Feeha Jamshed and Nomi Ansari taking the road less travelled, everything from the silhouettes to the styling was right on the money for a retro funk feel.
Spotted on the ramp were swooping bellbottoms, make-them-stare flares, neons and psychedelic, quirky prints; clearly, this international trend had a major imprint on fashion week.
7) Cinch me
Any trend that makes you look more fit has my vote and while cinched waist tops are probably nearing the end of their moment in the sun, I'm going to revel while it lasts.
Unlike the wide patent leather belts that were popular some time ago, this season's belts are thinner and more ornamented. Statement belts are an easy way to add a little oomph to any outfit, not to mention highlight all those extra hours you've been putting in at the gym.
8) Leather arm candy
Looking for summer leather? Skip on clothing and opt for accessories instead. Natural leather tan and black totes and satchels ooze timeless elegance.
If slouchy bags aren't your style, opt for a slightly structured one. You'll thank me when you ditch your teeny tiny cross-body for this and refresh an essential part of your wardrobe with something more durable and efficient. There's no shame in going back to the tried and tested.
Email