Though Zucchini purports to serve mostly Mediterranean fare it's surprisingly heavy on Italian cuisine
How many restaurants in Lahore, fine dining or otherwise, offer authentic Mediterranean cuisine? Relying solely on their own claims, every second restaurant comes to mind with half of them not even knowing what Mediterranean cuisine is or confusing it with Lebanese.
But there's a new player in town. A little over a month ago, a new eatery, Zucchini, opened its doors to the gourmands of Lahore on the 'mini food street', M.M. Alam Road, and claimed to serve just authentic Mediterranean food.
For those still confused about or wondering what exactly Mediterranean cuisine is, it includes staple ingredients from the culturally rich nations around the Mediterranean Sea: Italy, France, Spain, Morocco, Greece, Lebanon, Syria, Turkey and Israel. Mediterranean food usually includes lots of fresh fruits, vegetables, olive oil, moderate amounts of fish and white meat, legumes, whole grains and beans and dairy produce.
Zucchini General Manager Kamran Rafi claims they want to offer specialties from major Mediterranean nations under one roof rather than just the Italian and French fare every other eatery in the city claims to offer. What sets them apart, Mr Rafi says, is the use of certain ingredients such as Portobello mushrooms, the Mezze Platter and specific meats that other restaurants shy away from, and that the food mostly is moderately spiced. He thinks they have an edge over their competitors because of the diversity in Mediterranean cuisine.
Head chef Hameed, hailing from Hunza, has been in the culinary industry for 16 years. He wants to open up his own cooking school back in his hometown, but due to commitments here, he's put his plans on the backburner for now.
Where to go
Zucchini is located on main M.M. Alam Road; it can be easily spotted, nestled between the Zoom petrol pump and Memories restaurant.
When to go
Zucchini is open all day from 12pm to 12am on weekdays and 1am on weekends, so one can walk in even in the evening for a cup of coffee.
The interior is slightly dark and dim, what with black walls and maroon and brown furnishings, and sunlight barely creeps in. So, for lunch, try to grab a seat a little beyond the entrance, which is the only side exposed to sunlight through a glass window.
It's a nice place to have a quiet, private dinner with family or someone special.
What to order
Currently in their first phase of the resto's launch, Zucchini's menu is surprisingly mostly Italian, so much so that the names of the menu's different sections are also in Italian. They have a limited desserts, drinks and shakes menu for now and plan to expand in a couple of months.
From the starters, we recommend Funghi Ripieni, which is basically giant oven-baked Portobello mushrooms stuffed with chicken, ricotta cheese, olives, tomatoes and covered with fresh crumbs drenched in tangy lemon butter dressing. Order this only if you've not had food for hours, or it may not leave enough space for the main course.
Another appetiser we'd suggest is Mediterranean Prawns: Arabian prawns tossed in a finger-licking chilli and garlic marinade.
If you're into soups, you just can't miss the fulfilling and creamy, tangy New England Seafood Chowder with diced potatoes, celery, onion, shrimp, fish and fresh cream. We suggest against ordering a heavy main after this soup. Or the Crema DI Funghi: rich, creamy mushroom soup.
Their fresh salads are highly recommended. Crunchy green leaves mixed with soft and fresh shrimp meat, tossed with Dijon mustard and capers make the Avocado Shrimp Salad quite a light and delicious beginning to a meal. As is the Pollo-e Mozzarella made with handmade fresh buffalo mozzarella, fresh iceberg lettuce, tomatoes and chicken cubes topped with a special homemade dressing.
For main course, if you're a chicken fan, try Pollo Parmigiano, which is boneless chicken breast topped with parmesan cheese and a light, creamy basil sauce served with rice and fresh seasonal vegetables. We'd also recommend their version of Moroccan Chicken: grilled boneless chicken breast topped with a faintly spicy sauce and served with rice and sautéed vegetables.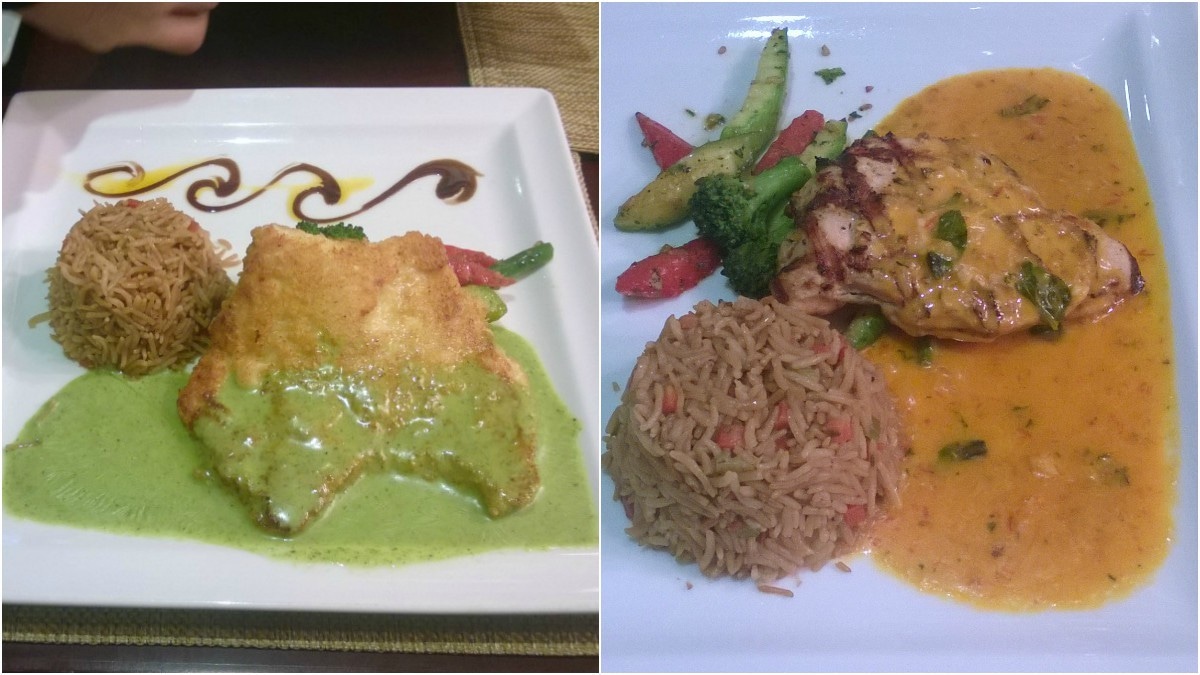 Looking for seafood? From among a wide array on the menu, one dish you should try is their scrumptious Grilled Red Snapper in Tarragon Sauce: a fillet of snapper seasoned with a light, yummy garlic and lemon juice sauce served with assorted vegetables and rice. Deeeeelicious!
If there's still any space in your tummies, round off the meal with their delectable bread and butter pudding, which could leave you wanting for more. You've been warned!
While Zucchini categorise themselves as a high-end restaurant, the presentation of food is anything but.
Some of their competitors on the other hand create stunning plates of food that seem to have jumped right out of a cookbook. Zucchini definitely need some tweaking here. They could also fine-tune flavours in their sauces; we understand they're supposed to be mild, but not so much that they all taste almost similar.
Damage on the pocket
Now, Zucchini markets itself as a high-end, fine dining restaurant. So go with your wallets packed.
Since they claim to offer unique Italian and other Mediterranean food prepared with imported ingredients, they'll charge you accordingly. With appetisers ranging between Rs600 and Rs900, main course Rs600 and Rs1,600, their imported steaks go well over a couple of thousands. Once in a while, we say indulge!
Pro tip: Head over to Zucchini if you want to enjoy some good healthy, nutritious, light and mildly spicy food because that's how Mediterranean food is supposed to be. If you're looking for a meal with some tarka here and some tarka there that fills you to the brim, this isn't the place for you.
---
'Weekend grub' is a weekly column that explores new eateries in Karachi, Lahore and Islamabad. Leave a note in the comments below if you have a suggestion or would like to be featured.