And by wait, we mean weeks because that's how long it takes to get a reservation; the place is booked solid!
The restaurant business is no joke and pleasing almost every customer seems nearly impossible (just ask Pomo or Easy, two eateries that have received seriously mixed reviews).
That said, a hole in the wall, Steak by CFU seems to be on track to do just that.
I don't mean that disrespectfully; it's literally a hole in the wall with a 26-person capacity in a commercial area of Phase 2, where there aren't that many restaurants around or any for that matter.
Funnily enough, we tried the place completely unaware of the ruckus it had caused on Facebook foodie groups; everyone was vying for a reservation while we just happened to dine there by virtue of proximity and sheer luck.
Since it's located on my way home from work, I'd been eyeing it for a while before we just walked in one odd day and bagged a table by accident because they had a cancellation and were happy to accommodate us. Great service is always a big win in my books.
And I've been back at least five times since and all those times, we had to plan at least a week in advance.
When to go:
Whenever you can get a reservation!
Timing-wise, the steakhouse opens at 8 pm and closes at 1 am.
What to order:
Steak by CFU serves up three meat platters: beef, chicken and seafood and each comes with a bunch of sides, whether you want them or not (trust me, you want them).
Because CFU prides itself on being an "experience", the lack of a bread basket was duly noted. However, they're usually pretty quick about bringing the food out to you so this was not a dealbreaker.
As soon as we sat down and got comfortable, Khurram, the chef, came over to greet us and talk about our order. Here's a man who you can tell straight off the bat is really passionate about his food and if you ask him for a steak that's cooked anything other than rare or medium rare, you're going to see his face fall (seriously though, people who eat their steaks well done are monsters).
I said we wanted well done just to see his reaction.
His response? "Na karay merey 21-day aged meat ke saath yeh zulm." (Don't do this to the 21-day aged meat I've prepared.)
He asked us how hungry we were (I've noticed they do that and give you portions accordingly sometimes) and then to leave it up to him so we did.
Of course we tried all three: let's start with what didn't impress and get that out of the way — the chicken. This was the one that none of us were particularly enthralled by; we tried it Mexican style and it tasted more like desi masala. While Mexican cuisine does have its similarities with Indian/Pakistani cuisine where spices are concerned, the seasoning and rub on this mountain of chicken was pretty underwhelming; it had no kick to it.
Maybe we're being biased because we're just not big fans of chicken in general but we could see why people who aren't steak aficionados might enjoy it.
The menu is no-frills but also LOTS of frills because it's evident they've put a lot of thought into each component that goes on the platter; from the veggies that come with, the creamed spinach to the roasted garlic, oh that roasted garlic. I dream about those unbelievably pillowy cloves of garlic.
The beef steak was the clear winner: we got a medium rare tenderloin with a subtle Brazilian rub that allowed the focus to stay on the meat that was cooked to perfection.
The seafood platter came with a big salmon fillet, six jumbo prawns and some scallops. The salmon was cooked well and clearly the star; it was flaky and the crispy skin offered just the right contrast. Just a tad bit of salt would have kicked it up a notch but that's our bad for not asking the server for it.
The prawns were nothing to write home about and the scallops were tiny. We ate them thinking it's a piece of garlic only to realise it's one of the two scallops on the plate. What it was missing was a lobster which Khurram later told us is on the agenda, it's just that he wants to source the best lobsters and not sell crawfish disguised as lobster (you'd be surprised at how many people do that).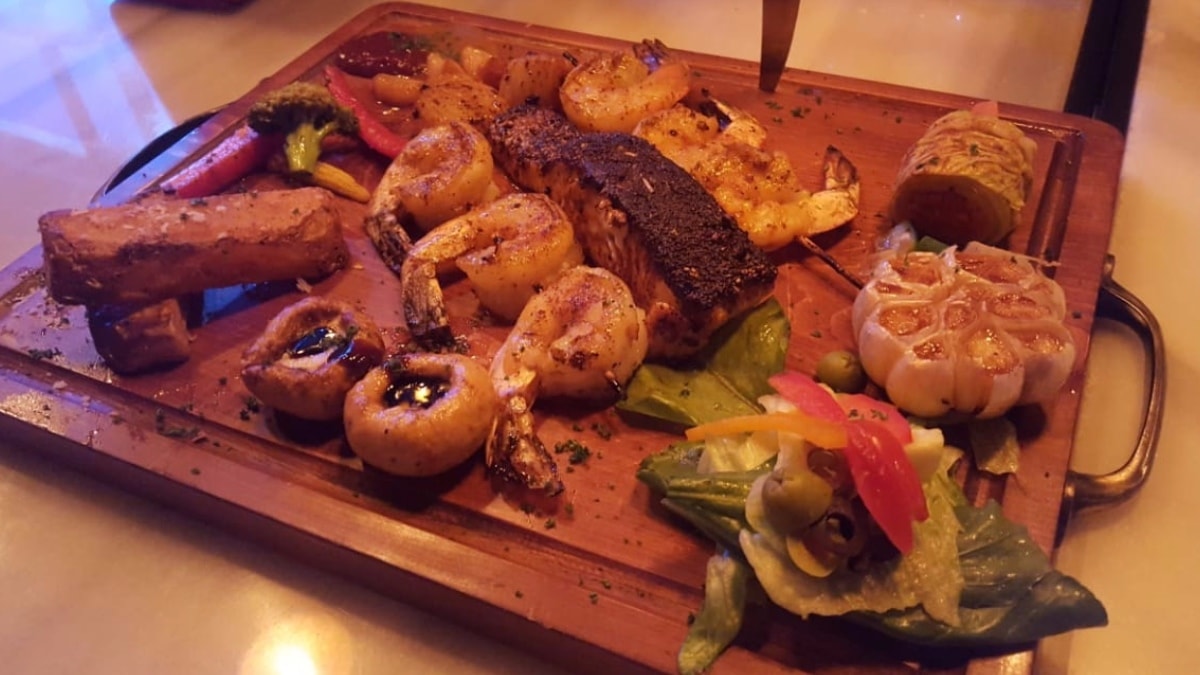 The platters also include a serving of dessert from Khushi In A Box and while the menu says you choose between three to four options, they generously brought out all four for us to sample. They were delish.
Steak by CFU also has a special menu in the works, which will feature briskets, wagyu and kobe beef as well as live lobsters.
We had a word with banker-turned-restaurateur Salman Shahid, who explains that Steak by CFU was borne out of a desire to introduce something new to Karachi's culinary scene: "In USA and Europe, there's an aged meat fad going on, so we tried to age local meat. It's a difficult process and we worked on it for a couple of months and the final result was really good. And that's how we started Steak by CFU."
He added that while they currently source their meat from trusted farms, the plan is to eventually raise their own meat.
FYI, the CFU brand kicked off with a retail shop that basically sells all the ingredients that go into making their steak platters in addition to organic products and imported seafood. The brand also plans to introduce Burger by CFU at Karachi Eat next year and will then open up an outlet next to Steak by CFU. We're looking forward to that!
Damage on the pocket?
A beef platter sets you back Rs2500, which includes a drink and a dessert so pretty reasonable for the price and like we said, the portions are huge. The chicken costs Rs2000 which I personally think wasn't worth it.
The seafood platter is the most expensive at Rs3500 but still a solid deal for the astonishing amount of food you get.
We paid Rs8000 for all three platters so it came out to Rs2000 per head for our party of four, which is less than what you'd pay at any other restaurant for a good steak without too many accompanying sides or dessert. All in all, CFU is worth the splurge.
"The price point was very important to us because we wanted to get our name out there in the market," says Salman. "Our plan right now is that our standard introduces us and we aren't stingy about anything."
"We serve 70 clients everyday, weekdays included. Many are regulars who make their next reservation when they're leaving the restaurant. And we try our best to make our customers feel special."
Pro tip?
Order to share and try at least two of the platters.